Few companies are as criticized and derided here on Seeking Alpha (or in the broader investment community) as Groupon (NASDAQ:GRPN). Since going public at the end of 2011, the company has lost over 80% of its value as the expectations investors had when it made its market debut have failed to materialize, to say the least. The company has gone through a good deal of turmoil over the past few quarters, and Q3 2012 was no exception, as Groupon missed estimates on both the top and bottom lines.
However, when it comes to Groupon nothing is as simple as it seems, and this quarter is no exception. In this article, we will delve into the company's Q3 2012 results and will attempt to explain why we believe that although this quarter was not one that Groupon or its investors will be keen to remember, as it is not indicative of the company's full long-term potential. For the record, unless otherwise noted management commentary and financial data will be sourced from one of three places: Groupon's Q3 2012 earnings release, its Q3 2012 conference call, or its Q2 2012 earnings release, which will be used to show how Groupon is doing on a sequential basis. For purposes of disclosure, we hold a small position in Groupon.
A Note on Emotions and Hyperbole
Groupon is one of several stocks here on Seeking Alpha where there is a great deal of emotion and hyperbole. The company is often accused of cooking the books (frankly, if Groupon is cooking the books, it isn't doing a very good job), and its competitive position is often attacked without firm proof of competitive weakness (more on competition later). Groupon's Q3 2012 results and the resulting fall in its stock price will be used as proof that Groupon cannot succeed, and that the entire business model cannot work. We think that such a view is simplistic. Emotion and hyperbole have no place in investing, and investors should not mold financial data to suit their opinions. Rather, opinions should be based on financial data. While Groupon's financials never supported a $20 stock price, we think that a share price under $3 does not reflect the full financial potential of Groupon, especially when the company's $1.2 billion in cash (with no debt) is taken into account. There are many things in Groupon's Q3 results that, in our view, serve to mask the company's true long-term potential. And in this article, we will attempt to show that while this quarter was by no means an outstanding one, it is not reflective of what Groupon is capable of.
Q3 2012 Overview
Groupon posted its Q3 2012 earnings after the markets closed on November 8. The company broke even on a GAAP basis (a net loss of $2.979 million rounds to $0.00 in EPS) on revenues of $568.552 million. The company missed EPS estimates by 3 cents and revenue estimates by $21.5 million. However, Groupon's Q4 revenue forecast of $625-$675 million ($650 million at the midpoint) beat the consensus estimate of $633.9 million. Groupon forecast consolidated segment operating income of $30-$50 million for Q4, versus an estimate of $62 million. Groupon's European business is once again dragging the company down. While North American revenues grew by 80.5% year-over-year, international revenues grew by just 3.5%, resulting in overall revenue growth of 32.2% year-over-year. Revenue growth would have been 38.2% if negative effects of exchange rates are removed from the equation.
Gross billings grew by 38% in North America, and dropped 12% internationally compared to a year ago. Gross billings once again shrank slightly in the quarter, down to $1.218256 billion, from $1.286676 billion in Q2 2012. Cash flow was also down, falling to $42.088 million, compared to $64.411 million a year ago (more on those figures later). In short, Groupon's Q3 results failed to impress the markets. And even higher than expected revenue guidance was not enough to overcome these results, as well as operating income guidance that missed expectations. But, Groupon's Q3 results are, in our view, not reflective of the company's long-term potential, and we begin to explain why below
Taxes: How Many Public Companies Have Tax Bills Above 100% of Profits?
With operations all across the world, Groupon, like most publicly traded companies, must deal with a complex series of global tax policies. And for the past several quarters, Groupon has been paying taxes at a rate that few, if any public companies pay. In Q2 2012, Groupon paid $66.875 million in taxes on pretax income (on a GAAP basis) of $100.424 million (which includes income from an exchange in equity of its Chinese operations). That is equivalent to a tax rate of 66.59%. But that pales in comparison to Groupon's tax rate of 103.63% for Q3 2012 (taxes of $26.857 million on pre-tax income of $25.917 million). We doubt that analysts had estimated such a tax rate when compiling their forecasts, and a large part of Groupon's miss for this quarter is, in our view, due to this inflated tax rate. CFO Jason Child has not provided a detailed explanation for why Groupon has been paying so much in taxes. He has stated that Groupon is not yet able to offset its income in North America and other profitable markets with losses in some of its international markets. On the company's Q3 call, Child stated that,
We [Groupon] have not implemented our international tax headquarters yet, that's something we expect to be doing in the next quarter or 2. That is something that will start to lower our cash tax payments over the next year or 2.
Groupon's taxes have been at unsustainably high rates for several quarters, and we do not think that they will stay at such levels for long. No public company has a tax rate of over 60% in the long run. With Brian Stevens appointed as the company's new Chief Accounting Officer in September (he moved from KPMG after spending 16 years in their audit and professional practice departments), we feel that Groupon will bring these tax rates under control. Many companies are chided for having poor earnings quality when they inflate earnings by being aggressive with their tax accounting. But, if that is indeed a valid criticism, then its converse must be true. Companies with artificially inflated tax rates need to be analyzed on the basis of what kind of profits they generate with a sustainable tax rate. Groupon would have posted a GAAP profit for Q3 2012 even if its tax rate for the quarter was the full statutory 35%, not 103.63%. As we read through Groupon's Q3 conference call, we were puzzled by the fact that none of the analysts that participated on the call questioned CFO Jason Child about the company's tax rate, which stands out to us as one of the most important issues in this quarter's results. Groupon's latest 10-Q filing for Q3 2012 states that
The effective tax rate was 103.6% for the three months ended September 30, 2012, as compared to (353.2)% for the three months ended September 30, 2011. The effective tax rates for the three months ended September 30, 2012 and 2011 reflect foreign losses in certain jurisdictions, which we were not able to benefit due to the valuation allowances, and the current year amortization expense of taxes paid from the 2011 taxable sale of certain intellectual property rights within the Company's international structure.
Over time, we believe that Groupon's tax rates will move lower, as the company restructures its accounting division, and this move will flow directly to Groupon's bottom line.
Operating Expenses and European and International Markets: Leverage & Room for Investment
Groupon's operating expenses continued to improve in Q3 2012, leaving the company with room to invest in its European operations. While the company's European business is lagging, it is important to know that this is due at least in part to the fact that Groupon has not yet optimized its European business in the same way that it has within the United States. On balance, it is better for a company to be exposed to a weak economy than for internal issues to be causing weakness in the long run. Groupon can, and will fix its internal issues in Europe, and the continent's economy will recover sooner or later. Below is a table of Groupon's expenses as a percentage of revenue for Q3 2012, Q2 2012, and Q3 2011 (Groupon breaks down its expenses into 3 categories: SG&A, marketing, and acquisition costs and benefits; we omit acquisition costs because they are not reflective of Groupon's business on a continuing basis).
| | | | |
| --- | --- | --- | --- |
| | Q3 2012 | Q2 2012 | Q3 2011 |
| Total Revenue | $568.552 Million | $568.335 Million | $430.161 Million |
| SG&A Expenses | $287.978 Million | $299.894 Million | $196.798 Million |
| Marketing Expenses | $70.919 Million | $88.407 Million | $170.349 Million |
| Total Core Expenses | $358.717 Million | $388.301 Million | $367.147 Million |
| SG&A Expenses as a % of Revenue | 50.62% | 52.77% | 45.75% |
| Marketing Expenses as a % of Revenue | 12.47% | 15.55% | 39.6% |
| Core Expenses as a % of Revenue | 63.09% | 68.32% | 85.35% |
Groupon's core operating expenses have fallen year-over year and sequentially in both absolute and percentage terms as the company has streamlined its operations and rolled out technological improvements, such as deal personalization. On the company's Q3 call, CEO Andrew Mason stated that Groupon will be increasing its investments in its international markets. While this will likely push up operating expenses over the next few quarters, the company has some cushion due to its good cost controls over the last few quarters, thereby giving Groupon room to invest in its business overseas. CEO Andrew Mason stated that
We followed a different playbook in Europe, focusing on rapidly capturing market share at the cost of investing in technology and innovation and, too often, the satisfaction of our merchants and customers. With a weak European economy, we didn't have the necessary runway to integrate our international business before reaching a plateau in growth earlier this year. The result is a Q3 annual gross billings decline of 12%. To put the impact of our international business in perspective, if we merely held the last 2 quarters of international performance flat, we would've seen another $135 million in gross billings in Q3. As we said last quarter, to fix our international business, we are following the playbook that we wrote for North America, specifically rolling out technology like deal personalization, shifting our deal mix and focusing on merchant satisfaction. Kal Raman, who has significant experience managing sales operations of this scale, is now squarely focused on addressing our international issues, and we're making progress on all fronts.

First, on technology. SmartDeals e-mail personalization, which has driven a 25% lift in our North American e-mail purchase rate, is being fine-tuned in the U.K. and Brazil and will continue to roll out through Q1. Second, we've improved our merchant satisfaction scores in most international countries, and we've started to see improvements in the quality mix of our merchants. Not surprisingly, our European growth since early September has been strong. We've had 2 consecutive months of growth for the first time in a year. We've begun to see record days again in countries like the U.K., which began the turnaround effort early on and have seen dramatic 20% improvement over the last several months in customer satisfaction coming close to North America's numbers. This shows us that we're on the right track, and our North American playbook, technology and merchant focus applies to our international business. So as you can see, in our Q4 guidance, we're cautiously optimistic and confident that we're on the path to continued improvement in Europe.
Groupon's investments in Europe are already beginning to pay off. Merchant satisfaction is higher, and growth in Europe has been strong since September, as these new technology investments begin to stabilize the company's European business. While we do not believe that Groupon's European business will be fixed overnight, the company is on the right path, and as long as it continues to execute its international investment strategy as it is today, we believe that Groupon can, and will bring its international business up to the standards of its core North American business.
Cash Flow, the Balance Sheet, and Merchant Satisfaction
Groupon's Q3 2012 earnings release revealed that operating cash flow for the quarter came in at $42.088 million, down from $64.411 million a year ago. This decrease was driven primarily by changes in working capital. Groupon elected to pay down accrued expenses (separate from merchant payables) at a faster rate in Q3, and accrued merchants payable contributed $21.868 million to operating cash flow, compared to $98.002 million a year ago.
As we outlined in several of our prior articles on Groupon, the company is slowly shifting its merchant customer base towards its American payment model, where merchants are paid within 60 days of a customer buying a Groupon. The majority of Groupon's international business still operates under a redemption model, where merchants are paid when a customer redeems their Groupon (these models are spelled out in Groupon's 10-Q filings). Groupon itself admits that operating cash flow is improved under the redemption payment model, and that is not something that we can argue. What we can argue, however, is that a shift to this model will not harm Groupon in the long run. Rather, it will improve merchant satisfaction, which will lead to higher revenues as more merchants are willing to run deals, which will in turn translate to higher cash flows as revenue and net income rise.
Groupon's balance sheet is well-equipped to handle a temporary drop in operating cash flow. The company ended Q3 2012 with $1.201011 billion in cash & investment, which is equivalent to $1.83 per share, based on the company current outstanding share count of 655,716,096 shares.
Active Customers, Gross Billings, and Mobile: Success on Several Fronts, Pressure on Others
Groupon ended Q3 2012 with 39.5 million active subscribers, representing growth of 37% from Q3 2011 and sequential growth from 38 million active customers at the end of Q2. In fact, active subscriber growth accelerated in Q3. Groupon added 1.5 million active customers in Q3, compared to 1.1 million in Q2.
Click to enlarge image.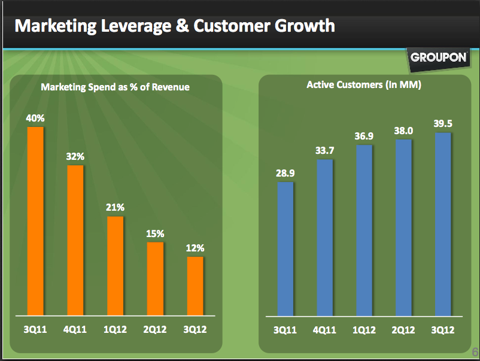 Groupon's active customer growth accelerated on a percentage basis as well. In Q2 2012, active customers grew by 2.98% sequentially, and grew on by 3.95% sequentially in Q3. Groupon's total subscribers grew past 200 million in Q3, highlighting the fact that there is still potential to monetize the company's customer base further.
Trailing 12-month gross billings per active customer fell 21% in Q3 to $149, due to softness in Groupon's international business. While this is a setback for the company, we believe that as the company continues to invest in optimizing its international business, gross billings per customer will rebound. Groupon is already seeing promising results, as CEO Andrew Mason has stated, and we think that the company's investments will bear fruit over the next several quarters.
It is interesting to note that Groupon is one of the few major e-commerce companies to have a material presence in mobile [eBay (NASDAQ:EBAY) is another example]. In October, one-third of Groupon's North American transactions were completed on mobile devices, representing growth of 30% from October 2011. Groupon's mobile customers spend more with Groupon and spend more often than non-mobile customers. On the call, CEO Andrew Mason stated that
Groupon is a better experience on mobile devices, offering curated, personalized, location-specific deals to fit the form factor of phones and tablets. This is reinforced by the behavior of our mobile users, who spend more and are more likely to buy without the aid of a push email reminder.
We do not think that investors are giving Grouopon enough (or any) credit for its growing mobile business. Groupon's business model is more successful, and more profitable on mobile devices than on the desktop, and the company is well-positioned for the transition to mobile computing.
Valuation and Estimates: Reconciling Contradictory Conclusions
As of this writing, Groupon is falling sharply, dropping almost 30% on the back of its Q3 results. And analysts are stepping in, downgrading the stock and cutting estimates and price targets. In particular, we would like to highlight the research of Credit Suisse, which we believe highlights quite well the seeming contradictions that sell-side analysts have when it comes to Groupon. In its note on Groupon's Q3 results, Credit Suisse slashed its price target from $11 to $6.50 (a drop of 40.9%) and slashed fiscal 2012 estimates from 27 cents in pro forma EPS to 17 cents in pro forma EPS, which is equivalent to a cut of 37.04%. Fiscal 2013 estimates were cut from 53 cents in pro forma EPS all the way down to 26 cents in pro forma EPS, representing a cut of 50.94%. On the surface, these dramatic cuts seem to show that Groupon is incapable of turning itself around.
However, even these reduced estimates call for 2013 EPS growth of 52.94%. And as of this writing, with Groupon trading at $2.86, the company is valued at 16.82x fiscal 2012 EPS, and just 11x fiscal 2013 EPS. ANd that is before Groupon's $1.83 per share in cash (with no debt on its balance sheet) is taken into account. As of this writing, 63.99% of Groupon's market capitalization is in cash, a ratio that has few, if any peers among public companies. On an ex-cash basis, Groupon trades at 5.53x fiscal 2012 estimates, and 3.62x fiscal 2013 estimates. Credit Suisse's price target of $6.50 serves to highlight the seeming contradictions here. Even after being cut by over 40%, that price target implies upside of over 127% from current levels. Credit Suisse rates Groupon a neutral, yet is calling for EPS growth of almost 53% in 2013, and has a price target that implies the stock will more than double. In our opinion, neutral-rated stock do not usually have price targets that call for a return of over 100%, and earnings estimates that call for growth of over 50%.
Thoughts on Competition and Observational Bias
The argument that Groupon has no economic moat, and that barriers to entry are non-existent in daily deals and local commerce have been articulated since almost the moment that Groupon was founded. Critics of Groupon argue that anyone can compete with Groupon, and that all someone needs is a computer and some merchant contacts to beat Groupon at its own game. Nothing could be further from the truth. Groupon has well over 10,000 employees working around the world to serve both its customers and merchant partners, and it is the only daily deals company to be posting operating profits. LivingSocial, Groupon's primary competitor, is unprofitable, and has only begun to generate positive operating cash flow. LivingSocial's Q3 revenues of $124 million declined by 10.14% on a sequential basis (from $138 million in Q2), while Groupon's revenues still managed to grow (albeit just barely) on a sequential basis (they were up 0.038% sequentially).
Furthermore, the argument that the largest technology companies will enter the daily deals market and destroy Groupon is, in our view, flawed as well. As proof, we offer the fact that most of these companies have already entered the market, and it has done little to affect Groupon. Facebook (NASDAQ:FB) has already tried to enter the daily deals market, and abandoned it in August 2011 after 4 months due to an inability to gain traction. Google has laid off a large number of its German daily deals employees because it cannot compete in that market. And Amazon (NASDAQ:AMZN), which is still in the space, seems to be having no competitive effect on Groupon. For a company to compete successfully in daily deals and local commerce, a website and a computer is not enough. It takes thousands of employees across the globe to run a business of this size, and only Groupon has the scale and merchant relationships to do so. Furthermore, Groupon is expanding its suite of merchant tools, offering them an ecosystem of Groupon tools in order to cement their partnership even further. The company has launched both Groupon Payments (a payment service similar to Square) and Breadcrumb (an iPad point-of-sale system for restaurants). When Groupon launched its payment business, many had assumed that this was simple a desperate move y Groupon to try and find growth wherever it can. The truth, as expressed by CEO Andrew Mason, is different. On the company's Q3 call, he stated that
These [Payments and Breadcrumb] are services that we think of not as near-term growth drivers. It's about indirect growth through creating a better and more sticky merchant experience, improving the quality of their experience running deals on Groupon and long-term drivers of growth for us...
Groupon Payments and Breadcrumb are not about creating new profit streams for Groupon. Rather, they are about cementing relationship with merchants, as well as building what Groupon calls "an operating system for local commerce." No technology company has deep of a focus on local commerce as Groupon, and we believe that the company's competitive position and moat are far stronger than what many critics believe.
We would like to turn now to the subject of observational bias. Many critics of Groupon, especially here on Seeking Alpha, equate their personal experiences with Groupon with the company's overall competitive position. To do so misses the nuances of Groupon's business. The company runs different deals in every city it operates in, and when it comes to daily deals and local commerce, no two markets are the same. What works in one city may not work in another. And simply because someone is unable to find deals they deem "relevant" in their own city does not mean that it is true for all of Groupon's markets, or that it is even true for the city in question. A deal that you find to be irrelevant may be of great value to someone down the street. Emotions and biases have no place when it comes to investing, and linking one's personal experience with a company to its investment potential is, in our view, a flawed way of investing. Groupon needs to be examined based on its overall performance, not how it operates in just one market. Investors also need to remember that Groupon cannot please every single customer 100% of the time (for that matter, no company can do so). As long as the company benefits consumers and merchants (the issue of merchant satisfaction is something we have examined in detail in our prior articles on Groupon), it will continue to bring in both repeat and new business, as consumers and merchants discover the benefit and utility of Groupon.
Conclusions
Is Groupon worth $20 per share (its IPO price)? We do not think so. While we are bullish on the company's long-term prospects, we do not believe that Groupon can rally that far. But, we also think that Groupon is worth a good deal more than $2 or $3 per share. The company's financial position is solid, and it is investing in its international business to bring its performance up to North American standards. The company's competitive position is far stronger than most investors realize, and Groupon is succeeding in mobile in a way that few other technology or commerce companies are.
Is Groupon a stock for risk-averse investors? We do not think so. And we do not think that risk-averse investors should compromise their beliefs to buy shares of Groupon. But, for investors who can tolerate some risk, and are willing to be patient, we believe that Groupon will be a profitable investment in the long run. While Groupon's Q3 2012 results were not solid, they are not indicative of its long-term potential. We believe that Groupon's best days are ahead of it, and believe that investors who add to or initiate positions in Groupon will, in the long run, be rewarded for their conviction.
Disclosure: I am long GRPN, FB, AMZN. We are long shares of AMZN via the Fidelity Growth Company Fund. I wrote this article myself, and it expresses my own opinions. I am not receiving compensation for it (other than from Seeking Alpha). I have no business relationship with any company whose stock is mentioned in this article.