Derived from the aggregated analysis of thousands of actual trade ideas and data being sent in real-time from the sell-side to the buy-side, the First Coverage Weekly Street Sentiment provides a snapshot of market trends and a unique perspective of the mindset of the Street for the week ahead. The following data has been extracted directly from all information transmitted in the past week by sell-side representatives from more than 250 firms submitting information to portfolio and asset managers across North America via the First Coverage platform.
WEEKLY STREET SENTIMENT
Overall tone of the sell-side has changed to neutral on the market.
Sell-Side Sentiment improves ending at highs for the week.
Most Bullish industry by sentiment is Technology.
Most Bearish industry by sentiment is Consumer Services.
Most active sector for sell-side ideas is Financials.
Sell-Side Certainty Index below 100 again.
PREVIOUS SENTIMENT INDICATED…
On September 22nd: "Sell-Side doesn't believe end-of-week market rally is for real and are indicating that trouble still lies ahead for broader markets."
What's happened since: The market falls more than 30% over the last three weeks.
LOOKING AHEAD…
Every dog has its day and every dead cat has its bounce.
Finally, the sell-side is suggesting that their clients position themselves for a turn in the market. The communication to the buy-side that 'enough was enough' began accelerating after that devastating open Friday and ran all the way into the close. There is no way to tell if the sell-side feels this turn will last for an hour, a day, a week or be a real bounce off of the market bottom but it's clear that regardless of the duration they are telling their buy-side clients to start picking their spots to get long and reduce their short exposure.
Volatility continues to breed activity. This past week was the most active for transmission of ideas we've had in 2008 on First Coverage. Almost 6,000 recommendations were transmitted and as the chart below indicates, the majority of those ideas were clustered in Financials, Industrials, Technology and Consumer Services.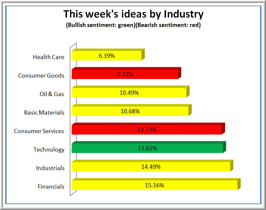 It's clear when looking at last week's activity that both Energy & Basic Materials have seen the amount of attention being paid to them (either long or short) decline and fall into the bottom half of industries. This lack of focus could be the result of the sell-side 'throwing in the towel', (indicative of a bottom in commodities?) or simply exhaustion & uncertainty amongst the sell-side when it comes to trying to figure out where commodities are heading.
Technology is the only industry where the sell-side is bullish.  Some battered names top the list of recommended stocks heading into this week including Apple (NASDAQ:AAPL), RIM (RIMM) and Google (NASDAQ:GOOG). Those companies were being suggested and suggested strongly last week.  Even with the focus on technology, the most bullish stock of last week was Wal-Mart (NYSE:WMT). The sell-side continues to believe that while most consumers, and by extension consumer stocks, will suffer dramatically heading into Q4, there will be one winner when people still need to shop for their daily needs and the upcoming holiday season.
Finally, unlike last week, when the sell-side was confident in predicting a decline in the market, this week they are collectively not nearly as sure of themselves. For the fourth week out of the last five, regardless of their sentiment, the sell-side is suggesting that their buy-side clients close out more positions than they open. This uncertainty is indicated by the Certainty Ratio being below 100% once again and is likely to remain there until something or someone can make the market believe there is an end in sight to this global meltdown.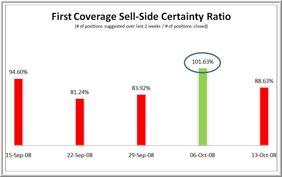 Until next week....