Aircastle (NYSE:AYR) engages in the acquisition, management, and lease of commercial jet aircraft to passenger and cargo airlines worldwide. As of June 18, 2008, its aircraft portfolio consisted of 136 aircraft that were leased to 59 lessees located in 31 countries.
Investment Thesis:
AYR is currently trading at a compelling valuation ($6.26) on a free cash flow and asset value basis. AYR generates a huge amount of cash flow which they have historically paid out via dividends. The market has punished AYR as fuel costs have increased, domestic carriers struggle, and credit concerns spook investors. The extreme drop in the stock price has resulted in the market severely undervaluing the asset value of AYR. Stated book value of AYR is $16.50 but this number is artificially low as AYR has depreciated as much of their assets as possible for tax purposes. Lease rates thus far have actually increased due to strong demand in emerging markets and the fact that Airbus and Boeing (NYSE:BA) are sold out until 2012.
Furthermore there is an incentive for legacy carriers to lease because of their accumulated NOLs, the carriers need to be profitable to realize these benefits so the tax benefit of depreciating a newly purchased plane is limited. Aircraft leasing companies can share the depreciation tax benefit with the carrier and offer a rate that is cheaper than the cost of a carrier purchasing the plane.
Below are two ways of measuring the intrinsic value of AYR. The current stock price is ignoring the value of the existing contracts that are in place. AYR has 136 aircraft with 5.2 years remaining average lease terms. The below DCF estimates the value of the FCF that will be generated by these contracts alone, in other words AYR going into "run-off". Given that on average each plane has 5.2 years remaining, I annualized Q1 2008 results which I think is reasonable given the lease rates will be relatively constant. I discounted the value of the FCF and then netted that plus the residual value of the aircraft portfolio against total liabilities to arrive at an equity value. The current valuation is equal to AYR going into "run-off" (never signing another lease deal and selling all the planes at the end of Year 5) and having the aircraft portfolio decline in value by an annual rate of -10% every year for the next five years which is equal to a -41% drop in aircraft values from today's levels. As a reference point, aircraft values fell by -40% in 2001-2004 as a result of 9/11 terrorism, the Iraqi War, and SARS heavily weighing down air travel demand. I do not expect values to fall as dramatically because these events were pretty extraordinary and not quite the same magnitude as an economic slow-down and high fuel prices. It is also important to note that aircraft values recovered back to their post 2001 levels by 2007 showing that the tide for aircraft values can also rise. Historically aircraft values have declined at an average annual rate of -4%.
If we assume -4% decline yr/yr, AYR is worth $20 in run-off. I think -4% could be too optimistic but if we think aircraft values fall by -6%, AYR is worth $15.69 in run-off. The below chart shows the sensitivity of AYR's value to the decline in aircraft values.
click to enlarge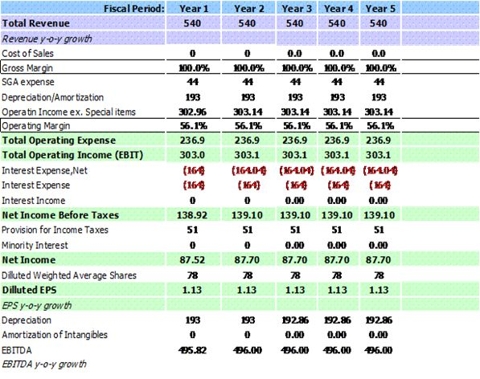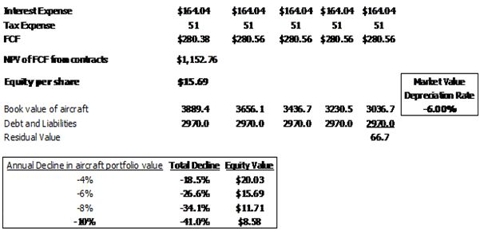 Another way of looking at the intrinsic value of AYR is through the underlying asset value. Assuming AYR stated net TBV of $15 from the balance sheet (in reality AYR has said their planes are worth more now than what they paid for them on average) and assuming that mid and wide body aircraft are worth approximately their stated book value (a reasonable assumption given all of AYR's mid and wide body aircraft are latest generation and none of the announced capacity cuts have cut mid or wide body planes) the current market price is attributing less than $1 per share of value to the narrow body aircrafts. With 100 narrow body planes, this equates to less than $800k per plane.
For the sake of comparison, there are jets that were made in 1969 that seat only 28 people that are selling for $1.6m on eBay (NASDAQ:EBAY). AYR has stated that the scrap value of a Boeing 737 is $4-5m. If we assume all the narrow bodies are worth $4m as scrap (overly conservative because 55 of the 100 narrow bodies are latest generation) the asset value of AYR is $12.50. This analysis further confirms the opportunity at today's stock price.
The main risk, which can also be viewed as what the market is implying given the current stock price of less than $7, is that lease rates will be negotiated downward as airlines file for bankruptcy. The aircraft leasing market in the US is facilitated by Section 1110 of the US Bankruptcy Code. After an airline files for bankruptcy they have 60 days to decide on their next action which is either return the aircraft, renegotiate the lease, or a bankruptcy judge can lower the lease rate to more of a market rate but in that situation the lessor retains the right to refuse the lower rate and reclaim the aircraft and lease it out elsewhere at current rates. At the end of Q2, lease rates for 2009 were flat compared to 2008 rates which is especially encouraging given the state of domestic airlines and US economy. The right of the lender to take possession of the plane is not hampered by the automatic stay provisions of the US Bankruptcy Code which helps ensure that the lessor will be able to quickly recover and re-lease an aircraft if a lessee stops making payments. There is a global treaty equivalent called the Cape Town Agreement which provides protection for aircraft financing around the world.
AYR has a total of 59 lessees in 31 countries making the company very well diversified. Europe accounts for 44% of revenue and Asia 27%. US Air is the largest lessee at 12%. The second largest lessee is Sterling Air out of Denmark at 7%. The biggest risk is obviously US Air which has already been in bankruptcy twice. Given the high utilization rate I don't think US Air faces any near-term risk of liquidation. An interesting dynamic of US Air and their fleet size is that LCC is unable to pare back their fleet as dramatically as Continental or United because their pilot contract stipulates a minimum fleet size. I see this as a positive for AYR as LCC is forced to continue to maintain at least 332 planes of their current fleet of 357. Even back when the US had significant overcapacity following 9/11, the US government did not let a major carrier go under. Currently the global demand for aircraft, especially out of Asia, remains quite strong so small bankruptcies will likely be easily absorbed. China and India are still wildly underserved compared to the US in terms of air travel. In the US, we have 22 aircraft per million people, in China they have 0.8 aircraft per million, and in India they have 0.3 aircraft per million. Foreign demand should help keep aircraft values high even if US carriers are struggling.
A detailed look at US Airways Q2 results shows that fuel and labor are the largest costs incurred by the company. Fuel is by far the largest expense and in the first half of 2008 was 33% of revenue. When analyzing the entire cost structure for LCC, I am encouraged by how relatively small the lease fees are (6% of revenue). This gives me confidence that LCC will not focus on lease rates as a top priority for cost savings when there are bigger fish to fry such as fuel, labor, and maintenance. If anything the financial strain of airlines will make leasing more attractive as fewer airlines will have the money to spend on purchasing new planes.
AYR could start to attract income investors if it stays at this level for long. With the S&P 500 yielding 2.4% and the 10yr at 3.86%, a 16% forward yield looks pretty attractive. AYR may be painful to own right now but it is very cheap and you make 16% while you wait for sentiment to change.

Disclosure: Author holds a long position in AYR