In the wake of the U.S. election, there has been much speculation about how various asset classes would be affected by the debt negotiations during the Lame Duck Session of Congress prior to the fiscal cliff. In particular, it has been written that gold could outperform.
If grand bargain failure means uncertainty, the outcome on gold may not be straightforward as the 15 days' correlation between daily changes in VIX and Gold is not significant (within the 0.5/-0.5 bracket).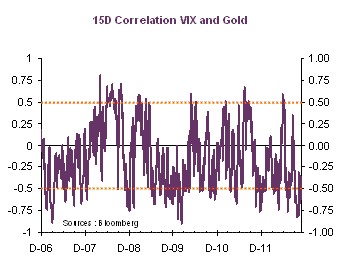 History is not always a good barometer but a look at assets returns behavior during the debt ceiling crisis can provide some interesting information.

During the period ramping up to the deadline (August 2), the SP 500 dropped 7.3%, gold went up 8.4% while the USD remained broadly unchanged. In spite of the threat in U.S. Treasury funding and rating, 10-year yields edged down by 50 basis points - an apparent puzzle that can be explained by the safe haven properties of the U.S. benchmark.
During that period, usual correlation broke down as can be seen below.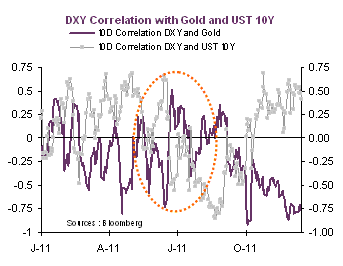 Interestingly enough, when the stress eased, the DXY appreciated significantly and gold prices receded. The correlations returned to "normal regimes." Long-run concerns (sequestration and its aftermath) have had a much smaller impact on markets than short-run risk.
Could we replicate such a pattern for the year-end?
In the short run, the risk is clearly a failure to deal with the fiscal cliff and its recessionary effect. The risk has two dimensions:
The extent of the "Grand Bargain"; and
The time frame (whether an agreement can be reached quickly).
In such an uncertain environment, we cannot rule out a 2011-type scenario with correlation breaks - especially since the global environment (eurozone, Asia) is weak. Unfounded or not, misguided or not, heightened fear of a negative fiscal shock would not be inconsistent with a gold/USD correlation break.
The results of the election highlight some "recentralization" of the U.S. electorate. This could mean more bi-partisan cooperation in the four years ahead. Boehner's somewhat conciliatory comments yesterday suggest that the House Republicans will be looking to cooperate with the administration, or at least to "meet them halfway." In that sense, it could mean a positive outcome in terms of fiscal deficit reduction in the medium run. This is clearly a "normal," risk-on regime.
If gold has to outperform, it will be before year-end.
Disclosure: I have no positions in any stocks mentioned, and no plans to initiate any positions within the next 72 hours. I wrote this article myself, and it expresses my own opinions. I am not receiving compensation for it (other than from Seeking Alpha). I have no business relationship with any company whose stock is mentioned in this article.