On Friday, shares of Groupon (NASDAQ:GRPN) fell sharply to a new all-time low following an earnings miss reported on Thursday. As shown by the chart below, GRPN shares are now down more than 70% since I recommended that investors avoid shares in my article titled "Groupon Hits New All-Time Low: What You Need To Know." Now, with shares trading below $3 per share, I think GRPN is an interesting speculative long.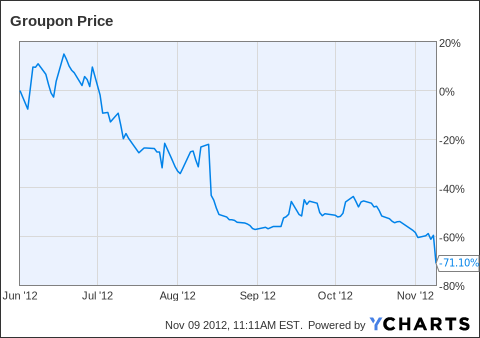 Here's a look at the earnings highlights:
Loss of $3 million compared to a net loss of $54.2 million a year ago.
Break even on a per share basis compared to a 18 cent per share loss a year ago.
Revenue increased 32% to $568.6 million from $430.2 million a year ago.
Analysts had expected earnings of 3 cents per share and revenue of $590 million.
Clearly, judging by the nearly 30% decline in GRPN shares following the results, it is safe to say that Wall Street was disappointed with the results. On the conference call, GRPN CEO Andrew Mason blamed the weak results on the international segment. In addition to discussing the weakness in the international segment, Mason also discussed the changing distribution channels for GRPN:
And while we believe that our local email business will continue to grow, the real opportunity comes from breaking out of the inbox, not being only pushed but being pulled, not being only demand generation but also being demand fulfillment, which we accomplished by increasing our selection of quality merchants always at unbeatable prices and tapping into traditional e-commerce distribution channels like direct site and search engine traffic. That's our growth strategy boiled down to its essence...

Now I want to talk about a few of the non-email channels that we're optimistic about as we grow our local business, mobile and search engines. As I mentioned earlier, about 1/3 of our transactions in North America now occur on mobile devices. The pace of change here is staggering but not surprising. With the ability to find, buy and redeem deals on the fly, Groupon is a better experience on mobile devices, offering curated, personalized, location-specific deals to fit the form factor of phones and tablets. This is reinforced by the behavior of our mobile users, who spend more and are more likely to buy without the aid of a push email reminder.
Bet on Andrew Mason?
Simply put, since GRPN's IPO at $20 per share a year ago, things have been disastrous for the company. One of the major setbacks for GRPN has been the rise of stiff competition in many of its markets, notably Amazon (NASDAQ:AMZN) Deals and Google (NASDAQ:GOOG) offers. However, it must be noted that Andrew Mason was the visionary behind the online deals market. While it has not paid to bet on Andrew Mason so far, I think it is naive to say that a turnaround is impossible given what he has already accomplished in a short period of time with GRPN. In just four years, Mason has grown GRPN into a company generating more than $500 million in sales. Certainly, there are problems with GRPN's business right now but I believe Mason is capable of doing what is needed to get GRPN back on track. Mason still owns more than 45 million shares of GRPN, so he certainly still has a personal stake in the success of GRPN.
Cash Per Share
Currently, GRPN has more than $1 billion or $1.82 per share in cash and no debt. With the stock trading below $3, I believe the cash per share could serve as something of a cushion for the stock. When the stock was trading at higher levels, the cash per share was not as relevant. GRPN's strong financial position means that the risk of an extreme adverse event such as bankruptcy is quite low since the company currently has no debt and plenty of cash to finance its operations as needed.
Takeover Candidate
Prior to going public, Google made a takeover bid for GRPN worth $6 billion. Now, with GRPN valued at less than $2 billion a takeover is certainly possible. Of course, speculating on a takeover is always risky but there are many potential buyers including Google, Amazon, Yahoo (NASDAQ:YHOO), and others.
Short Interest
As of Oct. 15, when short interest was last reported, more than 32 million shares or 15.5% of the float was sold short. With the stock now trading at an all-time low, I think it is far to late to short the stock. To me, given the floor at $1.82 because of the cash per share, the risk of a buyout or turnaround is far greater than the potential downside. I expect short sellers to realize this and begin to take some gains at these levels. Short covering could lead to a short-term turn in the stock.
Conclusion
While I still remain skeptical of GRPN's business model, I believe it is an interesting speculation under $3. The cash per share, potential takeover, short interest, and possibility of an Andrew Mason led turnaround are all reasons why GRPN shares are likely close to a bottom.
Disclosure: I have no positions in any stocks mentioned, and no plans to initiate any positions within the next 72 hours. I wrote this article myself, and it expresses my own opinions. I am not receiving compensation for it (other than from Seeking Alpha). I have no business relationship with any company whose stock is mentioned in this article.