Is Enterprise Product Partners (NYSE:EPD) stuck in the mud? As a long-time shareholder, it sure seems as if the party has been put on pause over the past several months for this midstream MLP. Since August, shares have been relatively unchanged, hovering in the low $50s.
Click to enlarge images.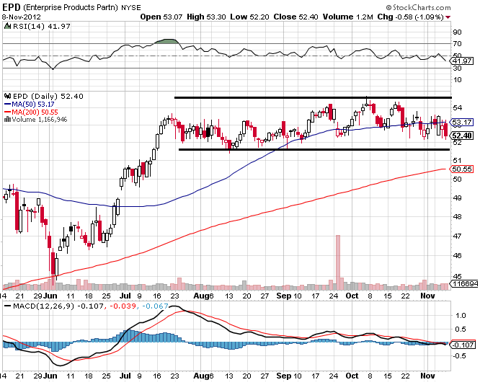 In addition, EPD's performance has also lagged alternatives in the space since August like Kinder Morgan (NYSE:KMP), El Paso Pipeline Partners (NYSE:EPB), and the ALPS Alerian MLP ETF (NYSEARCA:AMLP), which serves as a basket of MLP stocks: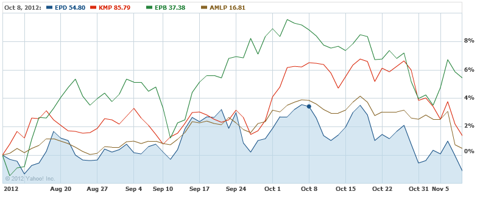 Despite yet another distribution increase in October, the 33rd consecutive quarterly increase, the stock still hasn't budged. Has this latest boost of 2.36% from the prior quarter's payout, and a 6.1% increase from the rate paid with respect to the third quarter of 2011, become a bore to investors? Since when has such predictable and reliable distribution increases become so unexciting and unappreciated?
At a current yield of 4.91%, it does seem on the lower range of the payout spectrum. However, EPD's DRIP does currently increase the payout by 5%, totaling a 5.15% yield if enrolled in the program. Also, as of EPD's Q3 results, DCF offered 1.3 times coverage of the $0.65 per unit cash distribution, supplying a high degree of secure coverage to shareholders. In addition, distributions carry a solid 5.18% CAGR since 2007.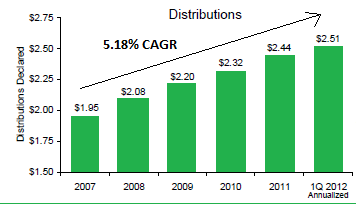 Strong, consistent distribution growth offers ample reason to stay patient with this MLP, despite recent share underperformance.
Major Strengths:
Growth: $7.5 billion of growth projects under construction
Investor-friendly structure: no general partner IDRs
Attractive Assets: 50,700 miles of natural gas, NGL, crude oil, refined products, and petrochemical pipelines; 25 natural gas processing plants; and 20 NGL and propylene fractionators
Distribution: 4.91% yield at 1.3 times DCF coverage, recently increased for the 33rd consecutive quarter
So, back to the question at hand: Why the long pause in share appreciation? The only answer I uncovered is the history of technical performance in the stock. As a long-time holder, I have noticed EPD's behavior tends to be a sudden rush of upward moves instead of the gradual increase one would expect, especially considering the steady quarterly increases rather than an "all at once" yearly increase that so often occurs in other dividend stocks -- like Altria (NYSE:MO) or Coca-Cola (NYSE:KO), for example. Let's take a look into EPD's past: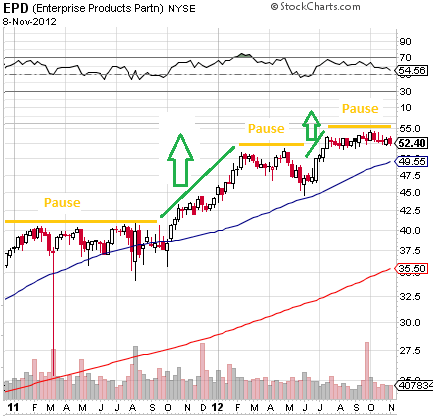 It seems as if EPD shares tend to experience months and months of rangebound movement, then a matching move upward following this pause. Generally speaking, recent history has shown that the length of the move upward generally correlates to the length of the pause. It seems as if we are in the middle of another pause. Until the next move upward breaks this awkward silence, it is safe to hold tight and collect the reliable, safe and increasing distributions from this solid company.
Disclosure: I am long KO, MO, KMI, EPD. I wrote this article myself, and it expresses my own opinions. I am not receiving compensation for it (other than from Seeking Alpha). I have no business relationship with any company whose stock is mentioned in this article.