Today we are going to take a look at Research In Motion (RIMM), primarily because the short percentage of the float stands almost at 20% and 50 carriers have started lab testing the Blackberry 10. In a sign that the worst could be behind the company, analysts have begun raising their revenue estimates and the stock traded as high as $9.17 before pulling back with the general market. We will take a look at this company from a technical and fundamental perspective, but before we do that we like to put each company we look at through a simple selection process. Research in Motion fulfilled all the listed requirements.
The selection process:
A positive levered free cash flow
A 3-5 ESP estimated growth rate of 8% or higher
Trading below book
A free cash flow yield of over 20%
A current ratio of 1.70 or higher
A long term debt to equity ratio of 0.10 or lower
Some reasons to be bullish on Research In Motion:
Short percentage of float stood at 13.7% in June. As of Oct 15, 2012 this figure has risen to 19.6%, which makes it a very good candidate for a short squeeze.
Blackberry 10 is already being lab tested with 50 carriers. This testing period typically lasts 60-90 days so the phone could be out in late January. If it is received well, this could be one of the drivers that could lead to a short

squeeze.
"In the last week, BlackBerry 10 achieved lab entry with more than 50 carriers -- a key step in our preparedness for the launch of BlackBerry 10 in the first quarter of 2013," Chief Executive Officer Thorsten Heins said in an e-mailed statement.

Carrier testing typically takes 60 to 90 days, which means that RIM "should have no trouble making its first-quarter deadline," said Chris Umiastowski, an independent technology consultant who tracks the company. Ninety days from today would put the release in the late-January time frame.
It has a strong free cash flow yield of 52.58%.
It is trading over 50% below book. The current book value stands at $18.15
A good quick and current ratio of 1.7 and 2.20 respectively.
A long-term debt to equity ratio of 0.00.
Zacks

has

a projected 3-5 year EPS growth rate of 13%.
In a sign that Blackberry 10 might receive a decent reception,

analysts

have been raising revenue estimates for RIM. The current mean estimate stands at $2.62 billion.
Analysts are projecting growth rates of 10% per annum for the next five years
Research In Motion

recently won

an important U.S. security certification which will allow the Blackberry 10 to be used by government agencies. This is the first time the company device has been certified prior to its launch.
Achieving FIPS 140-2 certification means that BlackBerry 10 is ready to meet the strict security requirements of government agencies and enterprises at launch," says Michael K. Brown, vice president of security product management and research at RIM.

Talking about the security features of the device he said, "What differentiates BlackBerry is that it integrates end-to-end security, and includes certified encryption algorithms for data at rest and data in transit. No other mobile solution has achieved the level of security accreditation that the BlackBerry solution has.
Technical Outlook
It has quite a bit of resistance in the $8.30-$8.45 ranges and so far each attempt to trade past this zone has failed. These gains are usually shed immediately or a few days later. It is still in the process of a putting in a bottom, though the worst may be priced in as it is trading significantly off its September 25th lows of $6.25. The stock is still in a volatile phase and needs to hold above $7.90 on a weekly basis to confirm that the worst is behind it. A weekly close below this level could result in a test of the lows. We feel that the stock could test the $7.00 ranges one more time before a bottom is in place. Consider waiting for a test of the $7.00-$7.50 ranges before jumping in. A weekly close above $9.50 would be a very bullish development and indicate that the stock was ready to trade as high as $12.00 before pulling back.
Charts of value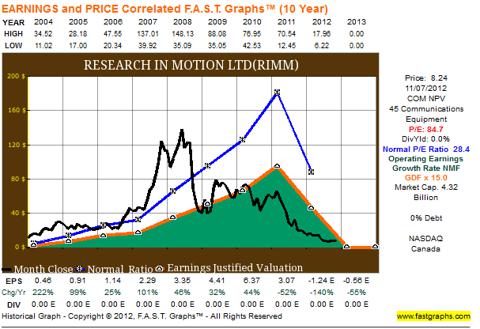 The orange line represents the valuation growth rate line. Generally, when the stock is trading below this line and in the shaded green area, it represents a good long term entry point. The stock is currently trading below this line. According to Fast graphs, it has an estimated earnings growth rate of 19.8%.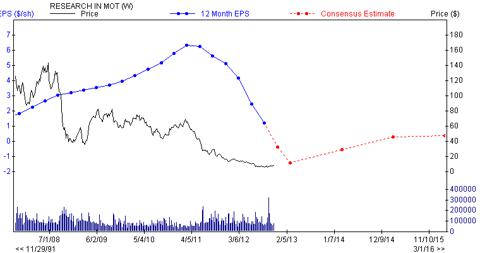 When a stock is trading above the EPS and EPS consensus estimate line, it is a bullish phase, and the outlook is for higher prices. While the stock is still trading below the EPS consensus estimates, the line has started to trend upwards and this suggests that the worst could be behind the company. From a contrarian perspective, it might make sense to take an early position in anticipation of a turnaround.
A look at how Research In Motion holds up against the competition
The company will be compared against key competitors such as Nokia (NYSE:NOK), Apple Inc (NASDAQ:AAPL) and Google (NASDAQ:GOOG) using key metrics such as P/E, quarterly revenue growth, operating margins, PEG, etc. This will give you further insight into the company, and it could also help you determine if it is the right play for you.
| | | | | |
| --- | --- | --- | --- | --- |
| | RIMM | AAPL | GOOG | NOK |
| Quarterly revenue growth | -0.31 | 0.27 | 0.45 | -0.19 |
| Revenue | 15.05B | 156.51B | 47.54B | 41.61B |
| Gross Margin | 0.29 | 0.44 | 0.60 | 0.27 |
| EBITDA | 1.95B | 58.52B | 15.85B | -911.47M |
| Operating Margin | 0.01 | 0.35 | 0.28 | -0.06 |
| Net Income | -613.00M | 41.73B | 10.56B | -5.67B |
| EPS | -1.17 | 44.15 | 31.91 | -1.53 |
| P/E | N/A | 12.26 | 20.46 | N/A |
| PEG (5 yr expected): | -1.29 | 0.51 | 1.25 | 7.78 |
| P/S | 0.28 | 3.35 | 4.61 | 0.24 |
M = Million B= Billion
Conclusion
It appears that the worst could be behind the company as the stock is trading significantly off its September 24th lows. The company just won an important security certification which allows it to market the Blackberry 10 to government agencies in the U.S. This is the first time ever that a device has been certified prior to its launch. According to Michael K. Brown, the vice president of security product management and research, no other mobile platform has achieved the level of security offered by the new Blackberry 10 platform. If the Blackberry 10 is received well when it launches, then those who got in early could be rewarded well. Even IDC expects the mobile enterprise security market to do well from 2012-2016 and as RIM is in the dominant player in this field it could recoup a significant portion of the corporate customers it has lost with the launch of Blackberry 10.
"IDC expects the mobile enterprise security market to experience a high rate of growth from 2012 to 2016," said Stacy Crook, Program Manager for Mobile Enterprise research at IDC. "Maintaining the BlackBerry solution's reputation for security while introducing an enhanced user experience gives BlackBerry 10 the opportunity to be a highly competitive platform in the government, enterprise and consumer sectors."
There are still risks associated with opening a position in this stock. It is facing a lot of pressure from Apple's iPhone and Android based smart phones. It is essentially betting the house on Blackberry 10. If Blackberry 10 fails to please the market, then it could be over for RIM. Its global smart phone market share fell 4.2% in the last quarter compared with 6.4% in the previous quarter. However, based on the reasons we listed throughout this article, individuals willing to take on a bit of risk could end up being well rewarded if the Blackberry 10 proves to be a hit.
As the market is in a volatile phase right now, consider waiting for the stock to test the $7.00-$7.50 ranges before jumping in. Alternatively, you could sell in the money puts, which would give you an entry price of $7.00 or better when the premium is factored in. For example, with the Feb 2013, 8 puts, if the stock was put to your account right now, your final price would be roughly $6.98-$7.00 per share. When you sell in the money puts you have a better chance of having the shares assigned to your account. If you are not in a rush to own the stock, you could sell out of the money puts.
Competitor comparison data sourced from yahoofinance.com. EPS consensus charts sourced from zacks.com. Some of the research and historical data used in this article was obtained from zacks.com.
Disclaimer
It is imperative that you do your due diligence and then determine if the above strategy meets with your risk tolerance levels. The Latin maxim caveat emptor applies-let the buyer beware.
Disclosure: I have no positions in any stocks mentioned, and no plans to initiate any positions within the next 72 hours.
Business relationship disclosure: This article was prepared for Tactical Investor by one of our analysts. We have not received any compensation for expressing the recommendations in this article. We have no business relationships with any of the companies mentioned in this article.