I last wrote about McDonald's (NYSE:MCD) here on Seeking Alpha on July 24, 2011, when the shares were trading for $88.56. At that time the consensus earnings views for 2011 and 2012 were $5.12 and $5.60 respectively.
That 2011 estimate proved to be a bit conservative. Actual EPS came in at $5.27. The 2012 projection now appears certain to have been too optimistic. Yesterday, management announced their first monthly worldwide same-store sales decline since 2003.
The 1.8% drop-off is much worse than it seems as it encompassed all three worldwide regions (excluding Canada, which reports separately).
A lot of menu price inflation has occurred over the intervening nine years. The absolute drop in SSS means unit volume was down very significantly.
This is equivalent to the movie business. Gross box office receipts need to be viewed in terms of actual ticket sales volume in order to get a true pulse of the business.
Sixteen months, ago I felt MCD was pricing in the next 12 - 18 months of growth. I predicted that the shares were set up to go nowhere. At Friday morning's quote of $84.10 (as of 9:35 am) it turns out that even a 'going nowhere' prediction was a shade too high for those who simply held.
MCD did run to even more overvalued territory after my 2011 write-up. The shares peaked briefly at $102.22 last January before starting a fairly steady slide to today's new 52-week intra-day low of $84.05.
Is McDonald's a good buy now? Value Line shows MCD's 10-year median multiple has been 16.0x. The stock now trades for 15.8x the newly reduced 2012 estimate of $5.32, putting the shares at very slightly undervalued based on historical P/E.
The key is whether this sales slowdown is temporary or a sign of depressed revenues and margins to come. Forward estimates still show 2012 consensus views for over 9% growth. That appears unattainable after yesterday's news.
The company has a sterling record of recovering from periodic weakness. I'd guess that MCD will post flattish numbers next year before hopefully getting back on the growth track in 2014.
MCD meets all the criteria for quality. High financial strength, extraordinary earnings predictability versus most other companies and a well-covered dividend of 3.33%.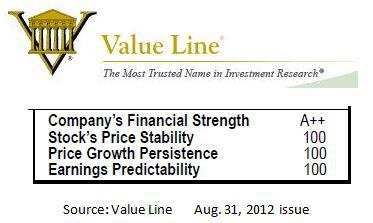 From this morning's reasonable valuation level of $84.10 I suspect shareholders will slightly outperform the company's forward growth rate which should rebound to 5% - 8% even in an economically challenged world.
Long term holders could thus expect to see annualized total returns of 8.3% - 11.5% based on the sum of EPS growth plus yield. It's not the most exciting stock in my research universe right now but the risk appears low and there could be an upside surprise now that expectations have been tempered.
McDonald's is once again a solid choice for conservative, total return investors with time horizons of years rather than months.
Option savvy traders might wish to write (sell) January 2014 puts at strikes of $85 or $90.

In a worst case scenario you'd own MCD at either $76.25 (with the $85 strike) or $78.05 (if exercised on the $90s). Those were the bid prices from a few minutes earlier when the shares were still at $84.40. You should be able to get higher premiums right now with the stock @ $84.10.
Your best-case scenario, the one I'd guess is most likely to occur, is for the puts to expire worthless. In that case you'd keep 100% of the net premiums received and while not having to buy any MCD shares at all.
Disclosure: I have no positions in any stocks mentioned, but may initiate a long position in MCD over the next 72 hours. I wrote this article myself, and it expresses my own opinions. I am not receiving compensation for it (other than from Seeking Alpha). I have no business relationship with any company whose stock is mentioned in this article.