Genel Energy PLC (OTCPK:GEGYF), the largest oil producer in the Kurdistan Region of Iraq, is positioned to capitalize on the country's immense oil reserves and the greater fulfillment of its production potential. The risks and uncertainties Genel faces are clear, as Iraq remains unstable, hostile to foreigners, and ravaged by years of civil war and foreign occupation. But overall, on the basis of the company's experienced management, the production potential and low acquisition costs of its assets, its close tie relations with key players in the surrounding regional governments, and the increasing signs of stability in Kurdistan I believe Genel has the potential for long-term returns that may justify the hefty risk.
Overview: Iraq's Oil Industry
Iraq is blessed with abundant oil that is cheap to extract and close to newly built export terminals. Production has hit a three-decade high and continues to rise steadily. (Source: The Economist, November 2012)
With world's fourth-largest proven oil reserves (after Saudi Arabia, Venezuela, and Iran), Iraq has become a center of attention in the high-risk global energy and production game. 2011 estimates of the country's reserves are 143 billion barrels. Given its tumultuous recent past, it's no surprise that the country is producing well below its potential. In terms of daily oil production, Iraq is currently doing approximately 2.4 mbd (million barrels per day). In terms of potential, though, the International Energy Agency recently forecast that the country could be producing 8.3 mbd by 2035, with other industry analysts suggesting Iraq could hit 5 to 7 mbd by as early 2015.
Geopolitical Overview: Why Kurdistan?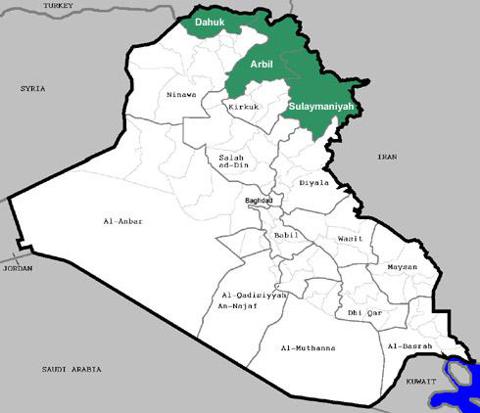 Of particular importance in Iraq's oil future is Kurdistan, the semi-autonomous province in the north and northwestern section of Iraq known internally as the Kurdistan Regional Government (KRG). Though Kurdistan is an integral part of Iraq, the Kurds view themselves as a culturally and politically distinct people separate from Arabs, Turks, and Persians. As such, the KRG is frequently at odds with the central Iraqi government, especially over the issue of oil.
Relative to the rest of Iraq, Kurdistan is more stable, has better infrastructure, and is far more willing to work with multinational oil companies -- all reasons for Genel's focus on the region, despite the fact that Kurdistan's reserves of around 45 billion barrels represent less than one-third of the country's total reserves. According to Luay al-Khatteeb, Director at the Iraq Energy Institute in London, "Kurdistan is 11 years ahead of the rest of Iraq in terms of political and commercial development."
While the central Iraqi government has been hostile toward the oil majors seeking to participate in the country's oil boom, the KRG has been far more receptive, and recently signed deals with the likes of Chevron, Gazprom, and Total. This has created significant tension between the KRG and central government, as the latter has deemed these deals illegal. Baghdad's central government claims that they alone have the authority to negotiate contracts and exports.
In terms of oil, Iraqi Kurdistan contains over 45 billion barrels of proven reserves. Today, the Kurds export around 200,000 b/d, through pipelines controlled by the central government. If political stability and good relations between the KRG and the Iraqi central government can be maintained, many see the potential for this figure to triple or quadruple in the coming years.
"Out of all the regions in Iraq, Kurdistan is probably the best positioned at this stage to increase its production significantly," noted industry analyst Amine Bouchentouf.
Genel's Management: The Second Coming of Tony Hayward?
One of the most interesting aspects of Genel is the people behind it. Tony Hayward, the chief executive who left BP after being vilified for his handling of Gulf Coast oil spill in 2011, has emerged at the helm of this much smaller company, seeking to make a new fortune in small oil. He is bankrolled in part by Nathaniel Rothschild, scion of the great European banking dynasty, as well as by Paulson & Company, John A. Paulson's New York hedge fund famous for making billions in 2008 shorting the subprime mortgage market. Hayward's business partner, Julian Metherell, is the former head of energy investment banking at Goldman Sachs.
Hayward and Metherell set up a cash shell company (meaning it had no business, but promised to find one), called Vallares, and raised $2.1 billion during the company's IPO on the London Stock Exchange. The money was to be used to "buy unspecified oil and gas assets in emerging markets," and Kurdistan would end up being the choice.
The pair then joined forces with two local players: Mehmet Sepil, a well-established player in Kurdish oil investment, who had worked with Jalal Talabani, Iraq's recent president; and Mehmet Karamehmet, a media and telecom mogul, chairman of Turkey's Cukurova Group conglomerate, and longtime business partner of Sepil. Vallares would merge with Genel Energy International, Sepil's then-private Turkish company that held stakes in various Kurdistan oil fields. The result of the merger was Genel Energy, which is now listed on the London Stock Exchange.
With the two Brits providing the big money and the operational know-how to the table, and Sepil and Karamehmet bringing their local experience and political connections, the formulation of the company's management looks pretty shrewd. The involvement of deep-pocketed and connected players like Rothschild and Paulson is also a good sign. As another measure of credibility, Genel's board is headed by Rodney F. Chase, a former deputy CEO of BP, and includes other veteran London business figures.
Quality Assets at a Discount
Because of the political uncertainty with regards to Kurdistan's relations with the central Iraqi government, Genel was able to acquire its oil assets at very attractive prices -- close to $1.50 per barrel for reserves and prospective oil. According to Genel's Metherell, "it was unusual to find assets of this quality that hadn't been bagged by the majors" (source: NYT.com, September 2012). The low acquisition costs of the company's oil assets are reflected in the stock's price/book ratio of 0.6.
According to a recent communique on their website, Genel now has an "estimated unrisked resource base of 1.4 billion barrels of oil equivalent (2p) -- including proved and probable reserves of 356 million barrels." Its portfolio of eight promising blocks in Kurdistan include a majority ownership in Iraqi Kurdistan's second-largest oil field. The company's daily oil production has nearly doubled to 75,000 bpd since the first half of 2011. Another statistic they include is that, "of the 49 wells drilled in the Kurdistan Region of Iraq over the past six years, more than 70% have been successful."
| | |
| --- | --- |
| Market Cap | $1.6 billion |
| Forward P/E | 19.1 |
| Price/Book | 0.6 |
| Price/Sales | 44.3 |
| Last Price | 850 pence (GBP) |
| 52-Week Low | 586 pence |
| 52-Week High | 1,033 pence |
| Exchange | London Stock Exchange |
Additional Uncertainty
As mentioned before, much of Genel's success moving forward depends on smooth relations between the KRG and the central Iraqi government in Baghdad. After the stock tumbled post-IPO, it has risen over 33% in the past six months in light of the KRG and Baghdad arriving at mutual production agreements. It seems as though things are moving in the right direction.
But other uncertainties remain as well. Genel is currently sitting on over $1.8 billion in cash, and is still deciding how and where to invest it. Though the company is focused primarily in Iraqi Kurdistan, Genel has recently been buying up oil and natural gas licenses in Malta and Morocco, and has plans to start drilling for oil in northwestern Somalia as early as the second quarter of 2014. According to Tony Hayward, CEO of Genel,
I believe there is massive opportunity for shrewd investment in the space that exists between the E&P juniors and the oil majors. Genel Energy is confidently poised to exploit it.
Conclusion
Overall, Genel Energy is a high-risk, high-reward investment. On the one hand, if relations between the KRG and Baghdad completely collapse, the company and its shareholders will suffer dearly given Genel's concentration in the region. Though its large cash pile and its growing investments elsewhere in the Middle East may help alleviate the pain and loss in the case of such an situation, if production stops unexpectedly the company might be unable to finance additional exploration and the development of existing assets.
Conversely, if KRG-Baghdad relations continue to improve and Genel's production continues to grow as it has, one could easily see the stock doubling or tripling in value over the next few years. Focused on a region with incredible potential, acquiring oil assets at unusually low prices, and clearly well-capitalized and benefiting from ties to key regional politicians, Genel represents a high-risk opportunity with enormous upside potential for investors.
Disclosure: I have no positions in any stocks mentioned, and no plans to initiate any positions within the next 72 hours. I wrote this article myself, and it expresses my own opinions. I am not receiving compensation for it (other than from Seeking Alpha). I have no business relationship with any company whose stock is mentioned in this article.