It looks like my September 22nd article Energy Storage Opportunities After the Market Carnage was a little bit premature. But before getting into the details of how the energy storage sector is faring on October 12, 2008, I need to apologize to ZBB Energy Corp. (ZBB) because I incorrectly reported that they were late in their SEC filings in my September 1st article Opportunities in Energy Storage Stocks. My mistake was simple. I missed the fact that ZBB has a June 30 a fiscal year and its next report wasn't due until the end of September. The company filed its annual report with the SEC a few days later and appears to be in solid financial condition with 18 months of operating cash. I am sorry for the mistake. 
ZBB is a transition stage manufacturer of zinc bromine flow batteries and the clear leader in the "hours of discharge time" product class. Their pre-production prototypes are priced in the $600 per kWh range and will compete primarily with pumped hydro and compressed air storage. There is no question that pumped hydro and compressed air will be the technologies of choice for utility-scale diurnal storage installations. But when it comes to small-scale storage for homes, businesses and remote villages, flow batteries like ZBB's are likely to be the best choice. Given its financial strength, cost advantages to users, tax credit eligibility in solar installations and strong position in a critical energy storage niche, I think ZBB has solid upside potential. 
The last three weeks have been an extraordinary period in the energy storage sector. Despite the worst market conditions in 20 years, Warren Buffett invested $230 million in a Chinese battery company; Altair Nanotechnologies (NASDAQ:ALTI) and Beacon Power (BCON) announced equity injections of $10 and $7.9 million respectively; and A123 Systems amended the registration statement for its upcoming IPO. Collectively, these events point to tremendous fundamental strength in a sector that has taken a harder hit than most over the last six months. They also support my core premise that energy storage is likely to be the next major investment trend as global demand for rechargeable batteries grows from $20 billion to $100 billion. 
While the last six months have been tough for the entire market, many stocks in the storage sector have been absolutely savaged. Since April 11, 2008, the Dow has fallen 35.9% and the Russell 2000 has declined 27.7%. In comparison, storage sector stocks have plummeted an average of 52.2%. The following table identifies the pure play U.S. equities in the storage sector and provides summary data on their six-month performance and current valuations.
click to enlarge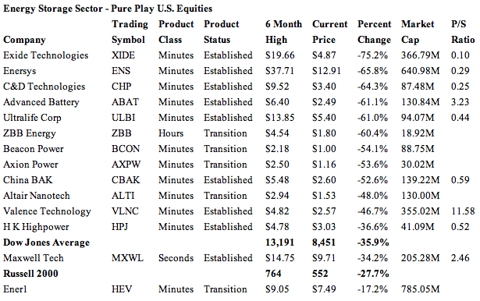 Click to enlarge
I cringe when I think back to October of '87 when financing dried up across the board and the market collapsed. Microsoft, Intel, IBM and Apple all fell by roughly 50% over the space of a month. But once the bloodletting subsided, the smart money moved rapidly into the IT sector and the information age began in earnest. For reasons that I've discussed in earlier Seeking Alpha articles, I believe we are entering a new economic era where alternative energy solutions will slowly but certainly reduce our dependence on oil, gas and coal; and the basic technologies that are essential to a post-hydrocarbon economy will become pre-eminent. Since energy storage is an enabling technology that makes many other alternative energy technologies work better, I'm convinced that the sector will thrive as the world economy recovers and moves forward. 
In the last six months, established lead-acid battery manufacturers including Exide (XIDE), Enersys (NYSE:ENS) and C&D (CHP) have been beaten down to the point where they are trading at insane price to sales ratios in the .10 to .29 range. The overriding concerns seem to be risks in the automotive market, potential environmental issues and a persistent rust belt image. In my view, each of these concerns is overblown. The automotive OEM market is only a fraction of the total market for lead-acid batteries and the markets for automotive replacement batteries and non-automotive applications will remain robust regardless of what happens in Detroit. Likewise, the recycling rate for lead-acid batteries is approaching 99% and new developments like the lead-carbon "PbC Batteries" from Axion Power (NASDAQ:AXPW) promise to reduce lead content by 40% or more while improving power, cycle-life and recharge rates. It's easy to dismiss lead-acid batteries as "old-tech" because they've been the gold standard in energy storage for the last 80 years. But with capital costs of $150 to $200 per kWh they are the cheapest energy storage solution by a wide margin and that fact alone will make them the first choice when regular guys go shopping for energy storage devices. 
The advanced battery sector has also traded down to surprising levels over the last six months and established manufacturers including Ultralife (NASDAQ:ULBI), China BAK (NASDAQ:CBAK) and Hong Kong Highpower (NASDAQ:HPJ) are sporting relatively low price to sales ratios in the .44 to .59 range. These companies may be expensive compared to the lead-acid group, but they're cheap compared to the overall market. 
I remain convinced that Li-ion technology has been over-hyped by rainbow stew visionaries who foresee a day when there's an EV in every garage. But the reality is that the Pickens Plan is the only short-term transportation alternative that accommodates both existing infrastructure and the preferences of the driving public. Moreover, at prices of $1,500 per kWh, advanced Li-ion technology is far too expensive for widespread use by regular guys and it is not likely to get much cheaper. I'm intrigued by Warren Buffet's plans to manufacture EVs in China and can see how the cost of a Chinese EV might be attractive, but companies like Altair and Ener1 (NASDAQ:HEV) that plan to make me-too lithium-titanate products in North America to compete with established Asian lithium-titanate products like Toshiba's SCiB line are in for a long hard road. 
In the last couple weeks, Beacon Power has made tremendous progress between its fabrication and testing of a 1 mW/250 kWh flywheel array and its receipt of a financing commitment for a utility-scale frequency regulation project. The details of Beacon's frequency regulation project remain sketchy so it's hard to draw clear cost-benefit conclusions. But the progress is impressive and I think the stock bears watching. 
I expect a successful IPO from A123 Systems to be watershed event. If A123's IPO comes together before Thanksgiving, it will draw market attention to the energy storage sector in a new way and force investors to think about energy storage as a fundamental enabling technology for the coming age of cost-effective alternative energy. The resulting high tide of investor sentiment should lift all boats and the biggest gainers should be the boats with the lowest profiles. 
As the market begins to understand the critical importance of the storage sector, established manufacturers like Exide, Enersys, C&D, Ultralife, China BAK and Hong Kong Highpower should see stock their prices surge upward from the current range of .10 to .59 times sales. While I do not expect to see valuations in the 5 to 6 times sales range one frequently sees for solar cell manufacturers, I believe the cream of the energy storage stocks have minimal downside risk and substantial upside potential. In the transition manufacturers class, ZBB, Axion and Beacon each occupy attractive niches with no direct Asian competition. Since their market capitalizations have been beaten down with all other sector participants, I think current prices for these stocks are all attractive entry points. 
We have seen blood running in the streets of the storage sector for six months. If the last three weeks are a reliable indicator, the smart money has begun moving into the storage sector in a big way. While I'm not a prophet and have learned an important lesson about trying to call market bottoms, my optimism about the future of the energy storage sector remains at an all time high. 
"In America we get up in the morning, we go to work and we solve our problems" (from The Lost Constitution by William Martin). I believe current and future solutions to America's energy storage problems are going to make a lot of careful and diligent investors very happy. 
Disclosure: Author holds a long position in Axion Power International (AXPW) and is a former director of that company.