The housing recovery is more or less a given. The market is at very low activity levels, especially for new housing, and as such, it's likely that these activity levels will increase over time. Even rather pessimistic projections would see housing activity about doubling from where it stands today.
Knowing this, the stock market has gone a bit bonkers regarding homebuilders (NYSEARCA:XHB). There's nothing like a sure thing, and housing recovering is the closest to a sure thing that speculators can find. Of course, betting on a housing recovery by buying stocks that discount two housing recoveries, like many of the homebuilders do, is hardly a sure thing.
The Homebuilders
It's hard to take in just how much some homebuilders have recovered. While a housing recovery is to be expected, nothing tells us that we'll go back to the bubble forming 2000s. Yet, stocks such as Lennar Corporation (NYSE:LEN) or Toll Brothers (NYSE:TOL) have recovered all the way back to levels previously hit only during the housing bubble. The charts below clearly show this (Source: Yahoo Finance):
(click images to enlarge)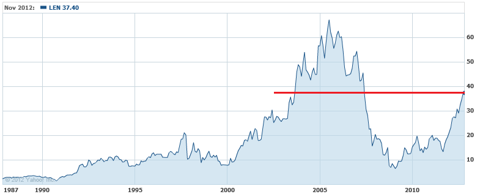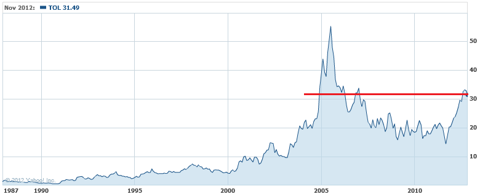 Although some earnings recovery is certainly expected, the stocks have recovered well ahead of such improvement. LEN sells for 24 times estimated 2013 earnings, and TOL for 36.9 times. When looking at TTM measures and taking into account debt, things get even more extraordinary, with LEN trading at an EV/EBITDA of 41 times and TOL at 46 times. These are extraordinary valuation multiples, discounting a lot of good that's yet to come.
An Alternative
Zillow (NASDAQ:Z), on the other hand, might be a better way to play such a recovery. Not a perfect way, because Zillow, too, already discounts a lot of happiness, but still better. Why?
First, Zillow has more of a moat. You can't duplicate a Zillow next door and expect to have instant success, since Zillow is protected by network effects. People go check homes on Zillow because that's where the volume is, and agents work with Zillow because that's where the people are -- the whole thing reinforces itself and makes for a pretty potent barrier to entry for competition. Obviously, barriers to entry are what makes for large and sustainable margins, and thus, it's no wonder that Zillow targets 30-35% EBITDA margins in the short term, and perhaps as much as 40% over the long term.
Homebuilders have no such luxury. Though most of the housing recovery centers around homebuilders, they are in a market dominated by cut-throat competition, where margins are cyclical and most times, lousy. That is not going to change.
At the same time, Zillow naturally gains from any increase in housing activity, as well as penetration of its systems both in the homebuyer and agent markets. Thus it gains twice, from market expansion and from increased penetration.
I'm not a big fan of Zillow's present valuation, though. It trades at 46.6 times estimated 2013 earnings, and those earnings have been falling. The stock trend is also ugly, with a recent 20%+ plunge in a single day. But I believe the fundamental improvement and structural advantages in its business model will eventually overcome both the downward stock and the estimate cuts.
For more details on Zillow, I would recommend two additional articles from fellow SA contributors:


Conclusion
While Zillow trades at a demanding valuation and the stock and estimate trends are ugly, it still looks like an intrinsically better way to play the housing market rebound versus owning homebuilders. Zillow is probably a buy on weakness (which it has had a lot of recently).
Disclosure: I have no positions in any stocks mentioned, but may initiate a long position in Z over the next 72 hours. I wrote this article myself, and it expresses my own opinions. I am not receiving compensation for it (other than from Seeking Alpha). I have no business relationship with any company whose stock is mentioned in this article.