We reiterate our previous long stance on CenturyLink Inc. (NYSE:CTL), which is based on its strong quarterly results and potential for future growth in the data center business. The company has successfully brought about a slowdown in its revenue erosion. Line loss trends are improving with strong growth coming from Prism TV and high-speed broadband, which will continue to be the growth drivers going forward. Moreover, its recent move into the data center and cloud computing business will help the company in offsetting the shrinking wire-line business and can be identified as another growth driver. High dividend yield of 7.4% is well supported by its forward free cash flow yield of 14% and the company is well on track to meet its free cash flow target for the year. Operating cash flows are on an incline as well, which further indicates the company's ability to sustain its payout.
CenturyLink is a prime example of a company that grows through acquisitions. A major reason behind the company's acquisitions was the shrinking wire-line business. Rising mobile and smartphone penetration in the region made it very important for the company to diversify its operations. The company has made three significant acquisitions in the recent past, which include that of Embarq, which provides high speed internet, satellite TV and phone services as well as Qwest and Savvis that were acquired last year. These acquisitions have not only helped the company bring about a slowdown in its revenue decline but have also exposed it to the cloud computing business which will bring future growth.
Through Savis, the company is operating over 50 data centers across the world. The big question around the company's acquisitions was whether CTL would be successful in integrating all its acquisitions. So far, the results suggest that the company had a considerable amount of success in that. It is well on track to achieving its full year operating expense synergy targets for the year. In the recently ended quarter, the company achieved an annual expense synergy of $450 million and is expecting to end the financial year 2012 with a synergy of $480 million.
Earnings Review:
CenturyLink Inc. recently reported its Q3 2012 financial results. In the third quarter, the company generated operating revenues of $4.57 billion compared to $4.60 billion in the third quarter of last year. Adjusted Net Income was $413 million compared to net income of $377 million in the same quarter a year ago. The company posted an EPS of $0.66, beating analysts' estimates by 4 cents per share.
Operating revenues for the third quarter declined slightly due to the continued access line losses and the consequent lower access revenue. The company operates through three segments - regional markets, wholesale markets and enterprise markets. The regional market segment, which accounted for almost 60% of the company's total revenue base, reported a 2% decline in revenues from the third quarter of last year, reflecting the continued decline in traditional legacy services. However, this decline was largely offset by the growth in its Prism TV subscriber base. Access line losses showed improvement as well as the trend improved to a 5.8% annual decline compared to a much higher 7.1% decline in Q3 2011.
Key Growth Drivers:
Prism TV is a key growth driver for the company and the third quarter was no exception. The company added over 10,000 subscribers, with a staggering attachment rate of 90% for internet services. Nearly 55% of the customers added in the quarter were new to the company.
Another growth driver is the demand for high speed internet. CTL added over 44,000 broadband subscribers during the quarter, expanding its broadband customer base to 5.8 million by the end of Q3 2012. This high growth also marks sequential improvement from the previous quarter's broadband additions of only 18,000 subscribers.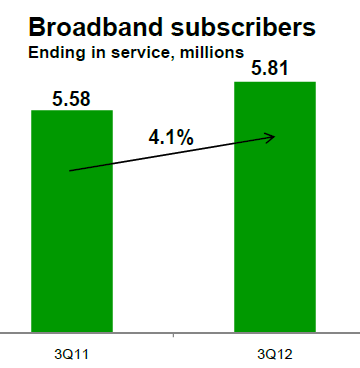 Source: Earnings presentation
Revenue trend improving consistently:
The company has been able to slow down the revenue decline to 1.3% by the end of the third quarter compared to a 4.6% decline in Q3 2011. It now anticipates further revenue improvement next year with an annual rate of decline between -0.5% and -1.5%, and revenue stabilizing in 2014.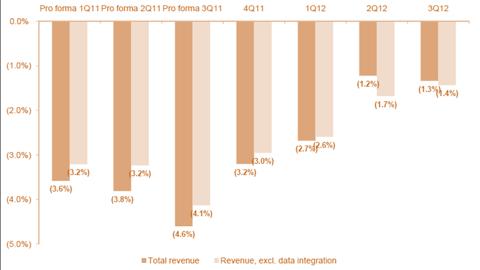 Click to enlarge
Source: Earnings presentation
Other highlights of the earnings release are as follows:
Generated free cash flow of $905 million, a quarter over quarter improvement of 3%.
Collocation revenue from its Savis acquisition of $108 million, up 3% from Q3 2011.
Modest increase in operating cash flow of over 1% and an operating cash flow margin of 42% versus 41% in the third quarter of the previous year.
Guidance revision
The company now expects higher operating cash flows in the fourth quarter, largely, due to the growth in its strategic revenues.
Q4 2012

Analyst Estimates

Operating Revenue

$4.56 - $4.61 billion

$4.58 billion

Operating CF

$1.90 - $1.94 billion

EPS

$0.64 - $0.69

$0.62

Full year 2012

Previous Guidance

Current Guidance

Analyst Estimates

Operating Revenues

$18.3 to $18.4 billion

$18.35 to $18.4 billion

$18.37 billion

Operating CF

$7.5 to $7.65 billion

$7.64 to $7.68 billion

EPS

$2.45 to $2.55

$2.64 to $2.69

$2.53

Free Cash Flows

$3.25 to $3.4 billion

$3.3 to $3.4 billion
Are the dividends sustainable?
Currently, CTL pays a quarterly dividend of $0.725 per share which roughly translates to a very high dividend yield of 7.4%. The high dividend yield compares well to the yields offered by its rivals, AT&T Inc (5%) and Verizon (NYSE:VZ) (4.6%). Analysis of CTL's operating cash flow reveals that it can afford its high payout with its cash flows, which are following a consistent upward trend.
Since FY07, it has been able to generate a 4 year CAGR in operating cash flows of 42%. Moreover, the company has historically generated operating cash flows in excess of its dividend payments as well as capital expenditures. In the financial year 2011, CTL incurred approximately $4 billion in capital expenditure and dividend payouts while generating operating cash flows of over $4.2 billion, which indicates the company's ability to sustain its dividends with its cash flows going forward. Forward free cash flow yield of approximately 14% also compares well to its current dividend yield of 7.4%.
Stock performance and valuation
The stock is currently trading near $39, 12% off its 52-week lows. Currently, 35% of sell side analysts have a strong buy rating on the stock, 39% issuing a buy rating and 26% recommend holding the stock. CTL is trading at 15 times its forward earnings, which is in line with the forward multiple of Verizon (15x). When compared to Equinix (NASDAQ:EQIX), which is a leader in collocation and data center business, CTL looks undervalued. EQIX is trading at 56 times its forward earnings (high valuations for data centers in an industry norm because of high expected growth rates).
Based on sell side EPS estimates of $2.69 for the financial year 2012, we arrive at a target price of $41. The target price of $41 roughly translates into a capital return of 5% on the current share price, which, coupled with a dividend yield of 7.4%, brings the total expected return to 12.4%. Wireless substitution and further line losses remain key risks to our thesis.
Disclosure: I have no positions in any stocks mentioned, and no plans to initiate any positions within the next 72 hours.
Business relationship disclosure: The article has been written by Qineqt's Telecom Analyst. Qineqt is not receiving compensation for it (other than from Seeking Alpha). Qineqt has no business relationship with any company whose stock is mentioned in this article.