Investors greeted President Obama's re-election and the continuing lack of resolution this week with resounding thumbs down. Markets fell some 3% to 4% across the various equity indexes over the last three trading days of the week. Talk of the "fiscal cliff" seems to be on every media and financial pundit's lips. The market is likely to remain highly volatile through year end. In times like these, it is important investors find stocks that are working despite the current turmoil and why they are working. One stock is performing well right now and is likely to continue to work in at least the medium term is Microsoft (NASDAQ:MSFT). There are myriad reasons for this. In this piece, I will contrast Microsoft against three market stalwarts (Apple, AT&T and Salesforce) that it is outperforming over the last month (see chart) and go into what is driving this outperformance.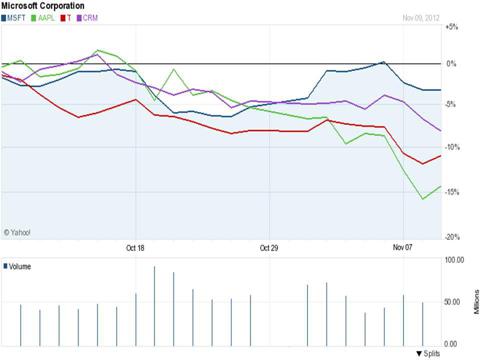 I wrote back at the end of October why Microsoft was likely to be a better bet than Apple (NASDAQ:AAPL) given the current market sentiment. Microsoft has outperformed Apple by some 9% since that article ran. I believe Apple is likely to remain to be under pressure for some additional reasons that will not affect Microsoft. The first is a capital gains headwind. Apple has had a huge run over the past few years which Microsoft has not experienced. Investors are harvesting a lot of capital gains right now throughout the market to avoid the probable higher taxes on these gains in 2013 and Apple is a primary target of these actions given its market capitalization and the amount of retail investors that hold the shares. In addition, CEO Tim Cook is facing the first major bump in road as the head of Apple. He is not getting a lot of credit by the investing community for his ability to navigate the current turmoil. Steve Ballmer (love him or hate him) of Microsoft has been in charge for over a decade and is a known and accepted presence.
Another headwind to the market right now is the fear that dividend taxes will rise substantially in 2013. Although Microsoft pays a nice dividend yield it is not being targeted like the high dividend payers like AT&T (NYSE:T) yields over 5% (around 60% more than Microsoft) and is known as a favorite of income investors. The stock has run up from $28 a share early in the year to over $38 a share before the recent sell-off. A good portion of this run up was due to investors chasing yield in the low interest environment engineered by the Federal Reserve. This is now reversing as investors fear higher dividend taxes than low interest rates right now. Investors are paying a lot more for AT&T's growth (5 year projected PEG of 2.11) than they are for Microsoft's (5 year projected PEG of 1.11), too much in my opinion for an extra 2% of yield.
Finally, the market has not been kind to high PE stocks like Amazon and Salesforce (NYSE:CRM) recently as investors risk appetites fade given all the unknowns in the market right now. Salesforce particularly stands out as it is in the same sector and is a competitor to Mr. Softie. Salesforce also stands out for the over 70x forward earnings investors are still paying for shares even after this month's pull back contrasted with Microsoft's under 9x forward earnings. This seems much too high of a price for a stock whose growth is slowing from historical levels and with a stretched (and I am being kind here) 5 year projected PEG (3.47). Of all the stocks mentioned in this article, CRM seems to most likely to have the biggest likelihood of a continued decline if the "risk off" sentiment in the markets stays in place.
Bottom Line: Microsoft is a safe bet in a rocky market with an over 3% dividend, well received new products (Surface and Windows 8) as well as a cheap valuation. Investors should find it a good place to ride out the current turmoil in equities.
Disclosure: I am long AAPL, MSFT. I wrote this article myself, and it expresses my own opinions. I am not receiving compensation for it (other than from Seeking Alpha). I have no business relationship with any company whose stock is mentioned in this article.