Panic is irrational by definition. Remember Y2K? My mother was stockpiling water and canned goods; there were a bunch of people filling sheds preparing for the second cold-war. If you're good, you can always take advantage of bad times. Still don't believe me? I'll point out Dick Fuld as the most recent example. Fear is raining down and I'm sowing seeds of opportunity. It's earnings season. I'm trying to grow a "fortune."
The companies are sorted in descending order from their categories by my personal allocations. All my comments are relative to historical market performance, future market expectations, and current pricing of industries and the S&P 500 in general. I try my best to find highly successful companies trading at prices that ignore their risk/reward potential (all prices as of yesterday morning).
10-Year Analysis Plays
Ebix (NASDAQ:EBIX): Except for the first 3 years, there's a definite upwards trend. I'll illustrate a few companies at the bottom of this article that have similar looking charts, but I think have peaked (commodity bust). EBIX has not lost a customer in the last 6 years and still has a long way to grow. Analysts don't cover this company yet. Although its share splitting history is somewhat queasy, recently it's been splitting bullishly and trying to acquire HealthAxis. HealthAxis is not a profitable company, so this is not like the KCI acquisition of Lifecell (the acquisition of a profitable company of another profitable "super growth" company). HealthAxis has never been profitable but I imagine that EBIX plans to use HealthAxis to help its healthcare side. I plan on calling them up and asking a few questions this next week. In the mean time: check out their investor presentation (pdf warning).
click to enlarge images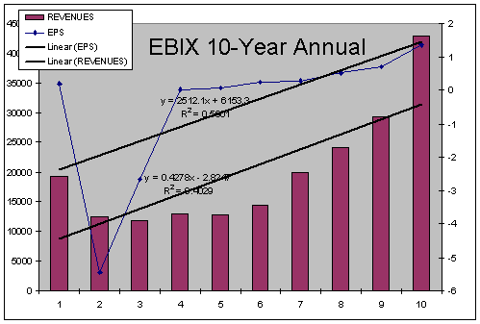 Central European Distribution (NASDAQ:CEDC): This seemingly unpredictable company is actually a highly predictable seasonal company in disguise. These next two quarters are historically the strongest for the company. This last month has been historically ridiculous as far as stock price goes for this company. Friday, fear drove it down 17%. My opinion is their opinion. They confirmed their previously stated company guidance which is very strong. They are priced as if alcohol is illegal to drink and we are going into a European Prohibition. The technical analysis says it's oversold and it meets a bullish pattern: "Long Tail Down." If I was going to make a guarantee about price appreciation, I'd bet it on this company; right now. In fact, here goes nothing. I guarantee this company will outperform the market over the next month and the next year.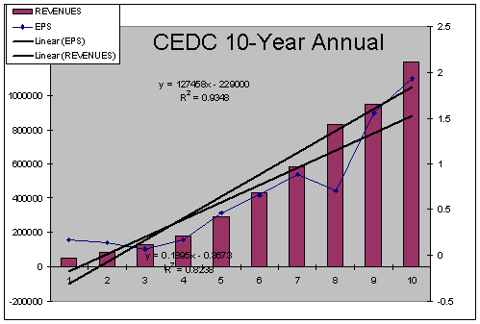 Manitowoc Company (NYSE:MTW): This one came along when I realized analysts expect it to outperform Terex (NYSE:TEX). I realize that analysts are frequently wrong when making estimates, but in times like this when we are looking for a market turn-around, it makes more sense to me to take two companies that are frequently compared and choose one and stick with that one. I include both 10 year charts and am determined to buy Manitowoc instead of Terex because I'm not obligated to own them both and I understand MTW's reporting procedures are more conservative than those of TEX.
That said, I think that they paid too much for Enodis. TEX is currently priced to grow slower than MTW and analysts predict it to grow about half as fast. As far as my investment dollars are concerned, if two similar companies are priced about the same and predictions favor one company 2:1, go with the odds. You're already being a hero buying into this industry.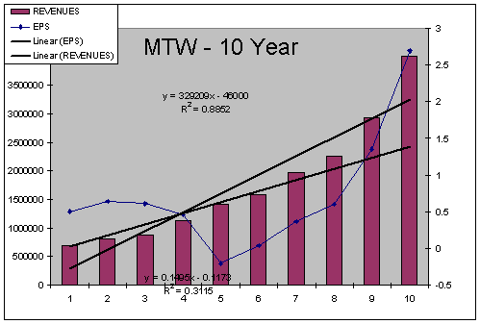 Another fun 10 year chart (the PE ratio of MTW vs. the S&P 500):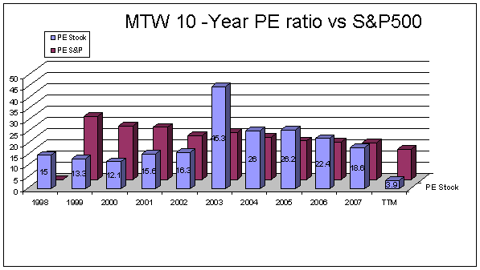 National Oilwell Varco (NYSE:NOV): Love the latest headline: National Oilwell Varco Closes At Multi-Year Low. It's true that just 3 months ago this company was trading around $80 and is now struggling around $23.42. The price of the barrel of oil has also been whacked. But, seriously, do you think people plan to drill less because the short term price of a barrel of oil is falling? I don't. Look to the strong order backlog and that OPEC just cut production last month. We've been holding out, but the politicians are probably going to push drilling for our own in the near future. In the old days, congress tried to make sure that we didn't get something if it didn't make sense for us to have. Now, congress is all about giving as much to their supporters as is physically possible; it's the here and now that's important.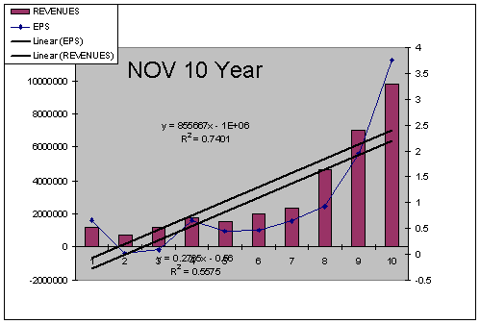 Chicago Bridge and Iron (NYSE:CBI): Chicago Bridge and Iron went through a one-time cost scenario and is barely trading above its 52-week low, which is $10.34. The 52-week high is $63.50. My opinion, is that if they're issuing guidance above analyst estimates in the short term, and analysts expect the company to grow at about 17% over the next 5 years and they've been doing 32% over the past 5, and their 10 year chart is almost perfect, and well… that's a lot of upside! The Trailing 12-month PE is a lie.
So, you have to run your own key statistics for this company. Brokers downgraded them on annual forecast cuts due to the one-time United Kingdom expense that I laughed about with their employees. Boy did they have some great stories. They made the right call and cut their losses. After running the numbers, they are priced to grow at 0.8%. Do your homework, buy low, sell high… right?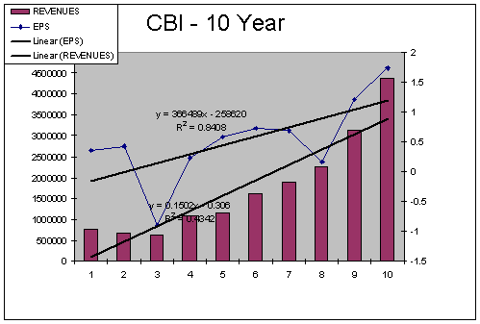 Precision Castparts (NYSE:PCP): I'm calling this a 10 year company, with 2 years of setbacks. If you cut out years 5 and 6, you've got all increases. Either way, the last 6 years have been crushing too. Currently, it's expected to grow at 1.6%. Analysts expect anywhere between 10-17% growth. Technically, it's 100% sellable and everything is oversold. One analyst even went out on a limb: Precision Castparts' stock price may double by 2012: analyst. That'll get you 18% return on your investment before taxes if he's right. They are in the process of acquiring Fatigue Technology, which expands on what they already do best. It's hard to judge the acquisition as far as pricing goes cause the information isn't disclosed. I'm adding their analysts to my call list.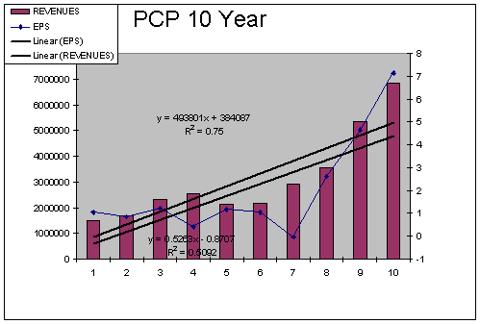 5-Year Analysis Plays
NII Holdings (NASDAQ:NIHD): With implied growth at 2.2%, analysts have this growing faster than 20%. The next quarter is supposed to hurt, but the next year, the next 2 years, and the next 5 years are "in the zone." Historically, it's been growing at a clipping 38% over the past 5. Its 52-week high was $73.29 and it's currently trading at $21.90. The RSI and Stochastics currently indicate that it's oversold. I concur. The earnings per share and revenue correlations on this company are really high, so I provided the revenues and my prediction curve. These fit a semi-log curve instead of the linear curve of Kinetic Concepts (NYSE:KCI) (just below).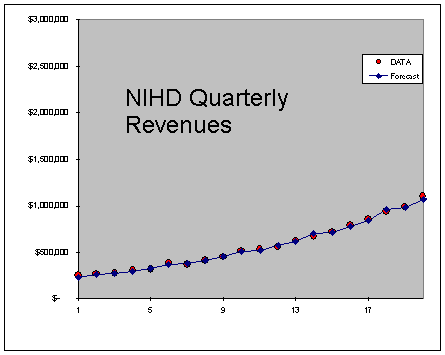 Kinetic Concepts (KCI): As mentioned earlier when compared to EBIX, KCI, an already growing and profitable company is filling its niche and bought LifeCell. Its PE is currently less than 9. Sad. As far as predictable growth goes, this one is like Johnson & Johnson (NYSE:JNJ), except KCI is growing at a clipping pace, while JNJ is growing at a predictably slower pace. So, there's a discrepancy here. If I was James Altucher, I'd recommend shorting JNJ to buy KCI; but I'll save you the trouble of that nonsense and tell you to just own KCI instead.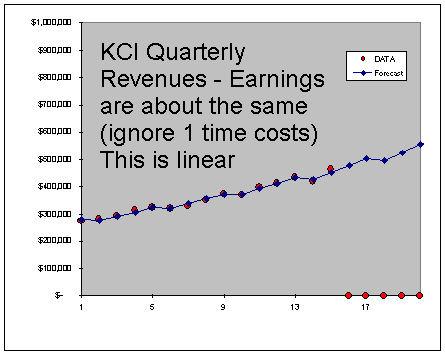 VSE Corporation (NASDAQ:VSEC): For this company, I chose to put in a 10-year chart because it was available, but I'd like to point out that it's not a 10-year analysis play. Their backlog is growing as fast as their revenues and earnings have been growing. If you try and figure out why they are trading so cheap to begin with, the consensus is that it has to do with recent free-cash-flow figures. There's good and bad to actually researching this. The good is that their #1 source of income is the government. The bad is that that's pretty much all they've got. It's an election year and I don't know what the new president is going to do, but if they like to surprise voters and go to war, you'll see this become my largest holding.
Either way, they are growing at an alarming rate of 47% in the past 5 and are priced to grow at 2.1%. Good margin of error.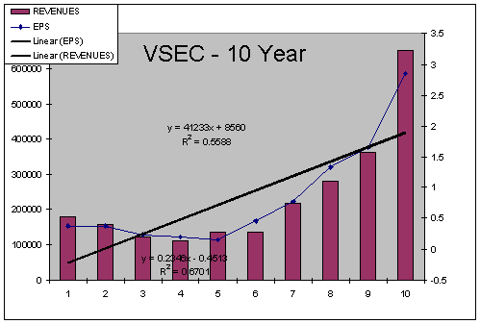 K-Tron International (KTII): Another company that nobody follows. (VSEC, EBIX, KTII, Xinyuan Real Estate (NYSE:XIN) and Gold Horse, just to name a few in this category that I like). It's priced to grow at 4.2%. Analysts don't follow it and it's been growing earnings at 10x what it's priced to grow them at. With a PE of 10, it's even priced to grow slower than the average company in the S&P 500. If I were looking for a global company with a finance textbook example of financial statements of a "high growth" company that would probably be assumed to have a PE around 30; here it is. Only the price is wrong. Shouldn't be for much longer.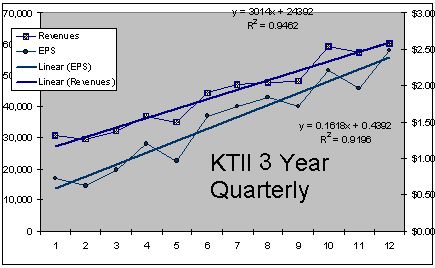 American Oriental Bioengineering (AOB): I'm supposed to fear the share dilution here. Unfortunately, even with the company diluting earnings to acquire other companies, they're pulling down earnings per share growth rates of 20%. In my opinion, it's great to point out that net incomes are growing at ballpark 50%, but a 20% growth rate is still market beating. They are getting a market beating return. I always thought that if you could get a market beating return on more or less money, it would make sense to make that return on more money. That's a sign of good management. This isn't the American auto industry, which is selling bonds at 30%+ (Heard this on TV) and getting negative returns (Knew this from financial statements and forecasts). Back to AOB. The company is oversold. Analysts expect this growth will continue. I expect the overselling will not. That puts a highly predictable company in my spotlight with a PEG ratio of 0.28.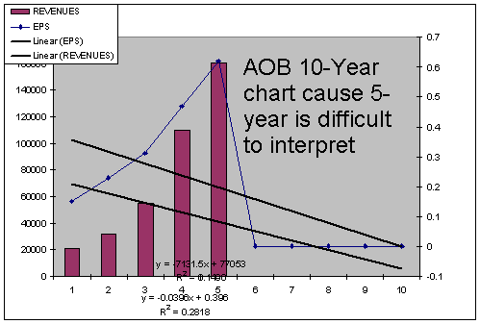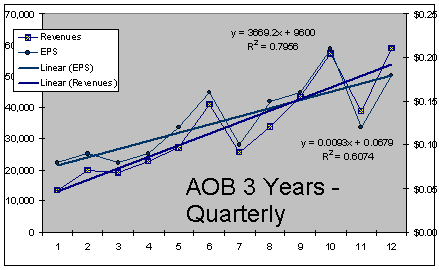 VASCO Data Security International (NASDAQ:VDSI): Check out slide 27 from their last investor presentation. Good news! Banking isn't a large part of their forecast. Also, note that they only have 207 employees and they service "a customer base of more than 7,600 companies in more than 100 countries, including over 1,150 international financial institutions." That's 36:1, which implies their products are easy to use. Looks like they sell well too!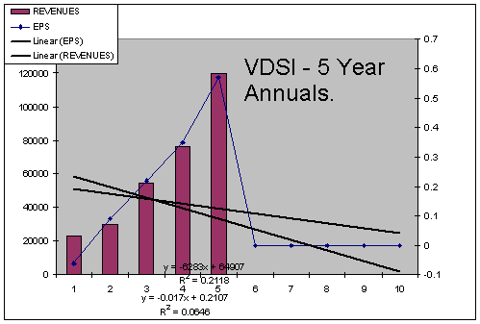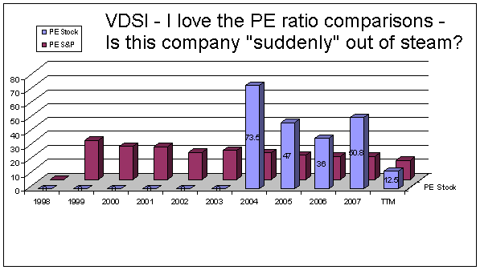 AAR Corp. (NYSE:AIR): AAR has been growing at about 25% and is priced to continue growth at 1%. Analysts have it at 15%. Supporting the aviation and defense industries, I bet AAR loves that fuel prices just got cut in half. My friend Chris Fernandez really broke this company down last month. Check out his "ultra-detailed" analysis. Sidenote: I looked through his watch list and liked ZHONGPIN (NASDAQ:HOGS).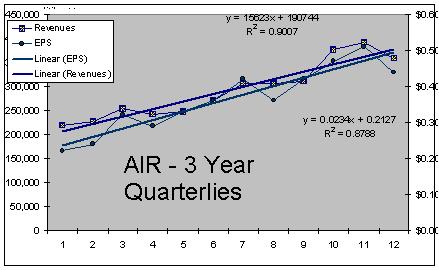 BE Aerospace (NASDAQ:BEAV): It's implied to grow negatively at -0.8%. Sounds a lot like MTW.  The last 6 years look better than the last 10. It's been growing at 40% and analysts expect anywhere from 20-30%. Overreaction? I think so. The technical analysts might point to a triple bottom (bearish), but I'd point to that it's oversold (bullish) and that the entire market has been falling too.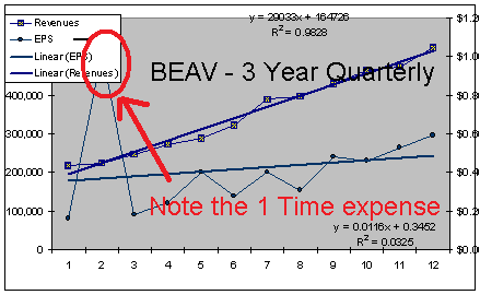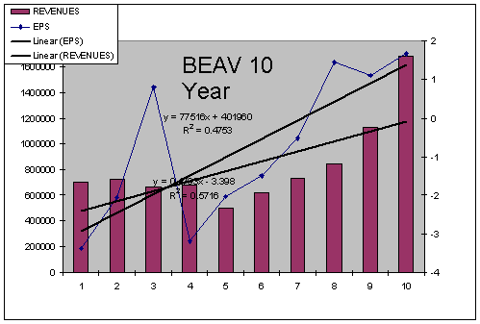 Arena Resources (ARD): Arena Resources has been on top of high growth lists for a while. Analyst growth rates continue to expect growth. Zacks rank is 1, if that's something you follow. It's priced to "market-perform." Even with the price of the barrel of oil down by half, I think this company can still beat the market. I'm waiting on quarterly results to indicate otherwise. Until then, it doesn't make sense to sell a company like this. It only fails the Piotroski perfect score because it issued new shares.
The net proceeds of the offering are to be used to repay existing debt and for capital expenditures, which will include drilling and development of existing properties and possible acquisitions of additional properties.
Looks good to me.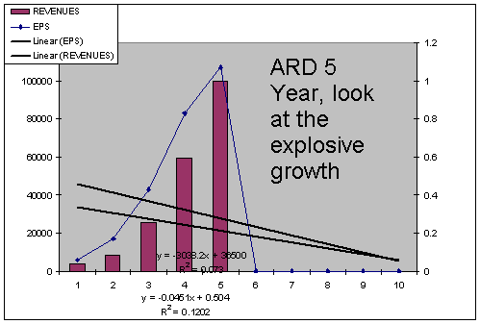 Bucyrus  (NASDAQ:BUCY): Bucyrus is one of my "macroeconomic plays." First, we faced the industrial revolution, then we built cars and revolutionized transportation and the communication age has brought us TVs and instant messaging. What's the next 10 year play? Drilling and mining more natural resources to fill our growing energy needs as well as proven clean energy companies that are making increasing profits. Bucryus should be able to capitalize on the push towards mining even more resources.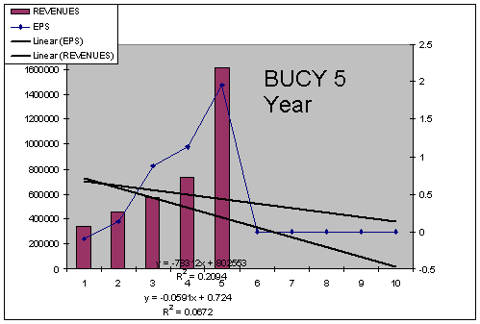 Sohu.com (NASDAQ:SOHU): A growing internet portal in China that is one of my companies where I'm willing to pay a little extra to get in because there's so much proven potential and this company is outperforming its peers (see here). 
Note the market share and that analysts forecast ridiculous growth rates for this powerhouse. Even a part-time stock commentator might like this stock and note that it's price to 'fair value' ratio is 0.5. Even by my super-conservative calculations, this company is cheap; don't let the PE fool you.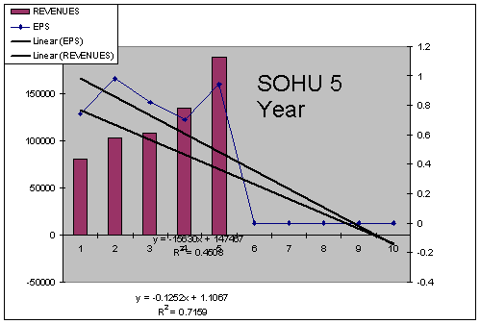 Hurco (NASDAQ:HURC): It's priced to grow at a negative -0.1%. It's a cyclical company that some claim to have peaked. Look to the 10 year, they might be right. They still have larger competitors in their industry, leaving them opportunity for growth. Technically, it's in the double-bottom breakdown (bearish). Analysts could be lowering their guidance on this company. All things considered, I think it's oversold and any technical analysis confirms. My opinion: there's enough upside to hold on. Analysts have it growing at around 11%.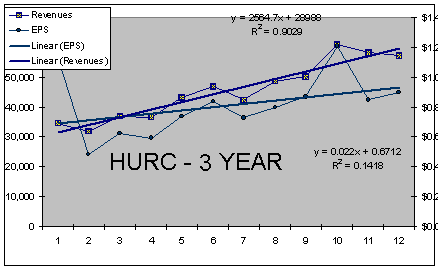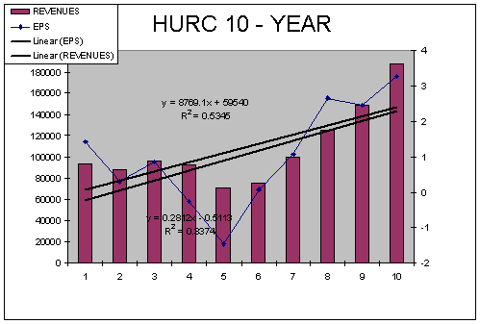 Other "High Risk" Plays 

E-House (China) Holdings Limited: (NYSE:EJ): I would like to make two points here. China stocks have sucked lately. Real estate has sucked lately.  What does this company do?
Resolved: I buy!
Gold Horse International: (NYSEARCA:GHII): I called up their CFO after accidentally coming across this company and thinking it looked a lot like my other company (XIN). Since I've been trying to diversify among the hot potato industries and countries that have a few secret companies continuing to explode in growth in the midst of failure; this one is in China, which has been falling like a rock and it's also in real estate, the hard hit industry. Little did I know that Hohhot is one of the fastest growing cities in China (GDP growth rate) and this company has been building for the local government (school/prison/congress building). Not only that, but their latest income statement is explosive. The year-over-year figures don't matter, but the fiscal figures do. Revenues were up 136% and Net income was up 74.7%. The stock was down from about $2 to $0.10. Notice that the volume trading the stock down so much in price is less than 0.01% and the CFO noted tat he thinks the stock price is so low because not many people have heard about Gold Horse.
A last point: Analysts are known to revise company buy/sell/hold/eps estimates after the latest earnings come out. Out of the companies I own, there are a few I'm pretty sure the analysts are just being hesitant. The prices of commodities have been falling. China loves this seeing as how they import most of their natural resources.
Commodities and Interest Rates
Bada-bing, I think this negatively impacts ARD, BUCY, but positively helps MTW, CEDC. The commodity fall has driven a decision: I'm staying away from Freeport-McMoRan (NYSE:FCX),  U.S. Steel (NYSE:X) and Steel Dynamics (STLD(. Bada-boom, as the globe sets lower interest rates, this is designed to help the housing industry the most (XIN, EJ, GHII).
In all my financial experience, I have learned a lot of ways to doctor balance sheets and income statements. My meta-knowledge leads me to believe there are still many I don't know. This is why I'm staying out of financials. I simply can't risk in a situation where I know the CDS market has created the ultimate downside (bankrupt), and I don't have the knowledge to discern between the good and bad financials. Also, they don't grow fast enough for me. But, there are deals out there. I just figure that if anyone knows how to make themselves look better than they actually are on a financial statement, look to the financial professionals.
I categorize my companies into two categories: stalwart and high growth. I went into the last 3 months holding about 50:50. As the market has been declining, I've been pushing my holdings towards the growth, as they have fallen in price the fastest.
Disclaimer: I own XIN, NIHD, EBIX, GHII, CEDC, EJ, KCI, MTW, VSEC, KTII, AOB,VDSI, AIR, BEAV, ARD, BUCY, SOHU, NOV, HURC, CBI, PCP.