The McClatchy Company (NYSE:MNI) has been one of the bright spots in the newspaper publishing industry as they have actually generated positive returns for shareholders in 2012. Its stock price is up 18% since the start of the year and yet its price earnings ratio is still at a miniscule ratio of 3.4x. This article aims to shed some light on this unique company.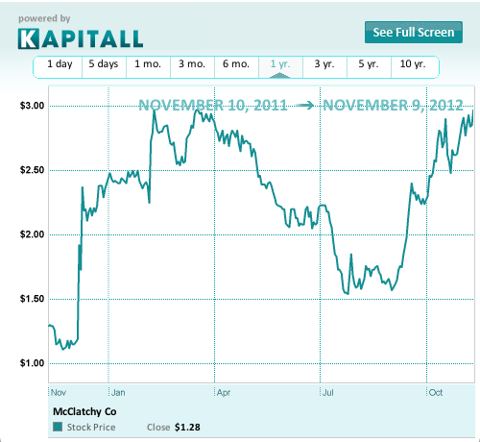 Firstly, the Sacremento-based McClatchy Company is the third largest newspaper publishing company in the United States. It publishes 30 daily local newspapers in 29 markets including the Miami Herald, the Charlotte Observer, the Raleigh News and the Sacramento Bee. The company also owns minority stakes in internet companies such as Careerbuilder - the largest online employment site in the U.S., and Cars.com.
One of the company's biggest selling points is that their daily newspapers have the largest circulation of any newspaper serving its local community. Furthermore, McClatchy often divests itself of any newspaper that they do not hold at least a leading position in the local community. For example, after it acquired Knight Ridder Inc. in 2006 along with its 32 daily newspapers, it immediately announced its intentions to sell 12 of them that are not in fast-growing markets or are not leaders in the local community.
As a result of the company's focus on niche local communities, McClatchy has the highest operating margin amongst all the publicly-listed newspaper publishing companies at 16%. Because there is a monopoly of news coverage of these local tight-knit communities, the company often has high pricing power. Furthermore, local news cannot easily be found on the internet unlike national news articles that are often circulated on free sites such as the Huffington Post. As a result, its return on equity is also the industry's highest at 37.5%, signaling that the company is doing very profitably on the money that shareholders entrusted them.

In tandem with the rest of the newspaper industry, McClatchy is in the midst of expanding its cost cutting program in order to keep up with declining readership and revenue. As we can see from the table below, both advertising and circulation revenue have been on the decline in the last few years with advertising decreasing by 8.9% and circulation decreasing by 3.8% in 2011.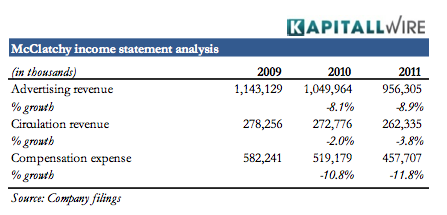 Fortunately for its shareholders, the company has been able to hold down its compensation costs. Even as revenue streams dry up, McClatchy has managed to cut down on its compensation far faster than it is losing revenue. Compensation expense decreased close to 11% in 2010 and another 12% in 2011.
In conclusion, as newspaper continue its move into the digital age, circulation revenues will become more important than ever. McClatchy has been busy catching up on its digital offerings similarly to the other players in the industry. A bright spot for the company has been the fact that it has been able to hold down its expenses and generate a very high return on shareholders' money so far. Given management's decent track record so far in managing the business and the localized nature of its newspapers, McClatchy can be expected to survive the current newspaper publishing downturn and possibly even thrive in the future.
Disclosure: I have no positions in any stocks mentioned, and no plans to initiate any positions within the next 72 hours.
Business relationship disclosure: Business relationship disclosure: Kapitall is a team of analysts. This article was written by SiHien Goh, one of our writers. We did not receive compensation for this article (other than from Seeking Alpha), and we have no business relationship with any company whose stock is mentioned in this article.