This year, a number of cancer drugs have received the FDA approval. In October 2012, the FDA approved Abraxane for the treatment of non-small cell lung cancer. Abraxane is marketed by Celgene (NASDAQ:CELG). Earlier this year, in August, the FDA approved Xtandi (enzalutamide)- to be marketed by Medivation (NASDAQ:MDVN) for the treatment of metastatic castration-resistant prostate cancer. Per a FDA news release from September 27, 2012, Stivarga, a multi-kinase inhibitor that blocks several enzymes that promote cancer growth, was approved for the treatment of previously treated patients with metastatic colorectal cancer. Stivarga will be jointly promoted in the USA by Onyx (NASDAQ:ONXX) and Bayer Healthcare Pharmaceuticals.
Abraxane (paclitaxel protein-bound particles for injectable suspension) was initially approved by the FDA in January 2005 for treatment of breast cancer "after failure of combination chemotherapy for metastatic disease or relapse within six months of adjuvant chemotherapy. Prior therapy should have included an anthracycline unless clinically contraindicated." Ever since, Abraxane has gone through various stages of investigation and clinical trials for treatment of non-small cell lung cancer, pancreatic cancer, malignant melanoma and gastric cancer. Abraxane finally won approval for treatment of non-small cell lung cancer this year.
Studies are on for treatment of pancreatic cancer. Being one of the most difficult cancers to treat, pancreatic cancer remains a challenge for most pharmaceutical companies. Almost 123,000 cases of pancreatic cancer are reported in US, Europe and Japan, out of which USA accounts for more than 43,000. In a large percentage of these, approximately 85%, resection is not possible either because the cancer is in stage III (locally advanced) or has metastasized (stage IV) at the time of diagnosis.
Gemcitabine, a strong chemotherapeutic agent, has been the first line of treatment since 1997 despite having a poor response and failure to improve survival rate. Even after improvements seen in Phase II studies after addition of a range of cytotoxic and targeted chemotherapeutic agents, gemcitabine failed to produce a significant improvement in the survival rate in Phase III clinical trials.
Investors in Celgene are eagerly watching results of the IMPACT trial, an open label, randomized Phase III study for evaluating whether a combination of Abraxane and Gemcitabine is more effective in improving survival rate of pancreatic cancer as against Gemcitabine alone. The largeness of the study (842 patients) suggests that it intends to detect even the slightest improvement in survival rates. For more information on the study, check the U.S. National Institutes of Health's service for clinical trials here.
Celgene has a market cap of $30.16 billion with EPS of $3.60 and P/E ratio stands at 19.78. For two quarters running, Celgene has surprised the analysts by beating consensus forecasts. The company reported an EPS of $1.19, which was 2.59% higher than the forecast of $1.16.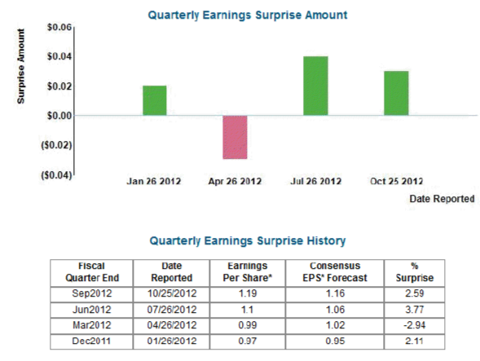 Third quarter's higher revenues were mostly responsible for higher earnings per share, which in turn was primarily due to increase in sale of cancer drugs, Revlimid and Vidaza. Reported third quarter stood at $1.42 billion, an increment of 13.6%. Despite an impressive portfolio of cancer drugs, there was a fall in sale of its other anti-cancer drug, Thalomid.
The company does not have a history of income distribution although the 5-year growth in EPS is 34.9%. Overall, for the year 2012, Celgene expects adjusted earnings per share to be in the range of $4.85-$4.90. The 52-week low/ high stock price of Celgene was $ 58.53/$81.24. At close of trading day November 8, 2012, CELG stock was quoting at $71.30.
Newly approved drug therapies and/or expectations of better results from clinical trials have a special significance for companies that develop and market anti-cancer drugs. Consequently, it has a similar significance for investors. A recent example is that of Threshold (NASDAQ:THLD), another company involved in a study of Gemcitabine and metastatic adenocarcinoma of the pancreas. The share price of THLD soared to $8 from $3 in March 2012 on release of Phase II data in the hope of significantly positive results in overall survival rate in the next phase. The share, however, fell to $4 in September 2012 when this did not happen.
Besides CELG, Clovis Oncology (NASDAQ:CLVS) is the other company that is currently conducting Phase III studies and hoping to read out some positive outcomes in the fourth quarter. However, investors must take note and be cautious while taking investment decisions as the probability of success of Phase III trials of pancreatic cancer has historically been very low.
Disclosure: I have no positions in any stocks mentioned, and no plans to initiate any positions within the next 72 hours. I wrote this article myself, and it expresses my own opinions. I am not receiving compensation for it (other than from Seeking Alpha). I have no business relationship with any company whose stock is mentioned in this article.