Groupon (NASDAQ:GRPN), like Zynga (NASDAQ:ZNGA) and Facebook (NASDAQ:FB), is one of those stocks, which for some odd reason, had an IPO priced for pie in the sky. I can never understand what investors expect from a stock that trades at a Price/Sales ratio of over 10.
The stock plunged on Friday, when it announced Q3 results and missed estimates. The question is, is the market over reacting? Was this miss all that important in determining the value of this stock? And if so, is this a good opportunity?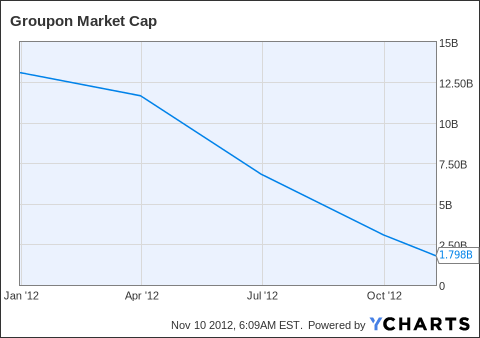 To start with, lets look at some key statistics and valuation metrics after this drop. Current market cap, $1.8 billion, Price/Sales 1.25, Price/Book 3.28, Total cash $1,2 billion and total cash per share $1.85.
So on valuation metrics alone, this stock has nothing to do with the bubble valuation after its IPO. These are actually valuation metrics I can deal with and buy under certain circumstances.
Revenues as well as active subscribers for Q3 were sub par, and this is probably the reason investors were worried. Active subscribers for Q3 2012 were 39.5 million and were up only by 1.5 million from Q2 2012. And while total subscribers hover around 200 million, the money is made by the active subscribers. So either these subscribers use some other coupon service or they simply don't use anything at all.
Total revenue for the group has not changed much for the first 9 months of 2012. Q1 revenue was $559 million, Q2 $568 million and Q3 $569 million. And the reason for this sub par growth, probably has to do with the competition in the space.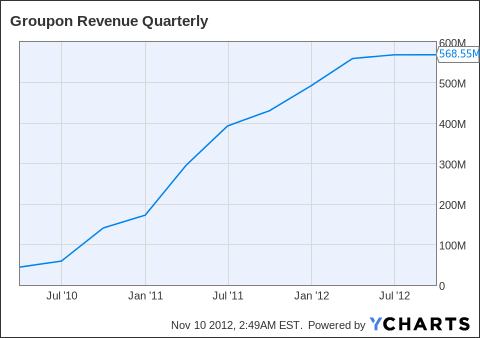 While Groupon is probably the most known company in the space, it is not the only one. There are dozens if not hundreds of companies operating in the U.S. alone. Among them Gilt City, Saveology, Greater Good, Plum District and most notable LivingSocial, Google Offers and niche players like TravelZoo and Bloomspot.
Something else notable is the fact that the company is gaining in North America and actually losing revenue from its international operations. Q1 2012 international sales were $321 million, Q2 $308 million and Q3 $277 million. Again, I think competition has a lot to do with this, besides the problems that the company has with their international operations as mentioned on their conference call.
For example in Greece alone, there are dozens of small companies that offer coupons on everything you can imagine. The spam coupons I get in my email on a daily basis has become really annoying. I assume Groupon still has a good portion of the market in Greece, but I also assume that it's not what it use to be. More than likely, business is down from a year ago, due to this competition.
That of course also means that the company can no longer command the once high-flying multiple it had. The market has already done this for us and multiple firms on Friday downgraded the company. William Blair downgraded Groupon from Outperform to Market Perform. Evercore Partners analyst Ken Sena slashed his price target on Groupon from $3 to $2 after Friday's close.The firm reduced 2013 EBITDA estimate for Groupon from $260 million to $176 million on the expectation for higher COGS from 1P Goods and slower growth from higher margin Daily Deals.
GRPN Market Cap data by YCharts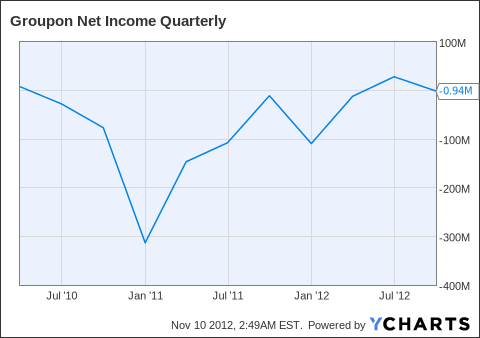 GRPN Net Income Quarterly data by YCharts
The company provided a better outlook for margins, saying margins will increase, as Groupon streamlines its international business. That will improve margins and profits overall for the whole group, said the company.
The company is also offering a new product, whereby instead of getting email of different offers, you would search for what you want in your geographical area. These tests are being conducted in New York and Chicago and the company says that they are very excited about this new offering.
Conclusion
Valuation of Groupon has come down a lot., However I would not say that I am ready to buy this stock as of yet. A 30% one day drop usually means (from my experience) that the stock has further downside to go.
Having said that however, I like the business model of the company and the way management is adapting to change, for example offering a different product mix as described above (listen here to the company's conference call).
I also think this is a very solid company and the coupon business is not going away anytime soon. While it may just be that competition is a reason why their revenue has been flat over the past three quarters, at the same time however, I also think that this company is much better positioned than anybody else to do a better job in this business and produce growth and earnings for shareholders in the future.
Most importantly, the company is also within the valuation metrics of what I would pay for it. As such, I will wait a while for the dust to settle after Friday's drop, and see if this stock is going further south (as I think it will) before deciding to make a move.
I you are looking to buy this stock as a longer-term investment and not simply interested in trading it, I would wait a little to get more feedback from the company's next quarterly report. However, if you see indications of technical strength on the charts, I would buy it anywhere south of here.
Disclosure: I have no positions in any stocks mentioned, and no plans to initiate any positions within the next 72 hours. I wrote this article myself, and it expresses my own opinions. I am not receiving compensation for it (other than from Seeking Alpha). I have no business relationship with any company whose stock is mentioned in this article.