by Steven Orlowski
Three months ago I wrote about the latest acronym from the man who brought us a load of "BRICs" - Goldman Sachs' Jim O'Neill. The "MIST" - Mexico, Indonesia, South Korea and Turkey constitute the four biggest markets Goldman's N-11 Equity Fund. In the months since my original article much has occurred, including the sometimes inexplicable rise in US equities.
Since that article the S&P 500 [in the chart below the SPDR S&P 500 Index ETF (NYSEARCA:SPY)], has continued to climb despite the looming Fiscal Cliff, a contentious and tight election and speculation of a US recession in 2013.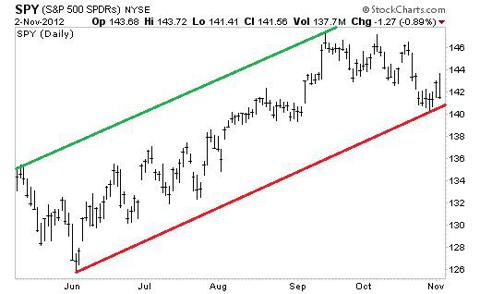 Click to enlarge
Since my article the MIST countries have risen as well. The iShares MSCI Mexico Investable Market Index ETF (NYSEARCA:EWW) has risen nicely since the summer, although it, like SPY, is showing signs of strain given the year-end uncertainty.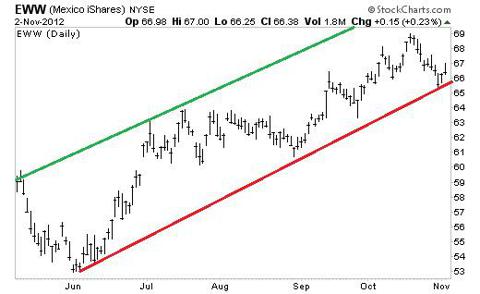 Click to enlarge
The "I" is MIST, Indonesia, also shares characteristics with the other letters. Correlation runs high between these markets. The chart below is of the Market Vectors Indonesia Index ETF (NYSEARCA:IDX).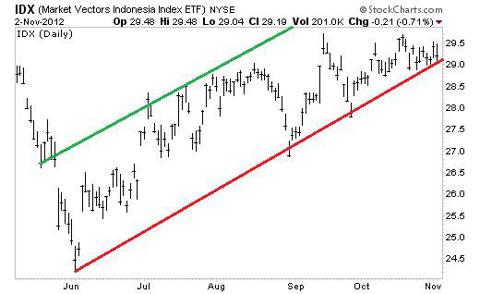 Click to enlarge
Back in August I referenced two ETFs for South Korea. One of them, SKOR, was shut down shortly after the articles publication. The surviving fund is the First Trust Exchange Traded AlphaDEX Fund II (NASDAQ:FKO). FKO doesn't have much volume but has also appreciated since August.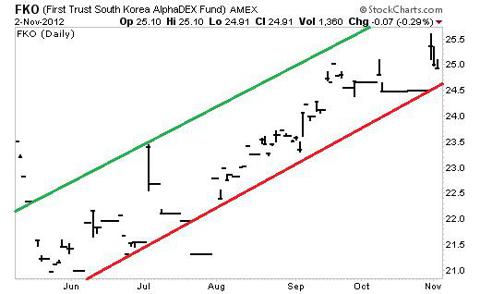 Click to enlarge
Finally the "T", which stands for Turkey and is not about to break the very clear pattern of correlation between these markets.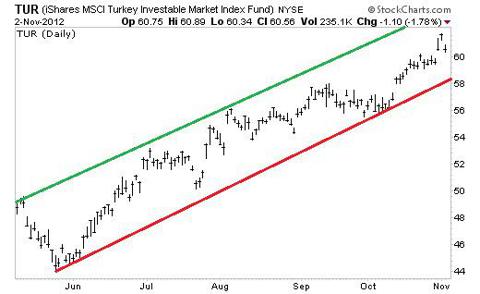 Click to enlarge
The iShares Turkey Investable Market Index Fund (NYSEARCA:TUR) charted above looks quite similar to the others and this is actually a potentially big problem. If things sour in the US and there is such a high correlation between the MIST country ETFs and the S&P 500, then the downside for emerging market investors is very real.
A closer look at these charts indicates some subtle differences for Indonesia, South Korea and Turkey. While SPY and EWW have pulled back over the past few weeks, IDX and FKO have held their own. TUR on the other hand is up. But it is the bigger macro-influences that bother me. Obviously Mexico will be the most reactive to events in the US as it is geographically closer and economically more dependent. The "further" away we get the more likely a country's economy can distinguish itself from a high correlation with the US. But no mater what happens all of these countries will be affected to some degree. Long term outlook still pretty good for the MIST. Short term, watch the US.