Actionable Items
Highest Positive Spread: Transamerica Income Shares (NYSE:TAI)
Lowest Negative Spread: Nuveen Diversified Dividend and Income (NYSE:JDD)
Focus Stock(s) of the Week: Nuveen Diversified Dividend and Income
Last Week's Focus Stock: Taiwan Fund (NYSE:TWN)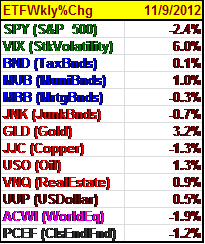 Week of 11/9/12: Nothing could signal how strong Obama's marginal victory was this week. With "Pre-Bush's Tax-Cuts" available for the year, players with pre-ordinated tax-gain would "tuck that away" during the current year-with "cap-gains" likely to go up in 20
Gains on stocks were negative, bond gains were neutral, commodity prices were down (gold excluded), oil prices were up (along with NY and NJ), and UUP (USDollar) was up 0.5%.
Bi-partisan houses of congress concluded they would like to avoid a "fiscal cliff". However, if Obama waits until the "tax-rate" changes-along with the subsequent year-republicans would know how the president voted (along with soaking the well-to-do).
CEF Weekly Review: On average, the 13 closed-end fund (NYSEMKT:CEF) types registered a share price decrease of -0.9% for the week ending 11/9/12. The high-low spread (average percentage price change difference between the highest and lowest fund types) registered this week was +4.7% versus last week of +2.0%. On an aggregate unweighted basis, the weekly average price change for the approximately 525 CEFs in the GrowthIncome database was -0.2%.
The PowerShares CEF Income Composite (NYSEARCA:PCEF), an ETF that invests in taxable fixed-income CEFs, declined -1.2% for the week. PCEF is now up 8.0% yield-to-date on price appreciation alone. Currently, PCEF's trailing twelve months' yield is 8.0% (YTD monthly total return of 16.0%).
CEF Weekly Fund Type Performance: NatlMuniBndFnds and SingleStMuniFnds both increased 1.5%. Both munis were contrary to three weeks with average gains and average losses. Equity funds were mired in the basements. ConvtSecFnds was off 3.2%. Both OtherFnds and ConvtSecFnds averaged PrcNAVSprd at -1.8% and a -1.7%. (Price changes for NAV were negative at best-good indication.)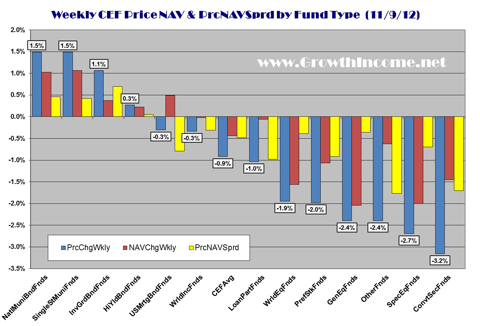 Highest Focus Stock for the Week: Transamerica Income Shares share price increased 5.6% with a change of -0.1% for the NAV. This would indicate a positive PrcNAVSprd of 5.5% (prices change relative to NAV change-negative at best). The income was a little bit lower than the $0.115 per share in the September's month with a declined of October's $0.11 per shares. The stock is trading at a premium of 10.5% and has a 5.2% yield.
Focus Stock(s) of the Week: The Nuveen Diversified Dividend and Income plunged 6.9% share price and declined 1.5% and from it NAV; its PrcNAVSprd declined 5.4%, (if nothing is the matter in the stock, it is a good bet). The declared date is around the first of December. The discount is 3.2% and its distribution rate is 8.5%.
Last Week Focus Stock: Last week we had The Taiwan Fund . The stock was up 1.8%, with an equity yield of 2.4%.
Disclosure: I am long TWN, JDD, TAI. I wrote this article myself, and it expresses my own opinions. I am not receiving compensation for it. I have no business relationship with any company whose stock is mentioned in this article.