The MLP industry has had one of the best growth records for any industry. The Alerian MLP Index quadrupled in 17 years to 396, a time when many quality companies have had limited growth and some have plunged (especially famous banks). The comparable MLP index with reinvested income has jumped more than 12 fold during this time. However, partnership units are better known for high yields. The index had a yield was above 8% through 2002 and in the last 10 years yields were 6-7% (except for the market plunge in late 2008 when the yield shot up above 15%).
Alerian MLP Index Yields 1996 - 2012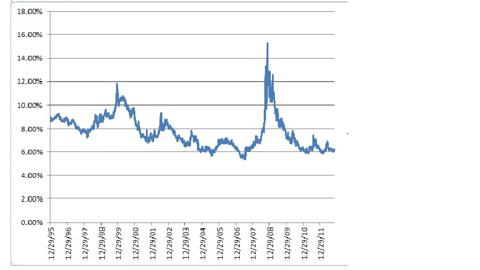 By any measure, the growth of MLP values has been impressive. The previous record high for the index was in July 2007. A year later it plunged during the market collapse only to attain a new record high last month. Below is a graph for the index (red line) along with the comparable index which includes reinvested income (blue line) for 2007-2012. While many highly regarded stocks stumbled, this index was able to reach new records. Meanwhile the comparable index with reinvested income has more than doubled to 1240, a rare performance in the stock market.
Alerian MLP Index 2007 - 2012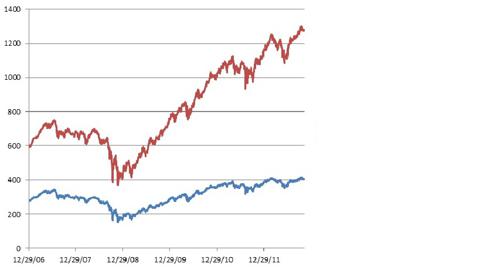 High yields, growth and safety are vital for successful retirement accounts. MLPs have delivered. In a tax deferred retirement account, tax-deferred income mutes tax benefits of an MLP. That needs to be understood, because complex taxes are part of the story. No taxes are paid by the partnership, they flow through to the partners, and the vast majority is free of taxes in the current year. Tax issues can get complicated, especially in retirement accounts. Unrelated business income tax [UBIT] in a retirement account means it has to pay taxes if UBIT exceeds $1000 in a year. For those who need help, personal tax issues should be discussed with your tax advisor who understands your unique situation.
Some MLP fans have MLP units in their retirement accounts and they accept the tax hassle. Tax packages for computers are supposed to handle the tax issues well. Others have tax professionals handle their taxes.
For those who want to share in MLP growth without tax hassle, there are several ways. A number of closed end funds (CEFs) and mutual funds specialize in MLPS. Their ownership is measured in shares which pay dividends, friendly in retirement accounts, but results give an averaging effect. In addition, Kinder Morgan (NYSE:KMR), Enbridge Energy (NYSE:EEQ) and Linn Energy (LNCO), 3 of the largest MLPs, have stocks backed by units in the partnership. They pay dividends based on the unit distributions. Yields are around 7% and free of tax hassle. KMR and EEQ shares have been public for more than 10 years and pay stock dividends. LNCO went public last month. Again, each share is backed by one unit in the partnerships, but its dividend is paid with money. In taxable accounts, only part of the dividend will be taxed, and that will be considered a qualified dividend (assuming that classification is continued next year).
Objectives for retirement accounts are attractive income, some growth to pay for increasing expenses and a degree of safety. The yield chart above shows that MLPs have provided high income, and the second chart shows an impressive record of growth that few securities can match (from one record high to another 5 years later). Security safety is subjective, but these securities have traditionally been low beta securities. Aside from the terrible market sell-off in late 2008, their beta has been low. One measure is that a 1% daily swing for the MLP index is not common.
The MLP index yield is 465 basis points above the yield on the 10 year Treasury bond, an attractive premium for assuming a little extra risk. Prospects for growth are excellent. There is unlimited demand for more energy investments by MLPs. With a track record of high yields, growing security prices, tax advantages in taxable accounts and securities which are low beta, what is there not to like about MLPs in retirement accounts?
Disclosure: I am long EEQ. I wrote this article myself, and it expresses my own opinions. I am not receiving compensation for it (other than from Seeking Alpha). I have no business relationship with any company whose stock is mentioned in this article.