I've been involved in founding, building and investing in early-stage technology companies since the mid 1990s and have been an investor in ClearSign Combustion (NASDAQ:CLIR) since early 2011. Based on the extensive research I have done, I am a firm believer in the Company's technology, its management team and its small army of advisors, scientists and technologists, intellectual property strategists and investment bankers who have helped take this company from an exciting idea to near commercialization in just a few short years. This is one of the most exciting investment opportunities I've ever been a part of, since the Company's technology has the potential to massively disrupt the existing economic model and environmental impacts of combustion systems. ClearSign is a development-stage company - there are no revenues yet - and with that carries substantial risk. But if things continue on the current trajectory, this could very well be a billion-dollar company.
I had to speak out!
I'm a longtime reader and fan of Seeking Alpha, but I don't post "comments" on the message boards and have never been compelled to publish my own article. The recent hit pieces on ClearSign by Matt Berry (September 25, 2012 and October 17, 2012) compelled me to share the other, far more accurate, side of the story. In my view, these posts are inflammatory efforts to defame the company, disparage the people and their innovative commercialization efforts of the technology, and ultimately delegitimize the opportunity in order to hammer the stock leading up to a lock-up expiration that occurred on Monday, October 22.
Above all else, the writer displays a staggering lack of understanding in the technology business and how value is created through commercialization of science: applying physics and chemistry to develop disruptive technology platforms that have economic benefit, which is exactly what ClearSign does. His pieces focus on discrediting the people whose names appear on patent applications - including a despicable, false claim of involvement in a pump-and-dump scheme by a deeply credible co-founder/advisor - rather than addressing the potential implications of the commercial applications CLIR is developing and the people responsible for these efforts. Long-term investors will miss out if they listen to the fundamentally flawed arguments represented in those posts.
First, some background…
I had the incredible fortune of being an early employee @ Yahoo! (NASDAQ:YHOO) - I believe I was #192 - during the heart of the early dot-com boom. Ever since that great four-year run ('97-'01), I've been an entrepreneur. Much of my career has been spent in and around early-stage private tech companies, which are typically backed by venture capitalists and "angel" investors. There's virtually no liquidity with these start-ups - either they succeed and get acquired (or in the very rare exception, go public), or you're locked up indefinitely. Most of the companies fail and you lose your money, and some are modestly successful and you still essentially lose your money because it's trapped inside a small, illiquid private company. Meanwhile, investments in traditional venture capital funds typically have a minimum 10-year time horizon. So, for me, ClearSign marked a paradigm shift in my investment focus as I saw a much shorter path to liquidity, not to mention the potential for significantly higher returns than my private investments. CLIR also represents an incredible opportunity to invest in "Intellectual Property" as an asset class. (This is a new philosophy as well, which I'll get into a bit later.) Net-net, in ClearSign's short history, the company has already filed for nearly 50 patents, developing an incredible IP portfolio for any company, much less one that's only four years old.
Some Make Allegations Without Doing Thorough Research, But I Did My Homework
The anti-CLIR articles accuse the company, its management, its investment bankers, lawyers and other professional advisors, scientists and consultants of conspiring to commit fraud - a "science scam" in the writer's words. Although he sounds reasonably articulate, after analyzing his arguments, I have found them to be utterly illogical. They are all based on minor bits of largely irrelevant, circumstantial information, which he then twists into broad, sweeping generalizations. The unfortunate thing is this strategy has been effective - the stock is down 30-40% despite his biased and misguided analysis. I view this as a tremendous buying opportunity and have been adding to my position in the low-to-mid $5s.
Over the past few weeks, I've spent dozens of hours furthering my research on ClearSign Combustion. Along with re-reading much of the S-1 filing and the various press releases issued by the company, I've also taken the critically important step of personally interviewing numerous parties, including CEO Rick Rutkowski and CTO Joe Colannino, as well as company advisor Dr. Tom Hartwick, a brilliant gentleman with Bachelor's and Master's degrees in Physics, and a Ph.D. in Electrical Engineering, who has advised over 700 public and private companies and still maintains his "top secret" clearance with the United States Dept. of Defense. I also interviewed three individuals at MDB Capital, ClearSign's investment bank (the CEO, the lead investment banker and MDB's Director of Investment Research).
Executives with both ClearSign and MDB Capital told me repeatedly that Matt Berry has been invited to speak with them - even to come out and visit the company's headquarters in Seattle - and he refused. I believe this to be true because I, too, offered to speak with him off-line (either email or phone) and he declined my invitation to communicate in any forum other than the public message boards.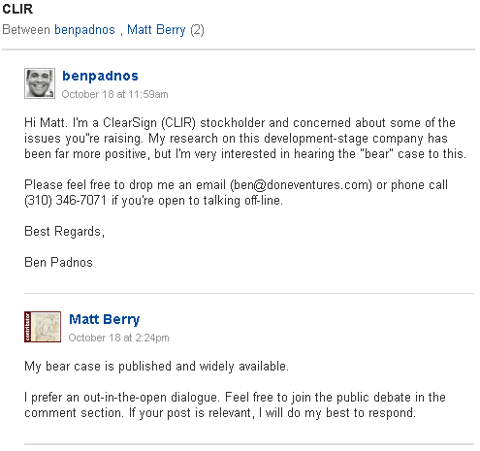 Tremendous Market Opportunity
I don't pretend to be a scientist or even someone with deep technology chops. This is why I spent hours before making my investment decision in ClearSign both to educate myself on the principles of the Company's technology as well as seeking out third party validators who would credibly assure me that there was something with real commercial potential here. My core skill as an investor is in understanding markets, and the energy combustion market represents an easy decision for me: energy combustion systems represent trillions of dollars, and the market space ClearSign plays in is in the billions to tens of billions of dollars annually. Stock analyst Lou Basenese, who called ClearSign "A Potential World Changer of a Stock" wrote,
Nearly two-thirds of the world's energy consumption is currently supplied by combustion of hydrocarbons and other fuels in boilers, furnaces, kilns and turbines ... Global energy consumption will increase by about 50% by 2035, according to the U.S. Energy Information Administration's 2011 International Energy Outlook. … Any technology with the potential to improve a process so critical to everyday life represents an unprecedented opportunity for society and investors, alike. And that's exactly the potential ClearSign possesses.
The goal of ClearSign's proprietary Electrodynamic Combustion Control™ (ECC™) technology is to affect positive changes - reduce emissions, increase heat transfer and improve flame stability - of combustion systems. The technology also aims to deliver greater system efficiency. We're talking about a one-two punch of more efficiency and less harmful environmental impact. That would make ClearSign the first emissions control technology offering a positive return on investment, opening the door to tremendous opportunities in the multi-billion dollar commercial and industrial combustion and energy generation markets.
Different Business Model
MDB Capital, the investment bank that has been involved in ClearSign for nearly two years, has a different business model than your typical firm. Whereas most young technology companies in my world typically raise risk capital through angel investors or venture capitalists, MDB believes in the use of public markets to raise early-stage capital. MDB CEO Chris Marlett was recently featured in Forbes Magazine - see: An Inside Look Into Spotting and Nurturing Potentially Super Stock Achievers - where they highlighted one of MDB's biggest winners, Medivation (NASDAQ:MDVN), whose stock is up from below $.50/share to over $50 since 2002. Another company, VirnetX (NYSEMKT:VHC) is trading around $30, up from MDB's entry point in 2003 of roughly $.20/share. Yes, you read those numbers correctly.
While MDB offers traditional investment banking and financial advisory services, they also help drive IP strategy, leveraging their proprietary patent database, PatentVest™ and their vast network to help their portfolio company attract advisors, Board members and other individuals who can help validate and commercialize the technology.
My first money went into ClearSign in late Spring 2011 - at about a $6MM pre-money valuation. (I haven't sold a share of this stock, even though it's now completely unrestricted.) As I mentioned from the outset, I view this company as an opportunity to invest in an early-stage company with a tremendous amount of IP. It's objectively early in this company's life cycle and we're not yet at the stage of commercialization. But that's why the valuation is in the tens of millions of dollars and not the hundreds of millions or billions, where this stock has the potential to go some day.
There are two types of risk in these types of deals: "technology risk" and "market risk." The investment thesis for CLIR, like other early-stage technology or biotech investments, is that the value of the company increases as risk decreases. So as the company makes advancements in development of the platform and reaches certain milestones, the stock price will go up. And as ClearSign inks partnerships with businesses, government divisions, universities and other research organizations, the stock will go up. I foresee the company monetizing ECC via licensing deals, joint ventures, and product sales, with licensing and/or royalty arrangements representing quicker and less capital-intensive paths to market entry.
Scientific Development vs. Technology Development
Scientists focus on how and why things work the way they do. They often conduct research in labs and test hypotheses at their most basic levels. Technologists focus on how we apply science in a useful way. That's where "value creation" is done - solving business problems by developing large-scale commercial applications. Scientists are not always handsomely rewarded financially - their compensation is often reputational, via appointments to elite academic or government organizations and invitations to participate in panels and other thought-leading groups. Ultimately, to many scientists, the biggest currency is recognition and respect by their peers. So scientists and "inventors" are rarely the ones who focus on commercialization - that's where technologists and business people step in and where investors participate by putting up risk capital with the hopes of making profits.
I give you this background because the anti-CLIR arguments are centered around the people and personalities on the patent applications, and not on the management team running the day-to-day operations of the business - the guys responsible for commercialization and value-creation. After all, does anyone care whose name is on Apple's patents related to the iPhone, or do they care about the magical device Steve Jobs and his team of visionaries built and the beautiful stores they sell them in?
To build something in the technology space, a Company needs businessmen and it needs technologists. CEO Rick Rutkowski is the businessman we're betting on at ClearSign. He's had success running IP-centric companies in the past. As CEO of his last company, MicroVision, he took the company from an early-stage IPO in 1996 to a market capitalization the reached nearly $1 billion in 2000. Rutkowski is a recognized leader in commercialization of IP and he deeply understands how to handle the early development phase: first innovate, then act swiftly to protect the innovation. I already mentioned the nearly 50 patents ClearSign has filed to date. That's just a start -- the company has publicly stated it intends to roughly double this by the end of Q1 2013.
What the shorts fail to understand is that while ClearSign's innovation around passing electrodynamic forces through flames is not new (this concept dates back to the 1800s), what is special is how they're applying this concept to a commercial scale. Their innovations are around commercial relevance. As followers of the company know, ClearSign recently demonstrated that its proprietary ECC technology can achieve flame stability at a heat transfer level of 1 million BTU/hr. And they announced this months ahead of schedule, so, we're seeing what was once a theoretical premise is on track to becoming commercially relevant.
CTO Joe Colannino is the technologist we're betting on at ClearSign. Amazingly, Colannino, who joined ClearSign about 18 months ago, isn't mentioned in either of the two articles. Colannino has been in the combustion industry for more than 25 years and came from John Zink Company (a wholly-owned subsidiary of Koch Industries - yes, those Koch brothers!), which may not be a household name to many, but they're a worldwide leader in combustion and air pollution control equipment for the energy industry. He's the author of one of the leading university textbooks on combustion systems. And at John Zink, Colannino was Global head of Research and Development. Want to know why the billionaire Koch brothers have hundreds of millions of dollars to fund political campaigns? Because they've been phenomenal businessmen who run large, highly profitable companies like John Zink. Oh, and by the way, Colannino's former boss was Steven Pirnat who served as John Zink's President and CEO. He's on ClearSign's Board of Directors. Also on the BOD is Dr. Lon Bell, author of more than 20 publications in the field of thermoelectrics. The fact that deeply credible people - some of the most qualified combustion experts in the world - are willing to put their names on the line and devote their precious time provides powerful third-party validation that ECC has real economic promise.
I spoke at length with Colannino about the science behind ClearSign as well as his role in applying it toward the development of a "platform technology." By platform, he's referring to technology that could serve as the cornerstone for multiple industries. Joe enthusiastically spoke about the "commercial significance" and "commercial relevance" of what he and his team are working on for the combustion and energy-generation markets, which are multi billions of dollars in size. And he mentioned his personal commitment of having his "money where his mouth is" by having a sizable personal chunk of his retirement savings invested in CLIR stock - not just stock he was granted as an executive, but stock he purchased with his own money.
I will say that in my research, I did find there may have been some exaggerations in David Goodson's biography in ClearSign's S-1 filing, as well as outright errors such as wrong numbers of specific patents he holds with the U.S. Patent & Trademark Organization (USPTO). I hate sloppiness, and don't have any inclination to excuse it in this instance. But this minor bit of sloppiness alone is not enough to discard the Company's fundamental story. Rutkowski and Goodson have known each other since the 1980s, and Rick wasn't the only person to describe David as an "Edisonian inventor" - an eccentric guy who tries lots of things and occasionally stumbles onto something special. I haven't met him, but he sounds like someone with a very special brain - he's definitely "out there," but so was Steve Jobs. You don't often see massive breakthrough findings coming from conventional thinkers. Ultimately, Goodson has done his job as the inventor, and now it's time for Rutkowski, Colannino and their team to execute an engineering and commercialization strategy.
Dr. Thomas Hartwick: Not just a great scientist, technologist and advisor, but a great American
Probably the most disturbing part of the anti-CLIR posts - aside from the author's flagrant attempts to defame the company as a "scam" - are the defamatory allegations and innuendo around Dr. Hartwick. This is a deeply credible man with impeccable credentials and gravitas. It's highly upsetting that Hartwick's reputation is being impugned through the SeekingAlpha platform.
Dr. Hartwick's involvement in ClearSign dates back almost 4½ years when Rutkowski wanted an outsider to vet Goodson's ideas. Rick brought Dr. Hartwick's in to help him understand the depth of David's findings and assist with defining the initial patents. Dr. Hartwick described himself as strongly "skeptical" at first; after all, fire pre-dates the wheel, so what on earth could be new about this idea? But he soon realized the potential implications of ECC. Goodson was on to something. And it wasn't just your everyday find - it had the potential to be a breakthrough discovery. Dr. Hartwick explained that although numerous books have been written about applying electrical fields to flames, what Goodson figured out appeared to be extremely important.
In short, Dr. Hartwick has been criticized for his involvement with a company called Sustainable Power Corp. (OTC:SSTP) which had an issue with a former CEO by the name of John Rivera. Rivera did some bad things and was convicted of fraud. However, if one actually researches the chronology of events surrounding Dr. Hartwick's involvement - I spoke with him at length to verify the timeline - you'll find first, that he's a highly, highly respected individual, has advised over 700 public and private companies over the past 44+ years, and spent many years in public service working for groups like the Dept. of Defense, Dept. of Energy, and the General Accountability Office. Just as an example of the types of things he did in his years involved with the U.S. government, he was Chairman of the Committee for Aviation Security, including post 9/11 security efforts with the FAA, TSA and National Research Council.
This guy is a heavy hitter of the highest degree with utmost credibility and integrity. And he's made out to be associated with a pump-and-dump scheme. Despicable!
In Dr. Harwick's own words:
Regarding SSTP, Berry's assertions are totally incorrect. Rivera, the former CEO, was thrown out by the good guy directors who wished to rehabilitate the company. First, they had to find out if the technology was worth saving. So they got a contract with Texas A&M to measure and characterize the conversion process and got me as referee/advisor to critique the A&M results and comment on the business viability. Surprise! The basic technology was even better than the Rivera claims, but the company was too far gone with the lawsuits to recover. I never received my full compensation. I was on the team opposing Rivera, not supporting him. He was thrown off the board in Spring of 2009 before I even signed up to scrutinize the manufacturing process in October. Any contention that I was in league with Rivera is hardly credible...never even met the man. All of this is fully documented and available for scrutiny.
The bottom line is that Dr. Hartwick has made substantive contributions not only to the business community, but to our country. To this day, he has top-secret DOD security clearance with the last background check carried out after the SSTP issue was laid to rest. Public investors should feel better about the potential of CLIR stock based on Dr. Hartwick's involvement and validation, not worse!
Yelling Fire in a Crowded Theater
Many people don't realize that there are actually limitations to free speech. For example, you can't yell "FIRE!" in a crowded theater. But that's exactly what Berry is doing with his hit-pieces on ClearSign, calling the company a "scam" with absolutely no evidence. It's a troubling, serious accusation and I've encouraged the company to put people on notice that this will not be tolerated. It's unfortunate that someone would be so desperate to attempt to punish the stock in advance of ClearSign's lock-up expiration, but that's the world we're living in. He didn't meet with management. He didn't speak with Board Members or advisors. He didn't talk with bankers. He simply spewed disparaging, defamatory comments onto the Internet in an attempt to make a few bucks.
Summary
Recently, a SeekingAlpha contributor with a short position in ClearSign Combustion published a pair of pieces containing unflattering, ad hominem attacks full of conspiracy theories. The timing of the attacks coincided with the expiration of the Company's stock lock-up period, at which time shares from early-stage investors became freely trading. CLIR supporters successfully defended the Company from the first effort to tank the stock, which published on September 25, and CLIR actually traded up immediately afterward. However, the second, far more inflammatory and pathological post, published on October 17 (just a few days before lock-up period ended on October 22), was more effective, and the stock has traded down to the low $5s from the solid base it had been forming in the $7 range. I don't know how large a short position the author had accumulated prior to the posts, whether he was alone or in cahoots with others, or if he was perhaps being compensated by someone hoping to amass a short position and cause panic selling...But I do know it looks very suspicious and there's a lot of reasons not to trust the source of the negative analysis.
My post is an attempt to dispel the numerous false statements, character assassinations and insulting innuendo, allay the concerns of existing CLIR shareholders, and encourage others to use the recent drop as an opportunity for a lower entry point. Sure, I have a vested interest in the stock going up, but I wouldn't put my name out there on a public website like SeekingAlpha, which has distribution on Yahoo! Finance, if I didn't whole-heartedly believe in the opportunity.
ClearSign is a development-stage company with tremendous potential. Its technology platform is based on new discoveries around established, validated science. Founded in 2008, the company has already filed nearly 50 patent applications and will add roughly 2-3 more every week, reaching approximately 100 by the end of Q1 2013. When you look at the team behind the company, from the executives and Board of Directors to the advisors, patent experts and investment bankers, you get an enormous amount of confidence that they're on the cusp of building something that doesn't currently exist: a disruptive, platform technology that aims to increase the efficiency and decrease the emissions in combustion systems. Just doing one of these things is important. Better efficiency means more profits, and better emissions control means lower cost of environmental compliance. Win-win… which is exactly what I think you'll do if you're a long-term owner of ClearSign Combustion stock.
Disclosure: I am long CLIR, PAMT, OTCQB:ICPW, ZBB. I wrote this article myself, and it expresses my own opinions. I am not receiving compensation for it (other than from Seeking Alpha). I have no business relationship with any company whose stock is mentioned in this article.