I was inspired to do the research behind this article by a comment I read on The Daily Paul that said something to the effect of:
If they priced the Dow Jones Industrial Average (NYSEARCA:DIA) in gold (NYSEARCA:GLD), you would quickly see that it never really goes anywhere.
I didn't think this was really true, but I decided to examine this claim, along with other allegations I have seen cropping up of central bank "price manipulation" of the metals markets.
The research I did actually surprised me, because it showed that in one way, the idea that the Dow does not really move much over time compared to gold was true, and in another way, it was completely false.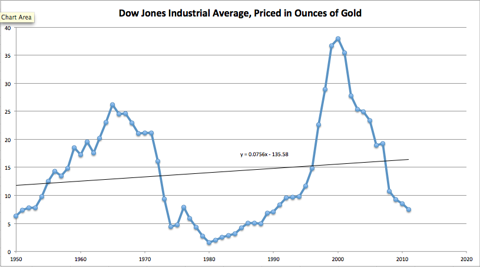 As you can see from the chart above, the gold-priced Dow has fluctuated wildly over the past 60 years, but the overall trend is only a very slight uptrend (note that this doesn't take dividends into account, so the real trend of gold-denominated returns over this period would be very healthily up). Interestingly, tops and bottoms in this chart seem to coincide with tops and bottoms of secular bull and secular bear markets. The 1965 top, when the Dow was worth about 27 ounces of gold, marked the end of the post World War II bull market and the beginning of a long bear that would last until 1982. The 1980 bottom in the gold-priced Dow, when the Dow traded for only 2.5 ounces of gold, signaled the start of the 1980s and 1990s secular bull market. And the year 2000 top, at 37 ounces of gold, marked the start of the secular bear market in which we currently find ourselves. I find it interesting that the value of the Dow falls much faster in gold than in inflation-adjusted US dollars. This is because not only do people sell off stocks, but they also buy perceived 'risk-averse' assets such as gold in a secular bear market.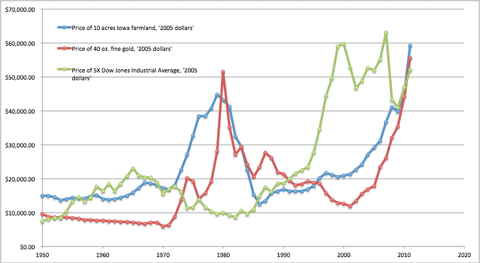 However, despite paying much lower dividends than in the 1950s-1970s, stocks are currently trading at much higher valuations, and have been since the mid 1990s. Of course, this is a good argument to suggest that perhaps the dividends have not changed much at all, only the price valuations of the stocks. If we compare the period from 1970 to 1985 to assess the inflation-adjusted valuation of gold versus the Dow, we can see that they are inverses of each other. When one goes up, the other goes down. This means that to some extent, as people sell off stocks they go buy gold, and vice versa. This also happened in the bull market of 1982 to 2000.
But something very odd started happening in 2000. The Dow has essentially stabilized since then, albeit with large fluctuations. However, gold has continued to shoot through the roof. While some (including myself) have previously been tempted to dismiss this as an extended period of extreme gold buggishness, we can see that gold has not really diverged from another "safety asset" - Iowa farmland. Indeed, farmland and gold have traded very well in tandem over the last 50 years. I haven't seen any ads on the internet telling me to buy farmland, or any signs on the bus offering cash for farmland, but farmland continues to skyrocket, along with gold. This leads me to believe that stocks are considerably overvalued as an asset class right now, probably due to unsustainable central bank money printing and interest rate policies. This also makes me think it is unlikely the gold market is being manipulated, considering how closely these risk-averse assets continue to trade. This situation can persist for many years, as indeed it has already.
What would be a fair value for stocks? Well, if the gold price is an indicator, we can make a calculation. Since 1950, the Dow has grown an average of 140 points per year (in 2005 dollars, so that number is inflation-adjusted). The last inflation adjusted peak in gold was in 1980, and I believe we are at or close to another one. The Dow Jones Industrial Average stood at about 2,000 then (in 2005 dollars). 32 years * 140 points a year + 2000 = 6,480 today (in 2005 dollars). Adjusted to 2012 dollars, that puts "fair value" for the Dow today at 7,678 points. This says that we won't likely see valuations too far below the 2009 lows in the future, but it wouldn't be unreasonable to expect valuations roughly around these lows sometime in the future.
And what about the next big secular bull market? The last bear lasted about 17 years, and we're 12 years into this one. Does that mean there won't be a new secular bull until 2017? Maybe. The signs to watch for are: an upward trend of the Dow Jones as priced in gold (as the aforementioned Ron Paul fan inspired me to explore), and sharp falls in the price of gold itself, and of farmland too. Along with an inflation-adjusted upward trend in the Dow itself, of course.
Until that day comes, readers... good luck catching the bear market rallies long, and shorting the drops.
Disclosure: I have no positions in any stocks mentioned, and no plans to initiate any positions within the next 72 hours. I wrote this article myself, and it expresses my own opinions. I am not receiving compensation for it (other than from Seeking Alpha). I have no business relationship with any company whose stock is mentioned in this article.