Underutilized or policy driven?
It is a striking fact that according to 2012 IMF figures, China's share of world GDP was close to 15% while its currency had a meager 0.24% payment value in 2010. In terms of the FX market, it is not surprising that the dollar is still the dominant currency for trading, making up more than 40% of currency market transactions, but the RMB is almost nowhere to be seen with less than 1% in 2011. As there is an evident global economic shift towards the Asia-Pacific, one must wonder how the RMB's share in the FX markets and in transactions still feel miniscule.
Figure 1. - RMB share of global FX trade in 2011 (Society for Worldwide Interbank Financial Telecommunication (SWIFT)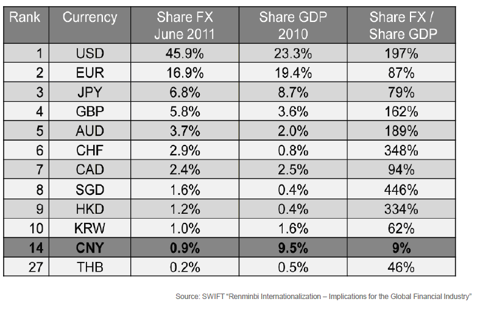 Renminbi bloc
According to Subramanian and Kessler, respectively a senior fellow and a research analyst of the Peterson Institute for International Economics (PIIE), the currencies of seven out of ten economies in the region are tracking the renminbi more closely than tracking the U.S. dollar. This seems evident, as China's manufacturing trade with East Asia has risen from a scanty 2% in 1991 to 22%. There are many reasons supporting the development of an RMB bloc. The renminbi's reserve currency posture has risen from 35th globally for transaction volumes in 2010 to 14th by August. The economies of Korea, Malaysia, Indonesia, Singapore and Thailand are already more tied to renminbi than dollars, signaling a growing trend in the region that favors the Chinese currency for cross-border trade.
A current white-paper by the SWIFT indicates that renminbi-denominated trade accounted for 10% of China's total foreign trade in July from close to zero just two years ago. 2012 is a milestone year for the RMB: it had a market share of 0.53 percent in August and has overtaken the Danish krone to become the 14th-highest global payment currency, SWIFT said. The Royal Bank of Scotland and HSBC are two banks quite bullish on the RMB. RBS predicts the RMB to become fully convertible by 2015. HSBC is a member of the 2012 London RMB initiative, set up by the City of London and has a US road show presentation to entice investors to pool funds into RMB bonds. HSBC also estimates the RMB to be fully convertible by the end of the decade.
In addition, cross-border yuan trade can help China to rescue itself from a dollar trap; if the dollar were to plunge in value, China's monstrous reserves' value would also go bust. There is a strong incentive for Chinese companies to settle payments in RMB: minimizing foreign exchange risks, speculation, currency costs and reducing foreign reserves. ICBC Leasing, a subsidiary of the Industrial and Commercial Bank of China Ltd., mainly focused on aircraft and ship leasing is the first company to lease aircraft in RMB. It leased 42 aircraft from Airbus in August in a deal valued at more than 20 billion yuan ($3.13 million).
Policy trap
There is a catch however. In order for the yuan to become more international, the Chinese Central Bank (CCB) needs to strengthen the back flow on the mainland instead of pushing out RMB to offshore locations. For this, inter-bank bookkeeping clearance is more optimal than the currently dominant cash-clearance, while a more technologically advanced payment system needs to be installed. China's current China National Advanced Payment System (CNAPS) should become compatible with international standards such as SWIFT. More onshore, mainland clearing capabilities need to be created and the opening of the Chinese financial system needs to proceed. These are big hurdles to overcome for one of the most tightly regulated financial markets.
The slow pace of RMB settlements stems from China's many unique market characteristics: the country has one bankcard transaction firm, China UnionPay, and has schemes set up for foreign investors (Qualified Foreign Institutional Investor (QFII) and Qualified Domestic Institutional Investor (QDII)) that are opening up at snail pace. Hong Kong still acts as the primary RMB offshore center with 78% of transactions going through it, signaling a one sided reliance. In order for the RMB to strengthen its global position and internationalization, other offshore centers need to be utilized more (Singapore, London). Shanghai is about to launch the country's first cross border clearing system, a strategy that indicates that the focus on onshore RMB transactions is growing, but is still in a nascent stage. What seems certain is that China's leaders are set to transform Shanghai into a major global financial-center by 2020. This would assume a very liquid, freely convertible and international RMB by that time.
Bright spots moving on
Nonetheless, there are bright spots on the global markets. According to 2011 data compiled by SWIFT, "Singapore is now the biggest RMB market in Asia Pacific next to Hong Kong. Japan doubled its RMB transactions and Taiwan had significant RMB traffic in September 2011; RMB payments from the United Kingdom grew at 30%, making it "the RMB bridge" to Europe. Spain, now the 9th biggest RMB user followed a 7-fold growth and propelled the yuan to the second most used currency with China and Hong Kong after the EUR; United States RMB payments doubled, and Canada is on the move as well." The US now ranks 4th in total RMB payments, driven by its strong trade with China. However, only 0.3% of total US payments with Hong Kong and the Chinese mainland were made in RMB, compared with 30% of Singapore's.
Figure 2. - USD transactions show a decreasing trend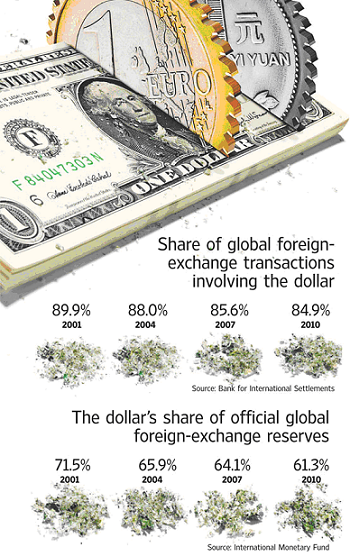 Overall, there can be a strong argument made that the massive currency market is coming to a new phase: the over-reliance on dollar transactions and the dollar's dominant role seem abating. Rising contenders such as the euro and the yuan are set to be viable alternatives, first regionally - as in the RMB's case - and slowly internationally. According to the PIIE, the renminbi could become an international, fully convertible currency in 10 to 15 years. This is highlighted by current trends, China's new leadership changes and that more offshore locations are sprouting up around the globe - London and Singapore being significant in 2012. If China is able to reform its financial system, advance its clearing infrastructure and incrementally open its capital accounts the pace of change and RMB use may accelerate.
How American companies (with the exorbitant privilege) will cope with such a currency system in the Asia-Pacific region and globally remains to be seen.
Disclosure: I have no positions in any stocks mentioned, and no plans to initiate any positions within the next 72 hours. I wrote this article myself, and it expresses my own opinions. I am not receiving compensation for it. I have no business relationship with any company whose stock is mentioned in this article.