Cisco (NASDAQ:CSCO) is set to announce earnings results after the close on Tuesday, November 13th. On Friday a JP Morgan analyst downgraded Cisco to neutral from overweight, citing a difficult 2013 ahead. The analyst's new price target is $17, down from $21. At the close on Friday Cisco stock sat at $16.82, falling from the mid-19 range that it reached in September.
click to enlarge images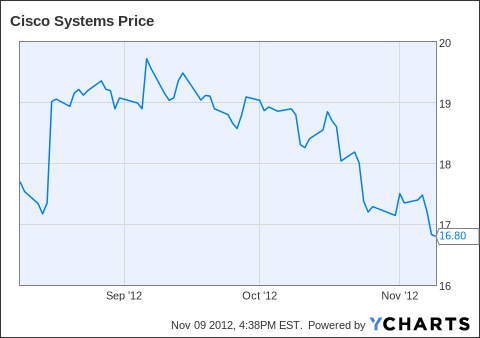 With the expectation that Cisco will only grow revenue at around 6% next year, Cisco's days of high growth are most likely over. But is this analyst's price target based on reality? Or is it simply a reaction to lackluster stock performance? We'll see in a moment that Cisco is a substantially undervalued stock, and that the apparent uncertainty surrounding the company has opened a window to some very lucrative options trades which could allow you to buy shares of Cisco on the cheap.
How Much Is Cisco Worth?
First, let's take a look at Cisco's balance sheet as of July 2012 (the end of fiscal 2012 for Cisco). There is $48.7 billion in cash on the books compared to $16.3 billion in debt, leaving a net cash balance of $32.4 billion. With a diluted float of 5.4 billion shares this amounts to $6 per share in cash. This means that, currently, the market is valuing Cisco's future earnings at $10.82 per share.
How much are those earnings really worth? Cisco's free cash flow was $10.3 billion in fiscal 2012, or $1.91 per share. This puts the Price/FCF ratio, once cash is backed out, at just 5.7. This means that even if Cisco's free cash flow does not grow at all, ever again, someone purchasing the company as a whole would recoup their entire investment in less than 6 years. For a company with the size and dominance of Cisco, this is astounding.
To estimate the fair value of a share of Cisco I'll use a simple discounted cash flow analysis. I'll assume that Cisco's free cash flow does not grow at all. Here is a table of the results using various discount rates.
| Discount Rate | Fair Value |
| --- | --- |
| 10% | $25.10 |
| 11% | $23.36 |
| 12% | $21.92 |
| 13% | $20.69 |
| 14% | $19.64 |
| 15% | $18.73 |
Remember that this is assuming zero growth. If we assume just 3% growth, which is basically no growth after inflation, the results are even better.
| Discount Rate | Fair Value |
| --- | --- |
| 10% | $34.10 |
| 11% | $30.59 |
| 12% | $27.86 |
| 13% | $25.67 |
| 14% | $23.88 |
| 15% | $22.39 |
Assuming abysmal growth going forward I value a share of Cisco at least somewhere in the low to mid 20's.
Using Options To Buy Stocks
There are two methods which one could use to use options to buy stocks at a discount. The first is a buy-write strategy, which involves buying shares of the stock and simultaneously selling covered call options. The second is simply selling cash-secured put options. Because the earnings report is on Tuesday, the Nov 2012 options which expire next Friday (the 16th) offer extremely lucrative premiums. Let's look at the two option strategies mentioned above in turn.
The Buy-Write Strategy
By buying shares while simultaneously selling calls you effectively lower your purchase price. If you buy 100 shares of Cisco at today's price of $16.82 and sell the Nov 2012 $18 call option you receive a premium of $0.17 per share, or $17. This premium represents a 1.01% return on your invested capital, or a 52% annualized return. In addition, your shares will only be called away if the stock price ends above $18 per share on November 16th.
If your shares are called away you will be forced to sell your 100 shares at $18 per share, having purchased them for an effective price of $16.65 just 7 days prior. This is $1.35 in profit per share, a 8.1% return in 7 days (422% annualized).
If your shares are not called away then you own 100 shares of Cisco with a cost-basis of $16.65 per share, well below my estimated fair value.
The Put Strategy
Selling put options is another way to buy stock at a discount. If you sell the Nov 2012 $16.50 put option you receive a premium of $0.44 per share, or $44 for a single contract. This is a 2.67% return on the cash needed to buy the shares, or a 139% annualized return. If the stock falls below the strike price by Nov 16th you will be forced to by 100 of CSCO for $16.50 per share, with a cost basis of $16.06 due to the premium received. Otherwise you are not forced to buy the stock and you've earned a hefty premium in just a week.
Conclusion
Cisco's upcoming earnings report offers up an opportunity to open a position in the stock using options at a price far below fair value. Of course, another option is to simply buy the stock outright. Either way, you're getting a quality company at a bargain price.
Disclosure: I am long CSCO. I wrote this article myself, and it expresses my own opinions. I am not receiving compensation for it (other than from Seeking Alpha). I have no business relationship with any company whose stock is mentioned in this article.