Big diversified miners such as Barrick Gold (NYSE:ABX), Rio Tinto (NYSE:RIO), and Freeport-McMoRan (NYSE:FCX) are no longer value plays because of high costs and big risks. Yet one miner, Goldcorp (NYSE:GG), seems to offer real value. The number two gold miner has been doing so well that it has actually passed the much larger Barrick Gold in market capitalization.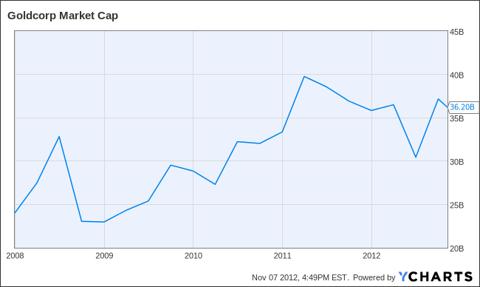 As of November 7th, 2012, Goldcorp had a market capitalization of $36.20 billion in contrast to Barrick Gold's $35.58 billion. The market cap figures indicate that Goldcorp's strategy of concentrating on its core business of gold mining has paid off. Barrick's foray into copper and other metals has fallen flat.
Obviously, one of the main factors driving Goldcorp's increase in value is the price of gold. The company has been concentrating on gold mining at a time when gold has been rising to new highs. Instead of expanding, Goldcorp has concentrated on its core business.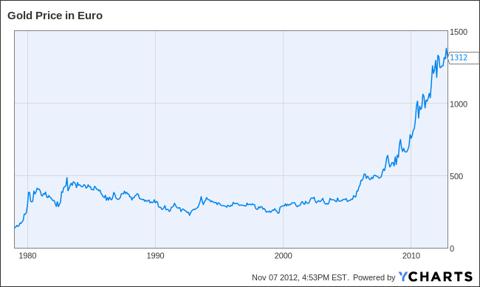 The interesting thing is that Goldcorp's output is far lower than Barrick's. Reuters reported that Goldcorp plans to produce between 2.35 and 2.45 million ounces of the metal this year. In contrast, Barrick plans to mine between 7.3 and 7.5 million ounces this year. So is Goldcorp overvalued, or is the market correct about this company?
The numbers indicate that he might be. As of June 30, 2012, Goldcorp had a quarterly profit margin of 32.28% compared to a quarterly profit margin of 17.99% for Barrick Gold. The biggest American gold miner, Newmont Mining (NYSE:NEM), had a quarterly profit margin of just 14.80%.
This indicates that Goldcorp mines less gold but it makes more money on each ounce of gold that it mines. The company does a very good job of containing costs and managing resources in a notoriously high-cost industry. Only very effective cost containment makes for that kind of profit margin, even with record high gold prices. This enables Goldcorp to keep more of the cash it makes when gold prices go up.
The question value investors need to ask is whether Goldcorp can keep up the success story. After all, energy and other costs related to mining are going up as fast or faster than the price of gold is.
Lower Costs and Higher Earnings Yield
Goldcorp has been able to keep costs down by concentrating on lower cost operations, such as the Wharf open pit mine in Lead, South Dakota. The company produced 67,500 ounces of gold at the Wharf in 2011 at a cost of $643 an ounce. It spent $16 million on mining costs at the Wharf but made $58 million in earnings from the operation. These figures were typical of Goldcorp's operations. At Los Filos, the largest gold mine Mexico, Goldcorp was able to mine 336,500 ounces of gold at a cost of $463 an ounce in 2011. That enabled Goldcorp to earn $302 million from Los Filos while spending $74 million on operations there.
Goldcorp has even been able to make the notoriously expensive underground mining pay. At the Musselwhite mine in Ontario, the company produced 242,600 ounces of gold at a cost of $725 an ounce in 2011. Goldcorp made $158 million in earnings from the Musselwhite and spent $67 million on expenses there. Goldcorp projects that it can increase production at the Musselwhite to 270,000 ounces of gold in 2012.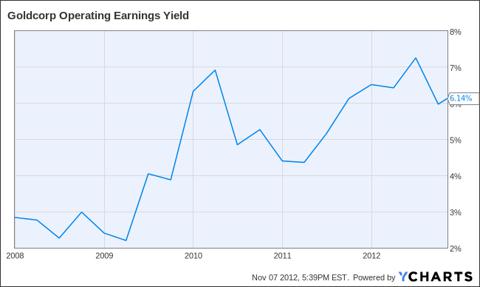 These figures indicate that Goldcorp is a classic value play; it does one thing, and it does it very well--mine gold. By doing such a good job at its core business, Goldcorp can keep costs down and profits up. It can also buck industry trends because it avoids spending big sums on expansion projects, something that has gotten Barrick into a lot of trouble.
Barrick has been losing money and share value in the delays at the Pascua-Lama project in the high Andes between Argentina and Chile. The cost of the Pascua-Lama mine has been increased by nearly $1 billion, and the mine's start has been delayed to 2014. Earlier projections had called for the mine to cost between $7.5 and $8 billion; current estimates are around $8.5 billion. Barrick is also losing money on its Jabal Sayid project in Saudi Arabia; that project has been delayed because of strict safety and security rules in that country.
By playing it safe, Goldcorp has been able to buck industry trends. If you're looking for a gold miner that offers true value, Goldcorp comes close. Lower cost production and specialization enable Goldcorp to take advantage of higher gold prices and even offer a dividend of 1.18%. It also takes a lot of the risk out of gold stock investing.
Disclosure: I have no positions in any stocks mentioned, and no plans to initiate any positions within the next 72 hours. I wrote this article myself, and it expresses my own opinions. I am not receiving compensation for it (other than from Seeking Alpha). I have no business relationship with any company whose stock is mentioned in this article.