Frontier Communications (NYSE:FTR) is a provider of telecommunication services for small communities and rural areas, currently operating in 27 states. Frontier services include local and long distance telephone service, satellite video, digital television, wireless Internet data access, entertainment services, and broadband Internet. Total access lines for the third quarter of 2012 were 4,942,522. Business lines made of 1,916,594 of this total, while residential lines made up 3,025,928. Broadband subscribers for the third quarter of 2012 were 1,782,278. Video subscribers for the third quarter of 2012 were 388,257.
This article will examine Frontier Communications, dividends, revenue, free cash flows, net income, debt and interest expense.
DIVEDEND HISTORY
Though this company has a large dividend yield of 9.2% or $0.10 per quarter; the dividend has declined from previous levels. Since 2010, the dividend has dropped from $0.25 per quarter to its current level of $0.10 per quarter.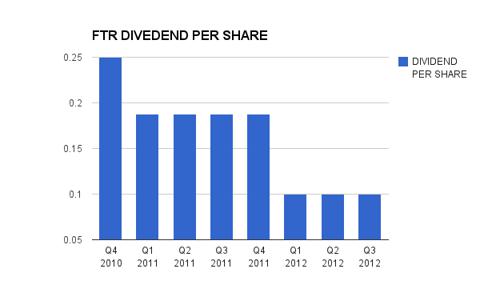 This is a decline of 60% in less than 2 years.
REVENUE
Revenue for the third quarter of 2012 was $1.252 billion. This is a decline from $1.290 for the third quarter of 2011. The primary cause of this decrease was the reduction in the number of business and residential customers. Business lines dropped to 1,916,594, from 1,942,013, while residential lines dropped to 3,025,928 from 3,130,090. Broadband subscribers grew slightly to 1,782,278 from 1,781,295. Video subscribers dropped to 388,257, from 568,154.
Let's put this in percentage form:
Revenue: 3% decline
Business lines: 2% decline
Residential lines: 3% decline
Broadband subscribers: 0% growth
Video subscribers: 31% decline
Here is a chart showing the gradually decline in revenue.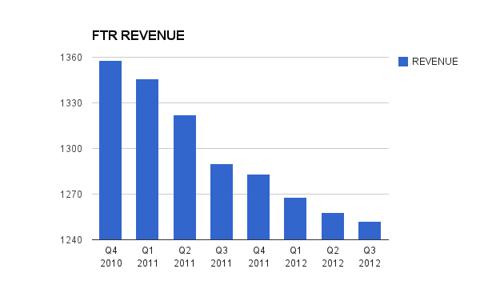 FREE CASH FLOW
Free cash flow for the third quarter of 2012 was $215.3 million. Third quarter of 2011 free cash flow was $263 million. This is a decline of 18%.
Frontier pays its dividend from its free cash flow. The dividend payout ratio for the first 9 months of 2012 is 40%. However, this is due to lower dividend payments.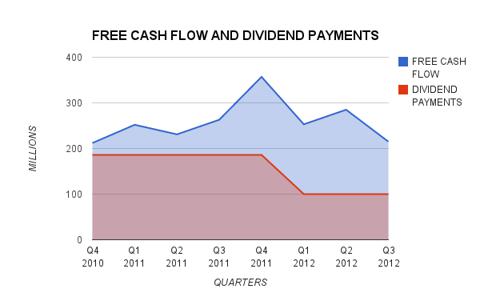 NET INCOME
Net income for the third quarter of 2012 was $0.07 per share. This was much better than the $0.02 the company posted in the third quarter of 2011. However Frontier has a very high PE of 28. Net income has been erratic over the last 8 quarters, ranging from $0.02 to $0.07.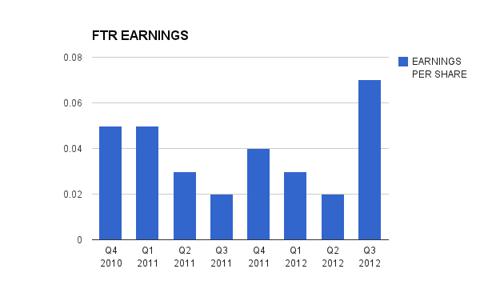 DEBT
Frontier's long-term debt stood at $8.26 billion at the end of the third quarter of 2012. This is an increase of 1.3% from the $8.15 at the end of the third quarter 2011.
The long-term debt per share is an eye watering $8.33, nearly twice its current share price of $4.35.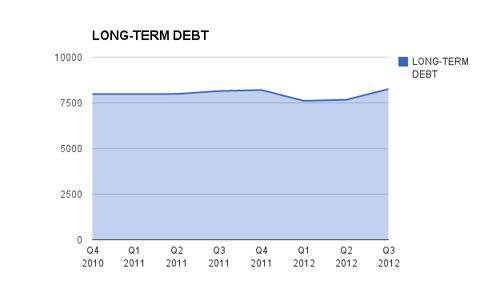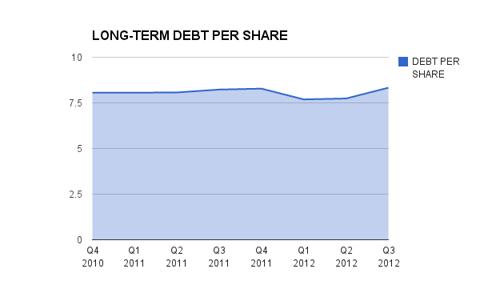 INTEREST EXPENSE
Frontier's interest expense for the third quarter of 2012 was $172 million. This is up 3.6% from the $166 million at the end of the third quarter 2011.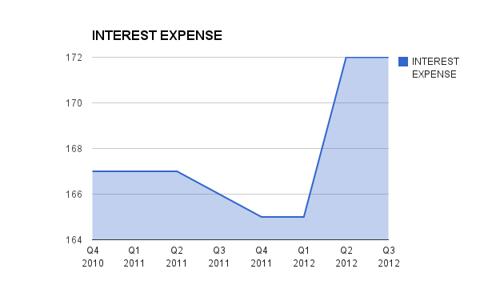 CONCLUSION
Declining revenues and free cash flow more than offsets Frontier's high dividend. Frontier has not managed to decrease debt while at the same time it has increased its interest expense.
Its current free cash flow does cover the dividend, however it is not safe. Management has previously cut the dividend while touting its safety.
Here is a quote from a press release on October 3, 2011
Frontier Communications Corporation (NYSE: ) paid its Third-Quarter dividend to shareholders on Friday, September 30, 2011 and announced today that its Board of Directors has reaffirmed its current intention to maintain the annual dividend of $0.75 per share of the Company's common stock.

"We remain committed to the return of capital to our shareholders at the dividend level announced in May 2009 and believe our ability to do so will be enhanced by delivering on the cost synergies of the Verizon property acquisition completed a little over a year ago," said Maggie Wilderotter, Chairman and Chief Executive Officer. "In addition, our third-quarter 2011 broadband unit growth was stronger than the prior quarter. Our 2011 free cash flow guidance of $1.075 to $1.125 billion sufficiently covers an annual dividend of approximately $746 million, and we look to enhance this payout ratio through further synergy realization, the completion of our broadband network expansion, and our continued improvement in our sales and retention initiatives. Systems conversions are a primary driver of cost synergies and we are pleased to report that we began conversion of the next four states on October 1, 2011 and expect to finish the remaining nine states in the first half of 2012."
Management then went ahead and cut the dividend anyways on February 16, 2012
Chief Executive Maggie Wilderotter said, "Frontier's Board of Directors also made the decision to lower the quarterly dividend to $0.10 per share. This will enable Frontier to reduce debt, improve our leverage, have ample cash to invest in the network and other strategic initiatives, and to provide a more sustainable shareholder return through a lower dividend payout ratio."
In 4 months the dividend policy went from reaffirmed to "lowered to reduce debt". As you can see from the charts above, long-term debt actually increased.
Due to these metrics, and managements poor handling of dividend policy, I would AVOID Frontier Communications .
Disclosure: I have no positions in any stocks mentioned, and no plans to initiate any positions within the next 72 hours. I wrote this article myself, and it expresses my own opinions. I am not receiving compensation for it (other than from Seeking Alpha). I have no business relationship with any company whose stock is mentioned in this article.