Pitney Bowes (NYSE:PBI) is a global provider of mail processing equipment, software, hardware and integrated mail solutions. They offer a full suite of equipment, supplies, software, services and end-to-end solutions, which enable their customers to create both physical and digital communications and to manage and integrate those physical and digital communications channels.
In a market where interest rates are historically low, Pitney Bowes offers an attractive 12.45% yield. Normally when a yield reaches this level it raises a red flag, indicating investor worry about a possible dividend cut or elimination. However in my analysis I find that the current dividend payout is supported by both current earnings and free cash flow.
However, this is not a stock for the feint of heart. There is a reason for the high yield, which I will explain below.
REASONS FOR THE DECLINE
With the decline of mail volumes in the US, Pitney Bowes has had its earnings and revenue streams challenged.
Mail volumes peaked at 213 billion pieces of mail in 2006. However, since 2006, First-Class Mail volume has rapidly declined as the economy recessed and the age of digital communications advanced. In 2011, 168 billion pieces of mail were delivered. By 2020, the Postal Service expects to deliver as few as 130 billion pieces. Source
Source: kdmailing.com
PBI has also seen its revenues decline from 1.43 billion in Q4 2010 to 1.21 billion in Q3 2012.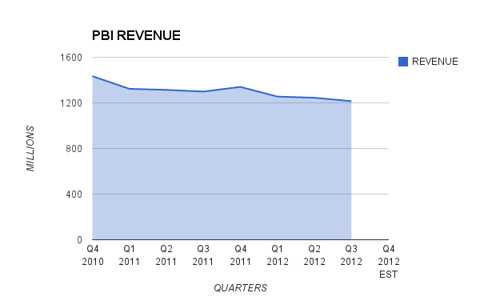 PBI has also had its stock price decline 35% YTD. This is the main reason for Pitney Bowes high dividend.
Source: Finviz.com
However the declines IMO have made this stock dirt cheap. Below I will show that the current high yield is paid with earnings and free cash flow. Cash is king, especially when it comes to dividends. The ability to produce and maintain free cash flow is a key element in analyzing a dividends sustainability.
Lets first look at the current dividend.
12.45% DIVIDEND YIELD
Currently the stock offers you a juicy 12.45% dividend yield. PBI has consistently raised its dividend every year for 30 years.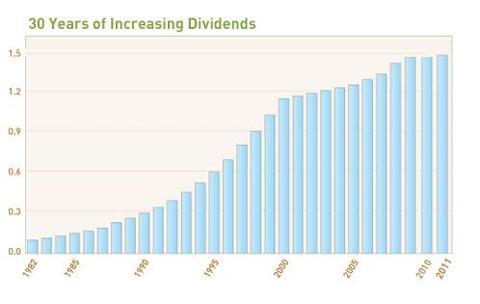 Source: Pitney Bowes
Next, lets take a look at PBI ability to pay this dividend,
FREE CASH FLOW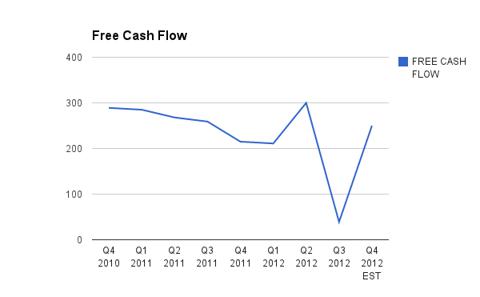 Full year guidance for 2012 of free cash flow was reaffirmed at between $750 million and $850 million. Using the midpoint of that range we can come to an estimated $200 million of free cash flow per quarter.
As you can see, PBI has generated free cash flow of above $200 million except for Q3 2012. However this was explained in the conference call:
Shannon S. Cross - Cross Research LLC

My first question is just with regard to working capital and cash flow this quarter. Mike, could you give some more specifics about sort of the uses of cash and if you expect on the working capital side at least, it could have been more timing rather that sort of a change, and if we should expect it to bounce back in fourth quarter?

Michael Monahan - Chief Financial Officer and Executive Vice President

Sure. Yes, I mean, relative to the second quarter, if you were to compare it to the second quarter, there's some definite timing differences, particularly within accounts payable and accrued liability. One example of it, a fairly sizable number is accrued interest. We pay most of our interest on a semiannual basis. So we accrue over 2 quarters and then pay. So that creates a meaningful timing difference between the second and third quarter. On an annualized basis, it obviously washes out. Similarly, things like payroll, where we accrue at the end of a period for the number of days outstanding to pay, there was a big difference between the second and third quarter as well. There were some AR timing, accounts receivable timing that you can get big payments in just before the end of the quarter, end of quarter, so that was relatively minor. But those are the biggest items and some minor employee liability accruals. But on an annualized basis, we expect these things to even out. And that's why we've reaffirmed our full year guidance of the $750 million to $850 million.
Source: Pitney Bowes Investor Relations
FCF YIELD
What is even more impressive about the massive amounts of cash PBI throws off is if you were to calculate it on a per share basis. Using the midpoint for free cash flow for FY2012 of $800 million and the current 201 million shares outstanding this comes out to an incredible free cash flow per share of $3.98. Now using the 11/08/2012 closing price of $12.02 this leads to a free cash flow yield of 33.1%.
As you can see from the chart below, the free cash flow yield has historically been fairly high.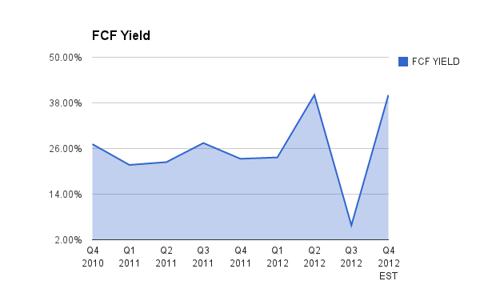 DIVIDEND PAYOUT
The current dividend payout is $1.50 per share. Using the FY2012 earnings estimate of $1.78 this leads to a payout ratio of 85%. As shown in the charts below, earnings and free cash cover this payout.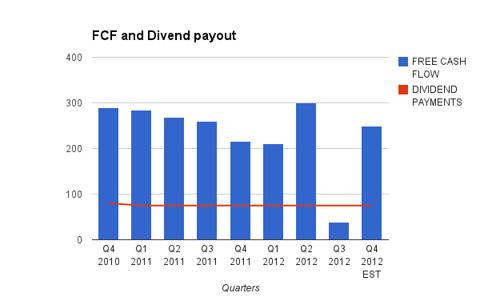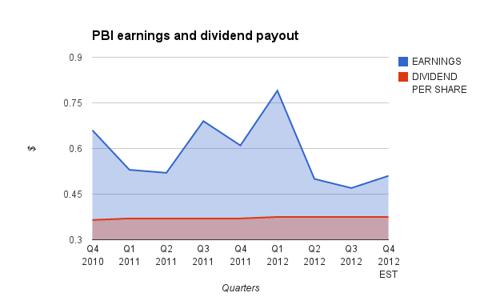 DEBT
The company has also used its free cash flow to reduce its long term debt. In Q4 2010 the company had total long term debt obligations of 4.24 billion, and by Q3 2012 the company has reduced this to $3.30 billion.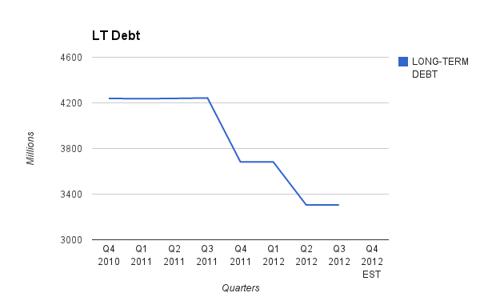 List of LONG-TERM Debt Maturities
With $424 million in cash and cash equivalents, the company has the ability to pay maturing 2013 debts without resorting to more financing.
06/15/2013 $375 million
08/15/2014 $450 million
03/15/2015 $400 million
01/15/2016 $500 million
09/15/2017 $500 million
03/15/2018 $250 million
05/15/2018 $350 million
03/15/2019 $300 million
01/15/2037 $500 million
CONCLUSION
If you believe that PBI can continue to generate strong free cash flows then the dividend is safe at least for another year. If on the other hand, you believe that revenue will decline to a point that free cash flow will dry up, then you may want to pass on this stock.
I believe they are taking the right steps by reducing debt and expenses. This stock does not warrant its current valuation. Free cash flow is enough to cover both the current dividend and future debt obligations.
Disclosure: I am long PBI. I wrote this article myself, and it expresses my own opinions. I am not receiving compensation for it (other than from Seeking Alpha). I have no business relationship with any company whose stock is mentioned in this article.