Whenever there are market pullbacks, dividend seeking investors can pick and choose some really fine stocks whose share price has dropped enough to make the dividend more appealing. Exxon Mobil (NYSE:XOM) is often overlooked because the dividend yield is under 3%.
What many investors forget is that Exxon Mobile has returned shareholder value in the form of total returns. Most notably in the wonderful track record of consecutive years of increasing its dividend, without missing a single beat.
For 30 consecutive years XOM has given shareholders a "raise". There are less than 100 companies in the world that can claim that distinction (actually only about 85), and being one of the largest companies on the planet (#2 in market cap right now) offers any investor a powerful stock to basically hold forever.
Any income seeking investor. Any wealth seeking investor. Any investor for the long term should own XOM. With a chart such as the one above with the very basic metrics for an investor to glance at, XOM has been nothing short of fabulous.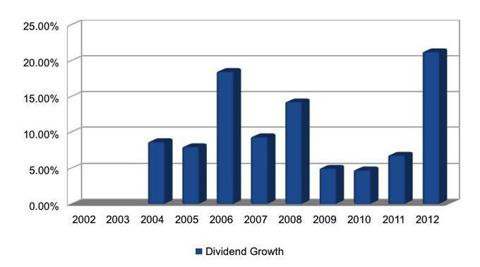 Take a peek at the increase in the dividend for 2012. Shareholders received over a 20% "raise". What a gift for long term investors in my view. Even though the current yield is "only" 2.65%. Some investors will ignore XOM because they focus in on the yield. If it falls below some folks "magic number", like 3% or more, then they look elsewhere.
I think that is basically shooting yourself in the foot. As far as I am concerned, when an investor can buy shares of one of the worlds two largest companies, with a dividend growth track record such as XOM has, it simply is a "no brainer" to own for the long term.
When the stock has dropped from recent highs, it becomes the "perfect storm" for dividend growth investors.
In less than a month, XOM shares have dropped just about 8%. While we could see some further dips, it is my opinion that as the price of oil stabilizes, and supplies drop due to ongoing governmental restrictions (the less than friendly attitude towards natural resource recovery here in the USA), the share price will slowly go back up. Simply put; supply and demand will increase prices eventually.
Add to this scenario some basic fundamentals of this enormous company:
Dividend growth has averaged over 7.35% in the last 10 years alone.
An annualized total return that nears 12% over the last decade surpasses just about every possible metric.
Shares outstanding has dropped from nearly 7 billion to the current 4.8 billion since the year 2000 with XOM's prolific share buyback plans.
A forward P/E of about 9.00 and 2013 earnings projected to come in at around $8.45/share versus $7.83 in 2012, actually gives a value towards capital appreciation at current levels.
A ridiculously low payout ratio of 22% gives the company enormous flexibility towards returning shareholder value. XOM has chosen share buybacks but could easily increase dividends significantly next year, or even offer a "special dividend" payment if it chooses.
A 4:1 operating cash flow to debt ratio allows the company to do just about anything they choose to.
The energy sector is vibrant, and the global footprint of XOM in every component of the energy business gives the company unrivaled power in all of its business operations.
Whether it is oil, natural gas, coal, all renewables, exploration, recovery and refinement, Exxon Mobil cannot be denied its leadership on the world stage in every human beings life.
It is now on sale. Everyone should own this stock.
Disclosure: I am long XOM. I wrote this article myself, and it expresses my own opinions. I am not receiving compensation for it (other than from Seeking Alpha). I have no business relationship with any company whose stock is mentioned in this article.