Back on November 10th 2011, Merck (NYSE:MRK) announced its first dividend increase in 7 years. The new dividend was set at 42 cents a share from the 38 cents a share the company paid for 29 straight quarters.
Look up the calendar now and you will realize Merck has paid 42 cents a share for 4 quarters. Though dividend growth [DG] investors have all but given up on Merck as a DG stock, this article presents a few reasons why we might be in for another surprise. Let us get into the details.
Cash on Hand: Since the last dividend increase towards the end of 2011, Merck's cash and short term equivalents have gone up from the $15 billion mark to about $17.5 billion. That is a significant increase for a pharmaceutical company with heavy R&D expenditures. Maybe, the board could decide some of that money could go back to the shareholders in the form of increased dividends.

(Source: YCharts.com)
Earnings: Merck's Trailing Twelve Months [TTM] earnings per share was at about $1.40 when the company announced the dividend increase in 2011. November 2012 TTM looks much healthier at $2.18 as shown below. In other words, if the company decides to increase its dividend again, the payout ratio will be much smaller than what it was when it raised in 2011.
Obviously, Merck is not going to make the payout ratio 100% again but the point is, diluted earnings have gone up. (acknowledging the fact that pharma companies can have mild swings in earnings depending on R&D expenditures). This could be another factor in getting a new dividend approved.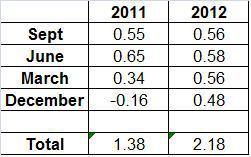 (Source: Finance.yahoo.com)
Falling Yield: Even though Merck did not increase dividends for 7 years till 2011, it was always one of the highest yielding pharma stocks. At most points, it was in fact the highest yielding pharma stock. But with the stock gaining 50% since the October 2011 lows, the yield has been going down by the day. It now stands at 3.8%, which is lower than Bristol- Myers' (NYSE:BMY) 4.2% and Eli Lilly's (NYSE:LLY) 4.1%. Pfizer (NYSE:PFE) is not too far behind at 3.6%. So, the board could decide to increase the dividend to separate itself from the pack.
Expectations: Though most of Merck's run-up could be attributed to the market's bullishness and the company's fundamentals, one cannot deny that the dividend growth in 2011 was received positively by investors. One would expect the management to be cognizant of this fact and they might not want to risk the market's wrath the way things are going on right now, if there is no dividend increase.
Conclusion: Merck already has a lot of qualities that investors should look for, given today's market conditions. A low beta of 0.39, a much higher than average yield of 3.8% and a strong brand name.
The Singulair patent loss is a big blow but Merck still reported better than expected 2012 Q3 results recently. Plus, the progress made in Hepatitis C drugs as reported by Seeking Alpha are positives going forward. The stock is not over-heated anymore as it was here. Now, if only it could get the dividend growth investor back on its side.
Disclosure: I have no positions in any stocks mentioned, and no plans to initiate any positions within the next 72 hours. I wrote this article myself, and it expresses my own opinions. I am not receiving compensation for it (other than from Seeking Alpha). I have no business relationship with any company whose stock is mentioned in this article.