Last week I wrote my 200th Seeking Alpha article, Healthcare REITs Should Perform Well Under Obama, in which I explained the advantages to investing in the healthcare sector and specifically the increased utilization of health services under Obama re-election:
Before the election, there was considerable uncertainty about the future of the Affordable Care Act. This all went away with the re-election of President Obama. As a result, health systems and doctors will now be able to move forward with the certainty they need to make major decisions such as leasing, capital expenditures, and other investments.
With the Affordable Care Act adding around 35 to 45 million insured patients into the marketplace, the utilization of health services should bode well for hospitals and physicians volumes - a net positive for hospitals and the owners of on-campus medical office buildings. As I wrote:
These additional patients are expected to be somewhat funded by Medicare and Medicaid cuts to providers. In total, the increased volume for hospitals and physicians are expected to offset any reimbursement cuts. However, skilled nursing facilities are expected to face difficulties from the cuts.
Medical Properties Trust - A Niche' Brand Unfolding
Medical Properties Trust, Inc. (NYSE:MPW) is a Birmingham, Alabama based self-advised REIT formed to own and lease healthcare facilities to inpatient rehabilitation hospitals, long-term acute care hospitals, regional acute care hospitals, ambulatory surgery centers and other single-discipline healthcare facilities, such as heart hospitals and orthopedic hospitals.
Medical Properties Trust (abbreviated as "MPT" in this article) owns 68 net-leased healthcare facilities across the United States and the company has operated as a REIT since April 6, 2004. As the only healthcare REIT focusing exclusively on hospitals, MPT brings to its clients considerable experience in both healthcare real estate and healthcare operations.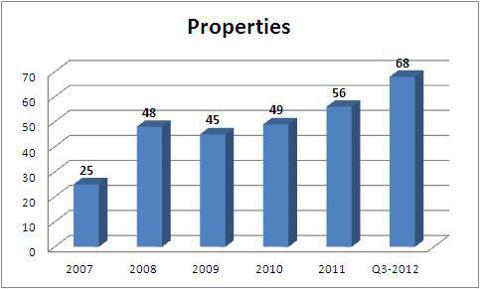 MPT leases all of its facilities under "net" leases, which generally means that MPT's tenants require the company to pay for all ongoing operating and maintenance expenses of the facility, including property, casualty, general liability and other insurance coverages, utilities and other charges incurred in the operation of the facilities, as well as real estate and certain other taxes, ground lease rent (if any) and the costs of capital expenditures, repairs and maintenance (including any repairs mandated by regulatory requirements).
MPT's current leases (and loans) have a weighted-average remaining initial lease term of 10.7 years. Based on current monthly revenue, approximately 26% of MPT's leases and loans provide for annual rent or interest escalations based on increases in the U.S. Consumer Price Index, while 61% of its leases and loans provide for minimum annual rent or interest escalations ranging from 1% to 5%. In certain other cases, MPT has arrangements that provide for additional rents based on the level of tenant revenue.
Medical Properties Trust: A True Differentiator
Hospitals are truly specialized buildings that require a keen understanding of operational details and accordingly MPT's success has been its strategic focus on assembling a strong management team with a breadth of healthcare experience. Strong healthcare, finance and real estate backgrounds would be invaluable components, but the healthcare operations component - and the contacts such experience cultivates - became the cornerstone of the MPT financial model.
As the only healthcare REIT focusing exclusively on hospitals, MPT brings to its clients considerable experience in both healthcare real estate and healthcare operations. In a recent Mad Money interview with Jim Cramer, MPT's Chairman, President, and CEO, Edward Aldag, Jr., explains his company's differentiated healthcare model:
There are a lot of hospitals…the market is huge out there. There's about a half a trillion dollars of available hospital properties out there...the pipeline is huge and we think that 2013 will be another big growth year for us.
Virtually every member of MPT's team hails from the healthcare arena, including senior-level executives who have managed hospital operations or physician practices. This expertise is the reason MPT is the only healthcare REIT in the marketplace that acquires and develops rehabilitation hospitals, long-term acute care hospitals, regional and community hospitals, women's and children's hospitals, as well as ambulatory surgery centers and other specialized, single-discipline facilities.
So What Makes the Value Proposition So Unique?
As noted above, MPT has a unique operating model, but what is so unique about the investment fundamentals?
To start with, MPT is a relatively new REIT that was formed (in 2004) less than ten years ago. During that time, assets have grown from around $300 million to around $2.159 billion today. In fact, the company's compounded annual growth rate (OTCPK:CAGR) has been around 25.9% during the same period and MPT just surpassed $2 billion in assets owned.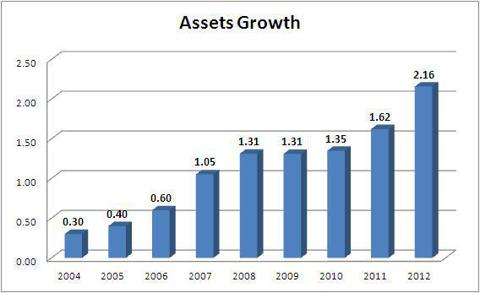 MPT has grown its focused hospital-driven platform from one operator to becoming a landlord for many of the nation's leading hospital operators, including Prime Healthcare Services, Kindred Healthcare (NYSE:KND), HealthSouth (NYSE:HLS), Health Management Associates (NYSE:HMA), Community Health Systems (NYSE:CYH), Vibra Healthcare, Ernest Health Inc., and IASIS Healthcare. All of these top operators (75% or the MPT portfolio) enjoy a "stable outlook" from the rating agencies.
Hospitals are the focal point of the healthcare delivery system and that produces a more stable and predictable value proposition. As, Edward Aldag, Jr. explained (on Mad Money):
If you look at the history of this country we have a lot of presidents…it doesn't matter who the president is going to be. Hospitals are going to be there. Hospitals are at the top of the pyramid in the delivery system for this sector. We're going to have hospitals regardless of whether it's Romney or whether it's Obama. So we're in a very good position throughout the election and beyond.
With a portfolio of 68 properties, no one property accounts for more than 5% of MPT's portfolio. In addition, concentration will continue to decrease as the portfolio grows.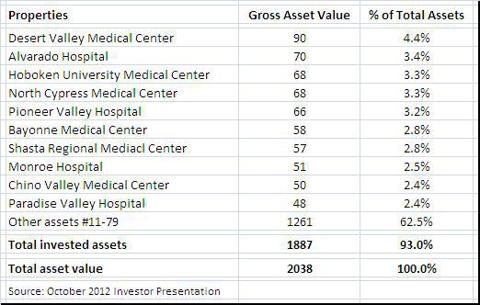 MPT properties focus on the most critical components of U.S. healthcare delivery, and MPT has a well balanced platform consisting of general acute care (34 properties), long-term acute care (27 properties), and inpatient medical rehabilitation (18 properties). Accordingly, the well-balanced investment strategy produces increasing diversification that increases predictability of cash flows and dividends. As in total assets: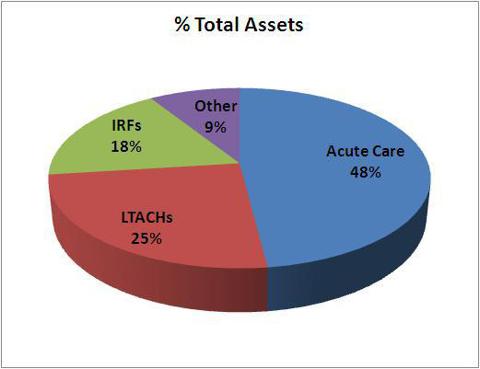 And also MPT has a well-balanced portfolio paying platform: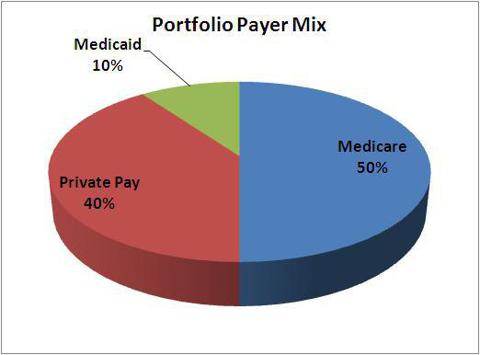 A critical component for every community is an area hospital which provides essential services. There are over 5,000 hospitals in the U.S. and less than 1% closes in any year (source: MPT Oct. 2012 Investor Presentation). In addition, hospitals have exceptionally long life spans - many decades old. Accordingly, hospitals have tremendous "barriers to entry" as a new hospital today requires various regulatory approvals, permits, certificate-of-need, and of course, funding.
One other unique characteristic with hospital properties is that the license goes with the facility, not the operator. Consequently, other service providers and doctors cluster near the facility making relocation extremely difficult. Conclusively, MPT's lease structure provides for a "wide moat" protection of earnings and dividends.
Scaling the Strategic Hospital Model
2012 will be a record year for MPT growth, as Edward Aldag, Jr., the company's CEO, explained during the third quarter conference call:
Today, we announced the continuation of a truly spectacular year for Medical Properties Trust. With today's announcement, we show a continuation of our strong performance resulting in an FFO payout ratio of 80% for the third quarter. We also announced that we have made an additional $259 million in acquisitions since our last call. Year-to-date in 2012, we have now made a total of $781 million in strategic acquisitions and commitments. This is a record level of acquisitions for us and is approximately 80% higher than we have ever done in one year. And we still expect to complete additional acquisitions in the fourth quarter.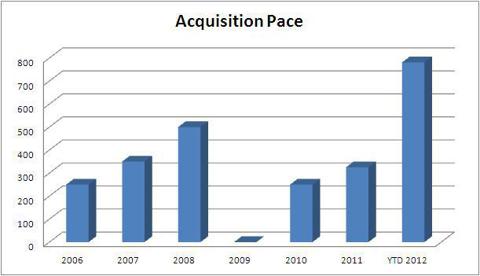 One of the larger transactions closed this year was an acquisition of properties purchased from Ernest Health, Inc. and certain of its subsidiaries, including (A) a portfolio of five rehabilitation facilities (including a ground lease interest relating to a community-based acute rehabilitation facility in Wyoming), (B) seven long-term acute care facilities located in seven states, and (C) undeveloped land in Provo, Utah for an aggregate purchase price of $200 million.
These acquired facilities were leased to subsidiaries of Ernest Health, Inc. pursuant to a master lease agreement. The master lease agreement has a 20-year term with three five-year extension options and provides for an initial rental rate of 9%, with consumer price-indexed increases, limited to a 2% floor and 5% ceiling annually thereafter. MPT also provided Ernest with a $100 million loan secured by a first mortgage interest in four subsidiaries of Ernest, which has terms similar to the leasing terms described above.
By continuing to scale the hospital-based platform, MPT will also continue to broaden its geographic diversification where the largest concentration is in Houston, followed by LA, Riverside, New York, New Jersey, and San Diego (over 55% of MPT's portfolio is located in high population coastal markets).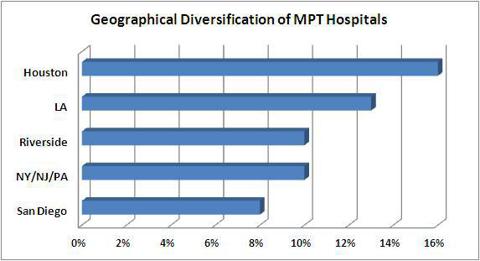 A High Yielding Alternative
Because Medical Properties Trust is able to invest at cash cap rates that have exceeded 10% (this year) combined with low cost of capital, MPT is one of the highest yielding REITs in the equity sector. The company's strategy focused on lease revenue from hospital real estate is what accounts for the majority of future earnings growth.
During the last quarter MPT reported normalized FFO of $33.4 million, a 71% increase over 2011 second quarter. On a per share basis, that translates into $0.25 per share in the third quarter of 2012, 39% higher than 2011's $0.18.
Also, MPT has posted two quarters in a row of year-over-year per share FFO growth that exceeds 35%. And as the company has been predicting, its dividend payout ratio has correspondingly improved to 80% for the third quarter with further improvements expected in 2012 and beyond.
The majority of MPT's FFO is derived from its lease and mortgage interest revenue, but also included in FFO in the third quarter is $3.5 million of income from its investment in the Ernest operations (referenced above). And this is included in interest income, and another $1.1 million in earnings from the six other investments in tenant operations. That $1.1 million is up 25% over last quarter and reflects an annualized return exceeding 40% on approximately $10 million of total investments. As Steven Hamner, MPT's Executive Vice President and Chief Financial Officer explains on the latest conference call:
This continues to validate our strategy to limit our RIDEA-type investments to those in which we are able to acquire significant upside opportunity, over and above our already high real estate returns at little incremental investment.
MPT has continued to improve its liquidity and the company's financial flexibility is a key ingredient to its growth strategies. The company has well-staggered debt maturities and an unsecured balance sheet (only one mortgage of $14 million). In addition, MPT has a $400 million revolver with around $375 million as of June 2012. 89% of MPT's debt is fixed at an average rate of 6.57%. Accordingly, MPT's disciplined financial management has resulted in low leverage:
Also, MPT's portfolio continues to produce one of the highest EBITDAR lease coverage ratios in the REIT universe. Acute care hospital EBITDAR coverage for the third quarter was approximately 6 times. The strong EBITDAR gain is indicative of the value of the total portfolio which has grown from an EBITDAR lease coverage ratio of about 3.2 times in 2006 to about 5 times today.
Based on percentage of total base rent, less than 10% of MPT's lease maturities are due in the next five years. In addition, MPT's annual lease maturity through 2020 averages approximately 3% per year.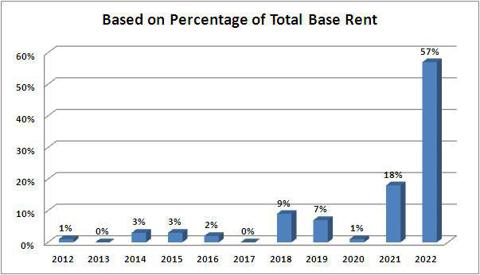 As a huge proponent of net lease investing, I am also a big advocate to supporting scalability - and specifically the fact that G&A costs (for net lease assets) decrease considerably as revenue increases. Over the past six quarters, MPT has decreased its percentage of G&A costs from 17.6% to 13.8%.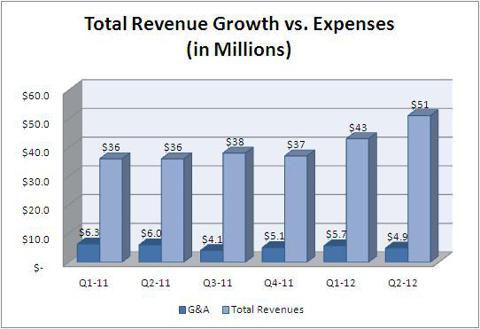 Is the Dividend Sustainable?
Regarding MPT's dividend cut in 2009 (from $1.080 to $.8000), Edward Aldag, Jr., the company's CEO, said (on Mad Money):
Unlike a lot of the other REITs that are out there, we never suffered from a cash flow issue. We went from a ratio of 3.5 times to over 5.5 times now. We raised a billion dollars in capital in the last four years… where we want our payout ratio to be is in the 75% to 80% range. We're almost there now…when we get to that point, the board has said that we'll look at raising the dividend.
OK. I love to hear those last three words: Raise that Dividend. To start with, MPT has a current share price of $11.35 and a market capitalization of $1.528 billion. The current dividend yield is 7.05% (the second highest in the healthcare sector). As of June 2012, the company had a payout ratio of 91% and as noted, the company was targeting a 77.5% ratio.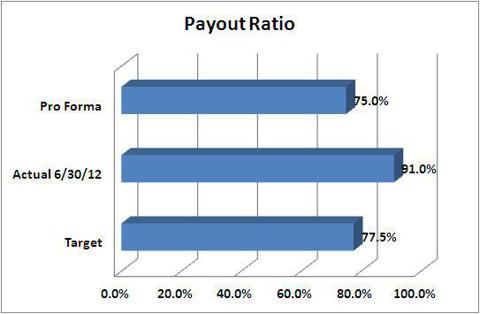 As Edward Aldag, Jr. explained on the company's last earnings call:
Based only on our existing portfolio, which includes the acquisitions announced today, we expect our annual run-rate FFO per share to be $1.8. Said in a slightly different way, if we made no further acquisitions, no more in the fourth quarter and none in 2013, our 2013 FFO would be $1.8 per share. This equates to a pay-out ratio of 74% from our in-place portfolio.

In summary, I want to point out again that our existing portfolio is now generating an FFO which produces a payout ratio based on our current dividend of 74%. Our portfolio will continue to generate strong EBITDAR lease coverages, our pipeline for future growth looks robust and our balance sheet is poised to take the advantage of these opportunities.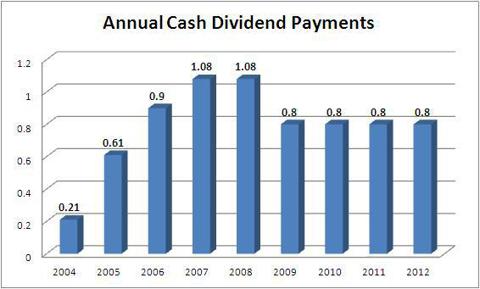 So What Are The Risks?
As pointed out in previous Seeking Alpha article, Medical Properties Trust: Acute Care For Your Portfolio (by Kurt Thorup), a frequent reader responded as follows:
During the economic downturn of 2008 and 2009, Medical Properties Trust and Healthcare REIT (NYSE:HR) were the only two of the health care REITs to cut their dividends. Since then MPW and HR continue to be the only two who have not raised their dividends. Cash flow is weak, although there has been a slight uptick in Op CF in the last quarter.

For 2011, 58.5% of their dividend was return of capital while only 37% of distributions are attributable to depreciation. So unless MPW can permanently increase FFO/share, the dividend may have to be cut. Because so much of the price premiums today are for dividend reliability/growth, those companies showing dividend vulnerability will be price sensitive to any news of economic slowdown.
Another anonymous Seeking Alpha reader replied,
Their FFO will increase dramatically in 2013 due to accretive acquisitions and the payout will be near the 75% range that Ed Aldag and Steve Hamner would prefer. When I invested in this company it was truly a speculative investment. Their portfolio risk was very high as two operators accounted for a very large share of the overall mix. If one operator went down then MPW could go down in flames. They have since over doubled their properties and broadened their client base.
The hospital-focused business model is sound and Medical Properties Trust is well positioned to reap the rewards of providing sale/leaseback and related off-balance sheet capital for hospital operators. In fact, I see a tremendous (and perhaps untapped) market for MPT (and other private and public landlords) to further exploit the sector and provide enhanced total returns (year-to-date, MPT has returned 22.34%).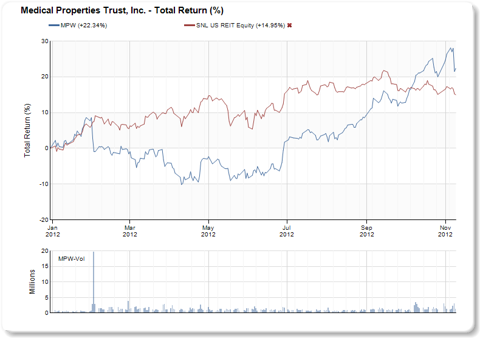 In summary, MPT pays an attractive dividend yield of 7.05% - the second highest dividend yield in the healthcare sector and also one of the highest dividend yields in the equity REIT sector. Since 2004, MPT's dividend has been paid every quarter and the dividend has increased by 18.2% compounded annually since 2004. In addition, since the company's IPO, MPT has returned 53.5% (compared with the MSCI U.S. REIT Index of 42.2%) and the three-year return (to 2011) was 90% (compared with 73.9% for the MSCI U.S. REIT Index).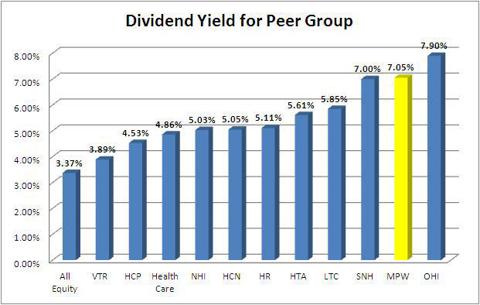 Note: Peer Group includes (NYSE:HTA), (NYSE:VTR), (NYSE:OHI), (NYSE:HCN), (NYSE:HCP), (NYSE:LTC), (NYSE:NHI), (NYSE:SNH).
Source: SNL Financial , NAREIT, and MPT Investor Presentation
Disclosure: I have no positions in any stocks mentioned, and no plans to initiate any positions within the next 72 hours. I wrote this article myself, and it expresses my own opinions. I am not receiving compensation for it (other than from Seeking Alpha). I have no business relationship with any company whose stock is mentioned in this article.