Last week, SodaStream (NASDAQ:SODA) reported another great quarter, with sales and earnings soaring. The company also raised guidance yet again, showing that it is in much better shape than a lot of the momentum names it sometimes gets grouped with. However, SodaStream shares did not reap the benefits of a good quarter, a pattern long investors have become too familiar with in recent times. Today, I'll cover the third quarter results, and show why this name is an even more attractive buy.
Third Quarter Results:
SodaStream reported record third quarter revenues of $112.5 million, which beat estimates by about $8 million. That figure represented a 48.7% rise over the third quarter of 2011, when SodaStream's revenues came in a little under $76 million. A breakdown below, taken from the company's report, shows how the company fared in terms of product segments and geographically.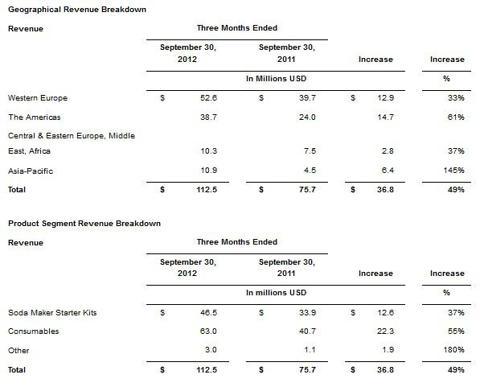 The main takeaway here is that SodaStream is expanding its markets and becoming more diversified. In the third quarter of 2011, nearly 52.5% of revenues came from Western Europe, and that was down from 66.1% in the third quarter of 2010. In this year's third quarter, Western Europe represented 46.8% of revenues. Revenues in the Americas are increasing nicely, and so are those in the Asia-Pacific region. I'll have more on their growth story later.
The company also saw some nice rises in its margins. Here's a good explanation of why gross margins increased by 65 basis points.
Gross margin for the third quarter 2012 was 54.2%, compared to 53.5% for the same period in 2011. This increase was primarily due to the increase in direct distribution that accounted for 69% of total revenue in the quarter vs. 56% in the third quarter 2011. This increase is mainly due to growing share of U.S. revenue and the shift to self-distribution in the Nordics. Gross margin was also positively impacted from leveraging fixed production costs on higher revenue, partially offset by a higher percentage of subcontracted manufacturing.
Sales and marketing expenses rose a bit faster than revenues, and represented 31.8% of revenues this year, compared to 30.6% in the prior year period. However, general and administrative expenses came in at just 7.8% of revenues, compared to 10.1% last year. That really helped operating margins, which rose from 12.97% in last year's period to 14.61% this year.
On the bottom line, earnings per share came in at $0.80, with adjusted earnings per share at $0.87. Both numbers handily beat the $0.72 that analysts were looking for. In the past four quarters, SodaStream has beaten on the bottom line by at least 10% in each quarter.
Guidance Update:
The company provided the following guidance:
The company now expects 2012 revenue to increase approximately 46% over 2011 revenue of $289.0 million, up from its previous guidance of 40%.
The company now expects 2012 net income to increase approximately 59% over 2011 net income of $27.5 million, up from its previous guidance of 55%. This guidance assumes full year gross margin of approximately 54.5% and includes a share-based expense of approximately $5.6 million.
Gross margin for the fourth quarter 2012 includes a higher mix of third party manufacturing and additional transportation expenses in order to meet the high demand for several new product launches scheduled for the holiday season.
Analysts still are not 100% convinced about the company's numbers, so the yearly revenue estimate stands at $417 million currently, representing 44.3% growth. Should SodaStream hit its target this year and roughly meet the current expectations for next year, it is likely that the company could break the $500 million mark in revenues for 2013.
On the earnings per share front, the company has done $1.94 in adjusted earnings per share during the first nine months of the year. Analysts were expecting $0.45 for the fourth quarter, so that would imply about $2.39 for the full year. However, current 2012 estimates stand at just $2.28, so expect a number of estimate raises in the coming weeks.
Balance Sheet Update:
The following table shows some key balance sheet metrics since the third quarter of last year. Dollar values in thousands.

It might worry some investors that the cash and bank deposits number came down a bit in the quarter. However, SodaStream built up a bit of inventory during the quarter, which makes sense since the holiday season is coming up. There are no red flags with this balance sheet currently and I believe the company is in decent financial shape.
Valuation / Comparables:
Growth numbers are great, but they are meaningless unless you know what you are paying for them. There are three names I want to show some comparisons to. The first two are obvious, Coca-Cola (NYSE:KO) and Pepsico (NYSE:PEP), the two beverage giants. But the third is Green Mountain Coffee Roasters (NASDAQ:GMCR). I'm using Green Mountain because many investors see the two names as similar, even though one is coffee and one is soda. The thought process is simple, make your own coffee or soda at home. I don't think these two names should be grouped together, because I think SodaStream is in a much better position, but investors tend to trade them similarly. So here are some growth and valuation comparisons.

*Green Mountain's fiscal year ends in September, so "2012" numbers would be for fiscal year ending in September 2012.
Now, I've only used the current estimates for SodaStream, so as they are likely revised higher, the valuation should come down a bit more. For instance, using the $2.39 figure mentioned above for this year's earnings instead of the $2.28 gives you a 2012 P/E of just 14.54. SodaStream trades at a bit of a discount to Coke and Pepsi, despite growing at much faster rates. I think that is a mistake, but here's where you can see Green Mountain come in. SodaStream's valuation seems to be chopped a bit, despite the fact that SodaStream's growth isn't falling as fast as Green Mountain's. Also, there are a number of other concerns with Green Mountain (accounting issues, inventory questions, financial flexibility including the buyback) that you don't see with SodaStream.
If you were to give SodaStream a 2013 valuation that's an average of Coca-Cola and Pepsi, you'd get about 16 times 2013 earnings. Given that current estimates, before this third quarter report, were for $2.84, I think you can project about $3 in earnings. That would give you a potential price target of $48, implying about 38% upside from here. The current average price target from analysts is about $50, and you can expect that might go up in the next few weeks.
Conference Call / Ad Campaign:
As mentioned on the conference call, the company has really worked in 2012 to expand its footprint in the US, and that mainly involved getting into Wal-Mart (NYSE:WMT). The company mentioned on the call that they expect to enter both China and India, the two most populated countries, in 2013. This is part of their aggressive growth strategy, which should be followed by entering US grocery and drug stores in 2014. If they do enter these new markets next year, it is likely that they could do a bit more than the 17.6% revenue growth currently expected by analysts for 2013.
The other big headline from the company was a very aggressive new AD campaign, the company's first global TV campaign. This campaign will highlight the SodaStream brand image, along with showing how the company's products can save millions of bottles and cans from being thrown away each year. As the counter on their website shows, SodaStream has saved the world from 1.984 billion bottles. The counter should break 2 billion soon.
Now you may laugh at the company's efforts here, just on the basis of scale. SodaStream is expected to do roughly $425 million in revenues this year, with Coca-Cola at $48 billion and Pepsico at $65 billion (not all from beverages). But you can't ignore the fact that SodaStream is growing much faster than these names, and it is not afraid to take on the industry giants. SodaStream is making a wave here, and we've seen recently the big boys forced to respond. Even with all of the recycling efforts Coke and Pepsi promote out there, SodaStream makes a good point. You don't need to recycle if you don't have the bottles and cans in the first place.
The curious earnings trade:
Unfortunately for SodaStream, the stock just cannot gain any traction from these spectacular earnings reports. We've seen more than one occasion where the stock jumps initially on the results, but the rally tends to fade, either that day or within the next few days. The following table shows how SodaStream has traded the day it reports earnings in recent quarters (the company always reports in the morning, the "prior" number is the close the day before reporting earnings).

There were a number of quarters where the stock opened much higher, and usually hit the high of the day within the first 30 minutes or so. In most of those cases, it traded lower throughout the day. This week, SodaStream hit its post-earnings high around 9:45 am, and quickly dropped from their. Despite an afternoon rally that day, shares have come back down the past few days, and are up less than 2% since reporting earnings. So much for the great report, and that includes the fact that shares had fallen more than 12% in the two or three weeks going into this report.
SodaStream has been one of the most heavily shorted names in recent years, with over 8.36 million shares short at the end of October. That's about half of the nearly 17 million share float. The number of shares short has come down from a high of 10.8 million in May, but it still is an alarming amount for a name that continues to deliver exceptional results. Should the shorts finally give up on this name, a sharp rally could occur, but for now, they think this name is enough of a fad to stick around. Maybe the third quarter results will scare off a few more short sellers, especially given the guidance raise and new markets coming in the next two years.
Conclusion / Final Thoughts:
SodaStream continued to sparkle with its third quarter results, which handily beat expectations. The company raised its full year guidance and expects to enter new markets next year. An aggressive new AD campaign was launched to take aim at the major beverage companies. This company has plenty of growth ahead of it, and the valuation seems very reasonable given the potential. Analysts really like the name, but it is heavily shorted. SodaStream is a name that most investors should keep their eyes on. The stock is usually a good buy in the low to mid $30s, so investors should use recent and any future weakness to accumulate more shares.
Disclosure: I have no positions in any stocks mentioned, but may initiate a long position in SODA over the next 72 hours. I wrote this article myself, and it expresses my own opinions. I am not receiving compensation for it (other than from Seeking Alpha). I have no business relationship with any company whose stock is mentioned in this article.
Additional disclosure: Investors are always reminded that before making any investment, you should do your own proper due diligence on any name directly or indirectly mentioned in this article. Investors should also consider seeking advice from a broker or financial adviser before making any investment decisions. Any material in this article should be considered general information, and not relied on as a formal investment recommendation.