The 2012 European situation has caused extreme market volatility and has forced investors to seek safer stocks. With the economic and political climates becoming more tumultuous, I have been concentrating on high yield opportunities. Blue-chip dividend companies are well-known but there are attractive equities with high yields going ex-dividend every week. This strategy can work in one of two ways: either you buy before the ex-date to receive the dividend or buy after if the stock declines far below the after-tax amount of the dividend. Regardless of your short-term strategies, these equities can be attractive longer-term investments depending on your individual circumstances.
Buying the stock to receive the dividend is intuitive but many have contacted me requesting further details on the second strategy. Investopedia has a great example of how this works. To explain this, I will use AT&T (T) as an example. AT&T declared a $0.44 dividend to shareholders of record on October 10, 2012. On the ex-dividend date the stock price should decline by the after-tax dividend amount, with an assumed tax rate of 15% because many dividends qualify for a preferential tax rate. It is true that you can personally avoid immediate taxation by owning the security in an account with beneficial tax treatment but this serves as a benchmark.
As a result, an investor would expect the stock price to decline by $0.37 = [$0.44 * (1-.15)]. If AT&T declined by more than $0.37 in the absence of negative news you might have an attractive opportunity. For conservatism you may ignore the tax aspects and only trade if the stock price declines by the full dividend amount. Executing this strategy can generate returns over short periods of times but should only be performed on companies that you would be comfortable owning.
To focus on these opportunities I ran a screen with a focus on relative safety for the investments as the objective is to concentrate on liquid companies that are affordably priced. I began with a specification of a dividend yield greater than four percent and an ex-dividend date within the next week. To provide some layer of safety I narrowed down the environment by looking at companies with market capitalizations greater than $1B, PEs between zero and 20, and institutional holding percentage in excess of fifteen percent (except ADRs).
While not a precise requirement, I prefer companies that have underperformed the S&P 500 year-to-date as it indicates reduced downside relative to peers. With the impending European crisis I now avoid companies with significant European exposure. This is summarized below:
Dividend Yield ≥ 4.0%
Ex-Dividend Date = Next Week
Market Capitalization ≥ $1B
PE Ratio: 0-20
Institutional Ownership ≥ 15%
Ideally Modest S&P 500 Underperformance
Minimal European Exposure
After applying this screen I arrived at the equities discussed below. Although I envision these as short-term trading ideas, you still need to exercise caution. The information presented below should simply be a starting point for further research in consultation with your professional financial advisor before you make any investment decisions. My goal is to present new companies to you and provide a brief overview of their recent developments and this should not be considered a substitute for your own due diligence.
ARMOUR Residential REIT, Inc. (NYSE:ARR): 15.47% Yield; Ex-Dividend 11/13
ARMOUR Residential REIT is a corporation that investments in various agency mortgage backed securities which are issued or guaranteed by U.S. government affiliated agencies. As of the most recent quarter, ARR has $22.1B in agency securities opposed by $19.9B in repurchase agreements. ARR is currently levered about 10X (liabilities/equity) which means its relatively small net return of less than two percent is magnified ten times. This explains how these type of companies can have staggering yields despite such low relative returns on assets. Portfolio Management 101 has an excellent overview of ARR and its risks.
As a REIT, ARR must distribute at least 90% of its taxable income to shareholders. Currently ARR distributes 100% of taxable income and may be facing cash flow issues. The company has $193M in cash from operations in the first three quarters while it paid out $187M in dividends to common and preferred shareholders. Such a tight spread is not uncommon for mREITs. ARMOUR simultaneously issued $1.5B in stock which was the financing source that caused cash to increase over the period. With this in mind, the liquidity issue has not been a problem in the last few years as this hot sector of the market has had minimal trouble raising financing due to strong returns. The economic climate could get increasingly more challenging so this is a risk worth noting. With this information in mind, I believe ARMOUR is reasonably priced at 7.7 P/E and has a high enough yield to compensate investors for the risk assumed. Note that ARR distributes dividends monthly.
Pitney Bowes (NYSE:PBI): 12.48% Yield; Ex-Dividend 11/14
Pitney Bowes provides mail processing equipment and integrated mail solutions to diverse businesses worldwide. In general, if a company has any issues with its mail, Pitney likely has the solution. You might know the company from the automated metered stamping machine that is ubiquitous in offices across the country. This type of product is the company's core service but the company has attempted to diversify. Once a company has a Pitney Bowes offering they often work with the company to provide more services.
As you can tell this is a mature, sleepy business that has only average growth prospects (if any) but is a cash cow. At this point in its life cycle the company can avoid investing in the future and simply collect income on its legacy operations. PBI has underperformed the S&P by forty percent year-to-date but the dividend has helped to mitigate the declines by a modest margin. Things are only worse when examining performance for the last fifty-two weeks as the shares are off nearly 40%.
The negative performance is likely due to fears about congressional changes to USPS and the continued shift away from physical mail but even in this digital age, business mail is not going to disappear anytime soon. Earnings and revenue have been holding relatively steady indicating that fears might be overblown. This company entails above average risk due to its industry but I believe it is at least worth further research due to the combination of high yield and low P/E. On Friday PBI hit a new fifty-two week low and the Seeking Alpha crowd is relatively mixed on their faith in the company. For every investor who believes the stock is attractively priced, there is seemingly another investor who believes the yield is in danger. I believe that there is some value with Pitney Bowes but I continue to stay on the sidelines rather than chase the yield simply because the risk is far too high.
Exelon Corporation (EXC): 6.63% Yield; Ex- Dividend 11/13
- 5.4M Customers in Illinois and Pennsylvania
Hawaiian Electric Industries (HE): 4.93% Yield; Ex-Dividend 11/15
- 1M Customers in Hawaii
Duke Energy Corp (NYSE:DUK): 4.89% Yield; Ex-Dividend 11/15
- 7.1M Customers in the Southeast
Allete Inc. (ALE): 4.57% Yield; Ex-Dividend 11/13
- <1M Customers in Midwest
I recently wrote a detailed explanation of how I analyze utility companies and in brief I focus on the number of customers and geographic location. Larger companies enjoy scale benefits and are able to profit more from smaller rate increases. While geographical differences exist for regional utilities, underlying operations are essentially the same: a stable, cash-cow business that returns most profits to investors via dividends and share repurchases.
On paper Exelon is the clear best of breed utility as it offers the highest yield, has the most customers, and operates in the most advantageous geographic region. Exelon was recently downgraded as analysts are fearful that a dividend cut is likely. The 6.6% yield is just about as high as you will ever see for a utility company and in fact may be too high to sustain.
Hawaiian Electric Industries is unique in that it completely monopolizes the state of Hawaii. The company and its subsidiaries service 95% of the state's population (all islands except of Kauai). Further distinguishing HEI is that the company operates a bank (American Savings Bank) which was responsible for nearly half of the company's income in 2011. Half of the company's loans are for residential 1-4 family homes and total loans have been declining steadily since 2007. If you are looking to invest in a traditional utility I would avoid Hawaiian Electric due to its significant financial operations - this is not a utility pure play.
Duke is the most expensive utility but it is the largest and from my prior research appears to be one of the better run utility companies in the country. Duke recently completed the $18B acquisition of Progress Energy and will take charges to earnings in the short-term but the deal has already boosted recently reported earnings.
Allete is a very small utility with a weak geographic footprint. The company is reasonably priced for its yield but there is little to get excited about here.
Shaw Communications Inc. (NYSE:SJR): 4.51% Yield; Ex-Dividend 11/13
Shaw Communications offers diversified entertainment services, but focuses primarily on Canadian cable television. Cable companies have traditionally been able to distribute sufficient cash flows to investors but the tides are shifting with the rapidly rising cost of content. Sports programming is a double-edged sword because it is one of the biggest advantages over Internet streaming; however, it is the most expensive for cable companies to offer. This is still a 'cash cow' industry but it is changing too quickly for me to fully support investing in it.
Factor in the popularity of Internet connected televisions and other devices and I am not extremely bullish on the traditional entertainment content business model. I do not believe that investors are being adequately compensated for the level of risk assumed and the other companies mentioned offer comparable (or higher) yields for less risk. Five percent seems to be that magic yield number for this type of utility companies that draws support and that could occur again with Shaw. The stock has underperformed the S&P 500 slightly this year as revenue stagnation continues to be a drag on the stock. Note that Shaw pays dividends on a monthly basis.
Eli Lilly & Co (NYSE:LLY): 4.13% Yield; Ex-Dividend 11/13
Eli Lilly is one of the largest pharmaceutical ("pharma") companies in the world with drugs focusing on cancer, men's health, osteoporosis, and many other medical issues. Eli has one of the stronger pipelines in the industry and historically pharma companies have been able to maintain their high payout ratios so the yield appears to be safe. There is an abundance of coverage on Eli Lilly here on Seeking Alpha and the common theme is that Eli is a solid dividing paying company that generates sufficient cash flows.
2012 was predicted to be a difficult year for the company as it lowered guidance due to the patent expiration of Zyprexa but the stock has actually appreciated nearly 22% in the past year. Performance was better than expected due to strong sales of Cymbalta as well as Alimta which caused a revision to the previously lowered guidance. While Cymbalta has been an excellent performer for Eli, it faces the loss of patent protection next year. This information is hardly secret but the stock could still decline as the expiration grows nearer. I still hold Eli for the very respectable dividend as well as what I consider above average gain prospects over the medium term.
The information presented has been summarized below. Yellow and red represent "avoid" and "consider" classifications, respectively.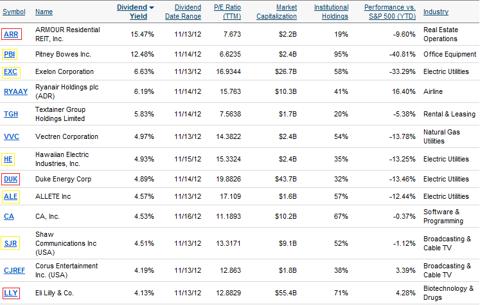 Disclosure: I am long DUK, LLY, T. I wrote this article myself, and it expresses my own opinions. I am not receiving compensation for it (other than from Seeking Alpha). I have no business relationship with any company whose stock is mentioned in this article.
Additional disclosure: Please refer to profile page for disclaimers.