I wrote an article outlining a potential threat to Zilliow (NASDAQ:Z) and Trulia (TRLA) back on the 20th of October. This potential threat came from an organization that would, if successful, discontinue the syndication of all listings sent to sites like Trulia or Zillow; listings which are key for generating attention and mobile traffic to the sites. Both stocks have dropped significantly since, but for different reasons than the ones I pointed out.
click to enlarge images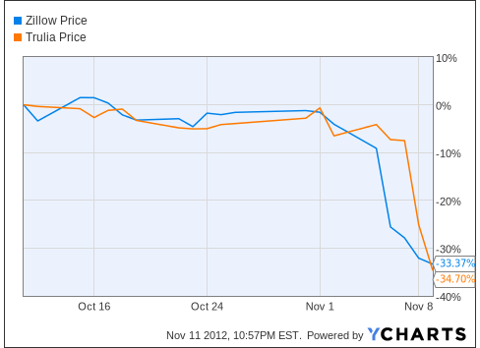 Zillow seems to have found a new outlet for growth and user attraction to their site. The company will, according to the Chicago Tribune, begin listing pre market inventory- which gives the site a unique edge against competitors. Amy Bohutinsky, Zillow's chief marketing officer, told the Chicago Tribune that:
What buyers can learn from this is what homes might be listed for sale soon, or they can actually try and buy the home out of the foreclosure process by making an offer to the owner or the bank... It opens up a whole new category of inventory to people that they didn't know existed.
And this is a feature that will add uniqueness and staying power to Zillow's site that will generate the internet traffic they need to maintain and expand growth. Zillow will stand out to users, who will now be able to view foreclosures before they hit the market.
Trulia, on the other hand, will most likely be stuck on the down spiraling path that they have been thrown onto, especially if they lose a majority of their syndicated websites to the NAREP (an organization that seeks to end all non-MLS real estate search sites). Zillow, however, will keep digging for features unique to their site that may eventually help them establish a nice moat.
Conclusion:
Valuation-wise Zillow has been priced with an overly extreme P/E ratio all year.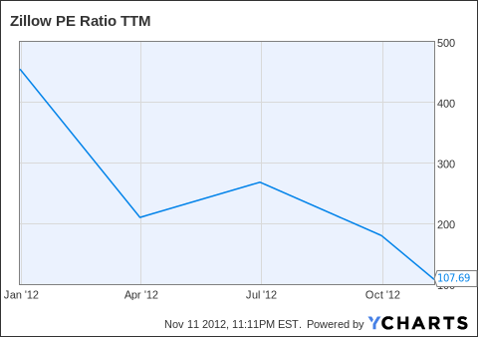 After the stock's recent plunge, however, its P/E ratio has dropped significantly; and shares of Zillow are now trading at $25.20- closer around their 52 week low of $21.22. The company's revenue jumped 67% to a record $32 million at the end of its last quarter, with a net income of $2.3 million, according to Reuters. Some fear surrounding the company was also attributed to the loss of one of its largest advertisers, Foreclosure.com, which is another situation investors should consider, according to Reuters. Zillow currently looks like a spec play that could pay off in the future, but I would still be extremely cautious putting money into the company with its high valuations, while also paying extreme attention to its earnings going forward.
Disclosure: I have no positions in any stocks mentioned, and no plans to initiate any positions within the next 72 hours. I wrote this article myself, and it expresses my own opinions. I am not receiving compensation for it (other than from Seeking Alpha). I have no business relationship with any company whose stock is mentioned in this article.