Data center-related stocks had their worst monthly performance in the last two years, but most of them still remain a positive investment on a year-to date basis.
Monthly performance
Here is a quick look at how each stock under our radar screen performed in October 2012: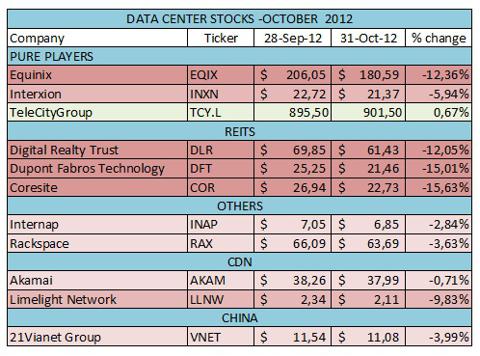 A good part of the sell-off can be attributed to the combination of a soft market and the reaction to the first earnings reports made in the last few days of the month, especially by Digital Realty (NYSE:DLR) and Dupont Fabros Technology (NYSE:DFT), that lost 5% and 9%, respectively, after reporting some price pressure for new leases and renewals.
Strong double-digit returns for most stocks YTD
If we take a look at the bigger picture, however, most data center stocks remain very positive YTD, with companies like Equinix (NASDAQ:EQIX), InterXion (NYSE:INXN) and Rackspace (NYSE:RAX) delivering gains in excess of 40% since the beginning of the year: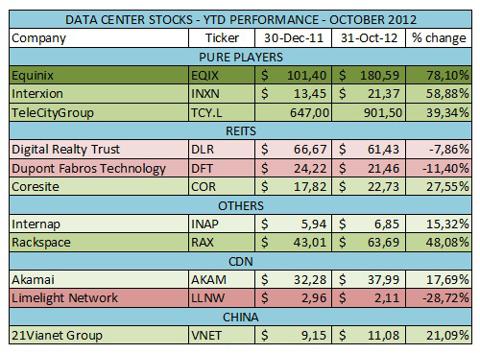 Network neutral multi-tenant (retail) data centers deliver the best performance as a group, as the strength of the business model is recognized by the market. Wholesale REITs, on the other hand, turn negative YTD, with the exception of CoreSite (NYSE:COR). Unlike its REIT peers, the company manages some key interconnection points, especially on the West Coast, that can be compared to Equinix for their business model and clientele.
What to expect going forward
While a correction could be expected, following the strong growth achieved in the first half of 2012, and a relatively weaker performance in the last few months, there is little doubt that the size of the October sell off was probably stronger than most investors might have expected.
The first part of the year was characterized by positive results for basically all these stocks, on the wings of Wall Street's strong attention to everything associated with cloud computing. In such a scenario, characterized by double-digit returns for most players, beating the market wasn't particularly difficult for those who were following the data center arena.
As some sub-sectors start showing the first signs of price pressure or decreased growth, investors are probably requested to be more selective in their stock picks, to ensure that they can still outperform the market.
Disclosure: I am long EQIX. I wrote this article myself, and it expresses my own opinions. I am not receiving compensation for it (other than from Seeking Alpha). I have no business relationship with any company whose stock is mentioned in this article.