Utilities tend to outperform when the economy is in a downturn, and with many of stocks now finding long term support levels and attractive valuation, it looks like a sector that some new money could flow into over the next few months, and is an eye-catching investment.
On, 9/16, we issued a bearish note on the utility sector due to valuation, debt concerns amid a credit crisis, and declining margins. We recommended going long the Ultra-Short Utility ETF (SDP) at $73. The SDP traded to $140 as recent as last Friday and we are now flipping our position and becoming bullish the sector.
There are multiple factors that have changed our outlook for the sector. First, liquidity is being injected back into the market and the credit concerns are diminishing as the Utility companies should have plenty of Federal and State backing for any debt concerns because our nation needs electricity. Utility companies have not mentioned cutting project spending as of yet, and now it looks unnecessary to do so.
Also, the sector has been one of the most battered and valuation is now at a very reasonable level. Many of the individual stocks have found long term (2 to 5 year) support levels to begin a rally. Although the sector is still trading at higher multiples than many of its peers, we feel the investors looking to get their feet wet, and get back in the market may be inclined to buy Utility stocks, a safe haven investment with one of the lowest Betas historically. People put their trust in utilities because people need electricity, water, gas and phones. Also, the dividend yields of utility stocks are greater than the other sectors, and this will also attract investors.
Lastly, natural gas prices have stabilized and found support so the issue of declining margins and uncertainty in the companies' financial performance will lessen to a degree. Regulators are lenient with passing on energy costs to consumers, so the energy prices are not as big of a concern as some think.
All of these factors point to Utility stocks outperforming over the next year, and recent positioning in the options market shows that others feel this is true. The Utility ETF (XLU) had one of the lowest put-to-call ratios in the market yesterday with 32,149 calls trading versus only 1240 puts, a bullish indicator. Most of the action was betting on the October $29 calls in the ETF, and the volume was extremely high.
Please see the chart below for the technical indicators on the XLU (chart courtesy of Prophet Charts, ThinkorSwim):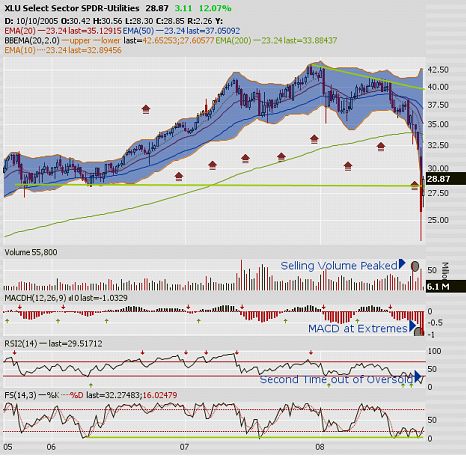 Our favorite plays in the Utility sector are Consolidated Edison (ED), Dominion Resources (D), Duke Energy (DUK), and Southern Corp (SO).
Disclosure: The author has no position in any of the above equities or ETFs.