I recently attended the Mongolia Investment Summit in Hong Kong on October 30 & 31, 2012. The opening keynote speech by Christopher de Gruben of Make A Difference Investment Solutions was titled The Mongolian Tango. In it Mr. de Gruben suggested that the dictionary definition of Dutch Disease would one day be renamed Mongolian Disease. The outlook for foreigners investing in the country became more dour from there, both inside the convention hall, and even more so in the conversations that took place outside the hall in the corridors.
This article will end on a note of reasons for long-term optimism about Mongolia, but the near-term outlook is not good. If currently invested in Mongolian holdings, evaluate your positions on an individual basis. I stand by my recent article on the three safest companies to hold at this time, albeit with less confidence in the near-term: Mongolian Mining Corporation (OTCPK:MOGLF), Mongolia Growth Group (OTCPK:MNGGF) and Mongolia Blue Wolf Holdings (MNGLU). Additionally, for those who are interested in Turquoise Hill Resources (NYSE:TRQ), be advised that multiple ex-pat professionals who live in Mongolia are saying off-the-record that they would be short Turquoise Hill at this time to hedge their exposure to Mongolia.
The lawyer
The strongest presentation given at the Mongolia Investment Summit on the problems that the Strategic Entities Foreign Investment Law [SEFIL] passed in May 2012 have created came from international attorney James Liotta. You can read through his power point presentation yourself, so below are selected notes I wrote from his presentation:
- The law effects all resources, not just mining. Could be fishing, agriculture, banking, anything.
- Also, this law impacts any company supplying goods or services to an identified strategic Mongolian entity.
- Every foreign entity with greater than a 5% holding in a company doing any business in Mongolia must be regulated by the Foreign Investment Regulations and Registration Department [FIRRD] within six months of the law's passing (that is this week). [The law was passed May 17, 2012 (English begins on 2nd page of the link). There are questions as to whether 6 months from the date of the law is November 17th, or 180 days from the law's passing which would be Monday, November 12th.]
- The law's taxation laws extend to investments held both onshore and off-shore.
- Any perceived violation of SEFIL can invalidate licenses (e.g. mining licenses).
- There is a total lack of legal clarity in the law as to: who is impacted, what is strategic, or what is a resource.
- The law may regulate foreign transactions. It is unclear.
- Approval of larger holdings in investments can take up to 125 days under SEFIL. This would be mainly for single foreign holders holding over 33.33% of an entity that need extensive government approval.
- On the other hand, three category 1 investors (see presentation) could each hold 33.32% of an entity and not trigger the need for any government approval.
- And, Mr. Liotta said, he personally "could name 18 transactions cancelled because of this law" since May 2012.
History
Pausing from this negative outlook, Dr. Graeme Hancock, Chief Operating Officer of Erdenes Tavan Tolgoi, the largest coal mine in the country (which is state-owned), has a distinct and incisive perspective on Mongolia as he was previously head of the World Bank in the country for 5 years. Dr. Hancock pointed out that a foreign investment law such as SEFIL was indeed needed for a long time going back to 2005.
Speaking after Mr. Liotta on the same panel, Dr. Hancock recounted the story of the British company Soco (OTCPK:SOCLF) which discovered petroleum in Mongolia and then sold its petroleum interests in Mongolia to PetroChina (NYSE:PTR) in April 2005, "while the [Mongolian] government watched in horror unable to do anything to protect its strategic interests." He added that we should remember "most other countries have laws to protect against foreign investment" although "[SEFIL] needs a thorough rethink to figure out how to encourage good foreign investing while protecting national interests."
For those who don't know, SEFIL was hastily passed in May 2012 primarily to block Chinese company Chalco (NYSE:ACH) from buying two coal producing companies in Mongolia.
Rio Tinto says
Cameron McRae's presentation followed the panel on which were Mr. Liotta and Dr. Hancock. Mr. McRae is Rio Tinto's Mongolia country manager, and President & CEO of Oyu Tolgoi, the project owned 66% by Turquoise Hill which is in turn 51% owned by Rio Tinto (NYSE:RIO). In his words, Oyu Tolgoi "will supply 25% of the copper in Asia and be a top 5 copper mine" in the world when it reaches full production. His presentation on The Promise Of Oyu Tolgoi points out that by 2020 "80% of the wealth will come from [the] underground" mining (and 20% from open-pit operations). There is much work and capital investment that still needs to be made to realize this operation.
(Turquoise Hill is 51% owned by Rio Tinto.)
There is a page in Mr. McRae's presentation simply titled, "The Importance Of A Committed World-Class Partner." If you think Turquoise Hill is a good investment right now, consider this context for his comments that followed while on this subject.
Three contextual facts
- There is legislation in parliament currently to raise royalty taxes on mines, including Oyu Tolgoi, which contravene Turquoise Hill's agreements with the government from 2009 (Turquoise Hill was called Ivanhoe Mines at that time). This is no small affair with the tax being able to rise up to 20% compared to the Oyu Tolgoi Investment Agreement pegging the tax at 5%. Every cost and tax goes into a mine's business model to determine how much of the resources are worth getting out of the ground and at what profit. Changing this tax is not only contrary to then Ivanhoe's and the government of Mongolia's agreements, but also will require Turquoise Hill to redo its report on profitability, including its NI43-101 reporting.
- There is legislation going through Mongolia's parliament voiding Mongolia's tax treaty with the Netherlands where Turquoise Hill is domiciled (at link, go down to "subsidiaries" and see "Turquoise Hill Netherlands Cooperative"). There are also some major foreign investors domiciled in Luxembourg, Kuwait, and the United Arab Emirates, the three other countries included in this legislation which Ernst & Young details in the linked article. If Mongolia's aim is to irritate its largest foreign investors, the government is on target.
- The new Minister of Mining in Mongolia has publicly stated that he will resign if he does not succeed in renegotiating the agreement for Oyu Tolgoi and increasing the government's stake in the mine from 34% to 50%.
Thus Mr. McRae said at the investment summit
While recent news of an agreement with the Chinese to supply power to Oyu Tolgoi operations briefly boosted Turquoise Hill's share price, the situation between Oyu Tolgoi and the government remains contentious. My notes from Mr. McRae's presentation of October 30, 2012, include:
- Oyu Tolgoi needs assurances and support from the government to proceed.
- 75% of the next few years production is already sold to Chinese smelters.
- He believes Mongolia's government will finish the work it needs to, in order to complete the investment climate needed for investment and development.
- Yet, (the government should remember that) the agreement with Oyu Tolgoi kicked off Mongolia's economic development.
- Foreign investors are watching the unresolved issues between Oyu Tolgoi and the government as a signal to them of whether Mongolia is a good place to invest.
- The Mongolian government is contending that promises and agreements can be kept and changed at the same time, and this is not possible.
- Investors are looking for a message that the government of Mongolia will keep its promises to investors.
Off the record
I have been troubled by what to do with information that was said in the hallways outside of the conference, and at evening parties. It is against my policy to quote people off the record or whom are drunk. It is also against my policy to put investors in harm's way.
Below are some things I heard that I will relate in the most anonymous way possible to protect those who said it.
Rio Tinto is 51% owner of Turquoise Hill which in turn owns 66% of Oyu Tolgoi.
Idle, and often ridiculous, speculations people say in private to amuse each other at meals and parties:
- The government of Mongolia intentionally drives down the price of Turquoise Hill with their public tactics so members of the government or their cronies can buy more shares cheaply.
- Rio Tinto actually promotes the negative news out of Mongolia in the media so they can buy shares formerly of Ivanhoe and now Turquoise Hill cheaply.
- Robert Friedland, former CEO of Ivanhoe/Turquoise Hill, is still pulling the strings and promotes the negative news about Oyu Tolgoi so he can buy more shares cheaply.
- And, regarding the Government of Mongolia's intent to issue $1.5 billion in bonds internationally toward infrastructure development, people are gossiping that Rio Tinto will behind closed doors tell all banks that if they sell those bonds, Rio Tinto will cease doing business with them, until such time as the government of Mongolia shows it will honor the original Oyu Tolgoi investment agreements.
Although entertaining at a party, I don't believe any of these statements to be true. However, I mention them here to provide a sense of the investment climate in Mongolia and just how crazy tall tales about what is going on with Oyu Tolgoi have become (for the benefit of Turquoise Hill investors).
That said, the next item is something people said off the record I believe is true.
Off the record still, a banking crisis
There was one thing I heard from six different people who live and work in Mongolia for which I could not find a single person that would disagree. One or more banks in Mongolia is on the verge of collapse. All believe at least one bank will collapse within the next six months due to a decline in foreign investment activity, and the inability of businesses to repay loans to the banks (businesses which rely on foreign investment for their profits), since the passing of SEFIL. No one will say that this problem exists on the record.
Some people who told me about the looming banking crisis provided particular details about specific situations the banks are in, and sometimes specific banks. Other people who I went to as people who would be in positions to know simply responded with a grimace that it was indeed likely one or more local banks in Mongolia will collapse in the next six months.
This has me worried. There is no FDIC insurance in Mongolia. If a bank goes under, people with their money at that bank may never see those funds again. As I write this, I realize I may create a run on the banks that makes matters worse when this article circulates in Mongolia. However, if I don't write this, I put people at risk simply because not one of those six people is willing to state on the record that they believe one or more banks will collapse in the next six months.
The people of Mongolia need the government to find a middle-ground on the investment climate that renews the energy behind foreign investment before such a crisis occurs.
What to watch, back on the record
Mr. D. Zorigt, the previous Minister of Mining under the last government said during his panel discussion at the Mongolia Investment Summit that there were four signals to watch for the foreign investment climate in Mongolia:
- Watch the big projects (e.g. Oyu Tolgoi) for signals from the government on the friendliness of the business environment.
- Watch progress on railway infrastructure projects.
- Watch progress on how the government will proceed with SEFIL.
- Watch progress on power plant 5 (the new power plant planned for Mongolia's capital Ulaanbaatar).
An important point he raised vis-a-vis the Dutch Disease that Christopher de Gruben opened the conference with is that "the projects in the country are larger than the [current] economy." In other words, the money being invested in projects in the country cumulatively is larger than Mongolia's current GDP.
From this list of four things to watch, we have already discussed in this article that the relationship with Oyu Tolgoi is testy and that the government is proceeding with SEFIL without amendment at this time. Thus, the other two items to question to gauge progress according to Mr. Zorigt are rail infrastructure and power plant 5.
Dr. Hancock later mentioned in his individual presentation on Erdenes Tavan Tolgoi that Mongolia Mining Corporation has already commenced work on its rail link to China while other rail projects in the South Gobi region where Mongolia Mining Corporation, Oyu Tolgoi, and Erdenes Tavan Tolgoi are all situated have still not moved past planning stages (see page titled Infrastructure Update in Dr. Hancock's presentation).
On Day 2 of the conference, Mr. B. Byambasaikhan, CEO of local conglomerate Newcom Group, discussed progress at the new power plant in his presentation. On the slide numbered 2, he discussed Power Plant 5 in Ulaanbaatar (locally called CHP5). Although past headlines have suggested construction of this power plant would already start by now, Mr. Byambasaikahn noted that the newly elected government's planning commission was now considering changing the physical site of the power plant (moving it from the west side of Ulaanbaatar, to the east side), thus creating the need to redo some plans before commencement. In other words, Mr. Byambasaikhan did not use, the project is delayed. Mr. Byambasaikhan also noted this plant will be the "biggest non-mining investment in Mongolia."
Currently, the arrow is pointing down on all four of Mr. Zorigt's signals to watch.
Why bother with Mongolia then?
Jim Dwyer, Executive Director of the Business Council of Mongolia, opened the conference by stating that there are still between $1 trillion and $2 trillion in natural resources in the ground in Mongolia. I took out a calculator and rounded Mongolia's population up to 3 million people. At the low end, $1 trillion, that would be over $330,000 in natural resources in the ground for every citizen of the country.
He was followed by Chuluunbaatar Ochirbat, Vice Minister at the Ministry of Economic Development who in the first key-note speech of the conference explained that GDP growth of 11% to 12% in Mongolia was a "crisis" because GDP growth should be 18% to 20%. With Mongolia's GDP coming from a tremendously low base, and with so much in natural resource wealth suddenly coming into production from Oyu Tolgoi, Erdenes Tavan Tolgoi, and many other mines, this is a reasonable statement.
James Polson, co-founder of A.I.D.D., a mining services company in Mongolia and Kazakhstan recited in his presentation that only 1% of Mongolian land is licensed to be mined and only 14.9% has been licensed for exploration. The potential opportunity remaining in this resource rich country is vast, and predominantly undiscovered.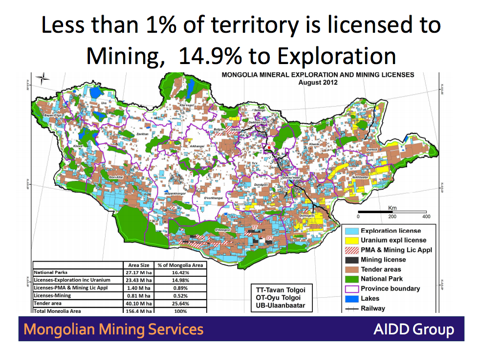 Source: A.I.D.D. presentation at Mongolia Investment Summit 2012
The last two images I will leave you with are maps of the world that are:
1) adjusted to represent population
2) adjusted to represent resource consumption
Notice in both that Mongolia is the small sliver just north of China (and just south of Russia; Mongolia is there between them if you enlarge the maps). Consider that Mongolia with at least $330,000 in natural resources in the ground for every man, woman, and child, resides next to the country emerging as a global leader in resource consumption (CHINA). Then, it is easily understandable why the potential of Mongolia, if the government can guide it well, is tremendous.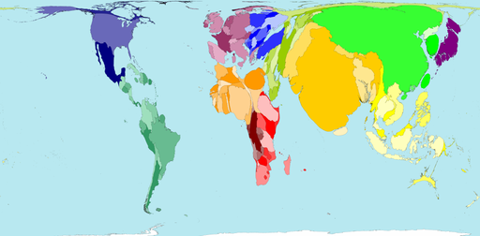 World Map By Population. Source: WorldMapper.org Total Population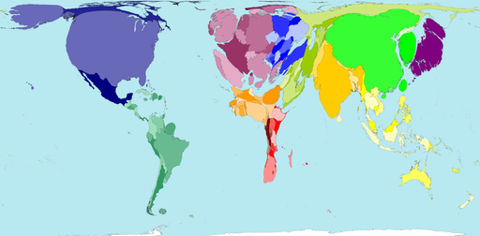 World Map By Consumption. Source: WorldMapper.org Ecological Footprint
Disclosure: I am long OTCPK:MOGLF, OTCPK:MNGGF. I wrote this article myself, and it expresses my own opinions. I am not receiving compensation for it (other than from Seeking Alpha). I have no business relationship with any company whose stock is mentioned in this article.