In this article, we will show you how the Valuentum Dividend Cushion predicted three dividend cuts in just the past several months alone, and why the Dividend Cushion is an indispensable metric to use in monitoring one's dividend growth portfolio. We're not aware of any other investment research firm that has been able to provide this valuable information to its members (in fact, we note two that were behind the curve), and we find such recent performance of the Dividend Cushion to be absolutely excellent. We want to share our process with dividend growth investors because dividend cuts can destroy income streams and leave investors with significant capital losses.
First, let's discuss recent events with a utility firm, a company that many income investors depend on. Well, shares of Exelon (NYSE:EXC) have been tumbling lately due to the possibility of a dividend cut. Simply said, the utility company needs its rates to increase in order to keep its current dividend payout. This may not occur, and CEO Chris Crane noted that the firm may have to cut its dividend in order to keep its strong credit rating standing, which is fundamental to running Exelon's business.
In the aftermath of the announcement, both Jefferies and Argus cut the ratings on the stock, but we think both firms were a bit late to the party. Inside our dividend report for Exelon, one could have seen what we thought about the firm's dividend. The fact that Exelon's dividend was risky was not surprising to Valuentum members, as its Valuentum Dividend Cushion score was -0.1, well below parity (click forward-looking Valuentum Dividend Cushion for more information about the Valuentum Dividend Cushion and why it should be used to shield one's portfolio from dividend growth blow ups). The headline of our dividend report on Exelon is shown below:

Okay, let's get to the how part of our article. We measure the safety of the dividend in a unique but very straightforward fashion. As many know, earnings can fluctuate in any given year, so using the payout ratio in any given year has some limitations. Plus, companies can often encounter unforeseen charges, which makes earnings an even less-than-predictable measure of the safety of the dividend in any given year. We know that companies won't cut the dividend just because earnings have declined or they had a restructuring charge that put them in the red for the quarter (year). As such, we think that assessing the cash flows of a business allows us to determine whether it has the capacity to continue paying these cash outlays well into the future.
That has led us to develop the forward-looking Valuentum Dividend Cushion™. The measure is a ratio that sums the existing cash a company has on hand plus its expected future free cash flows over the next five years and divides that sum by future expected dividends over the same time period. Basically, if the score is above 1, the company has the capacity to pay out its expected future dividends. As income investors, however, we'd like to see a score much larger than 1 for a couple reasons: 1) the higher the ratio, the more "cushion" the company has against unexpected earnings shortfalls, and 2) the higher the ratio, the greater capacity a dividend-payer has in boosting the dividend in the future.
Though Exelon's dividend track record has been good, we just didn't see much safety in the firm's dividend. Again, its Dividend Cushion score was -0.1. Though we make minor adjustments for utility firms, we essentially take the sum of future forecasted free cash flows during the next five years, add the company's net balance sheet impact and then divide that sum by future expected dividend payments during the next five years. This is not rocket-science, but most investors don't have access to future free cash flow expectations like we do.
Let's now address the first example of a predicted cut: Dover Downs (NYSE:DDE). We identified the firm as likely to cut its dividend in the February 2012 edition of our Dividend Growth Newsletter (please contact us for this piece). In late October, the firm slashed its payout. Dover's share price has fallen over 21% over the last 6 months as investors became increasingly concerned about its payout and underlying earnings.
Let's now talk about the second example: Valuentum members are well aware of how the Valuentum Dividend Cushion predicted SuperValu's cut. Here's an excerpt from an article titled "Supervalu's Dividend Might Not Last Long at Current Levels" we wrote on Seeking Alpha on March 27, 2012 making the prediction:
When evaluating dividend-paying stocks for addition to the portfolio of our Dividend Growth Newsletter, we like to assess the long-term safety of a company's dividend via our Valuentum Dividend Cushion™. SuperValu registers a -12.5 score on our Dividend Cushion measure, which suggests to us the company will have some trouble covering its dividend payments going forward (on the basis of both its future cash flow stream and capital structure).

Such a poor score (among the worst in our coverage universe) also suggests that the company could eventually cut the dividend meaningfully, as the firm has done in the past two years. We don't think the dividend is sustainable at the current payout rate, and we think these levels ($0.35 per share on an annual basis) will be the high-water-mark for the company's dividend for some time.
Let's now compare this to one of our favorite dividend growth names, Emerson Electric (NYSE:EMR). Emerson announced satisfactory earnings earlier this week and even raised its dividend by 2.5% compared to the previous period. The company is highly sensitive to macroeconomic conditions, and it has been able to provide investors with greater income, despite this broader weakness. Here's our dividend matrix for Emerson. And perhaps unsurprisingly, the firm's Dividend Cushion is 1.9: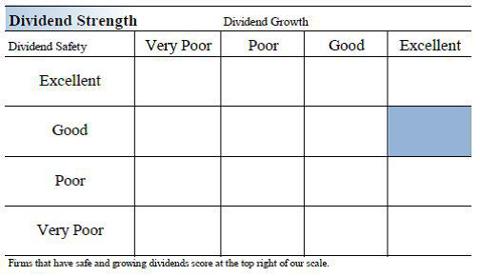 Let's now talk about example three. Just this week, another company whose dividend we thought was in jeopardy (click here to access the article where we made the prediction), grocery store firm Roundy's (NYSE:RNDY) announced that it will reduce its dividend. Roundy's just recently registered a terrible Dividend Cushion score of -3.2, meaning that it had little chance to sustain its dividend at the previous pace. Here's an excerpt from that article:
As speculated prior to its initial public offering, Roundy's declared a quarterly dividend of $0.23 per share or an annual yield of roughly 8.5% at its current price. However, our forward-looking Valuentum Dividend Cushion suggests, that with a score of -1.07 that the dividend is not at all safe, and likely to get cut. Therefore, we think income investors should seek a safer yield elsewhere, as we think this dividend will likely be slashed.
We're not kidding. This measure is amazing. And while we think Roundy's cut is good for the company's survival, shares have been clobbered since speculation that the unrealistic payout would have to end. A 10% yield was certainly not worth a 50% loss of capital!
What does this show us? Well, for one, high yields aren't necessarily good yields. If the sagas of SuperValu (NYSE:SVU), Dover Downs, and now Roundy's have taught us anything, it's that the "accidentally" high yield is a signal that something's probably wrong. Though a 15%-20% dividend yield sounds amazing, it's rarely, if ever, worth the risk. That's why in this article we warned about the risks of some of the mortgage REITs like American Capital (NASDAQ:AGNC), Annaly Capital (NYSE:NLY), Apartment Investment (NYSE:AIV), ARMOUR Residential (NYSE:ARR), CYS Investments (NYSE:CYS), New York Mortgage (NASDAQ:NYMT), and Two Harbors (NYSE:TWO). Annaly, for one, has disappointed investors quite a bit since the publishing of that piece. Income investors should be required to know what the current Dividend Cushion is for stocks in their income portfolio. And two, the Valuentum Dividend Cushion is putting up a very impressive track record in full view of the Seeking Alpha community.
At Valuentum, we prefer a combination of yield, dividend growth, and capital preservation. We're much more interested in stocks with strong business models, fantastic cash flows, and 3%+ dividend yields such as Microsoft (NASDAQ:MSFT). Microsoft has already raised its dividend this year, and we think shares have considerable valuation upside from current levels (click here). A total return layover on top of dividend growth investing can help investors avoid losing income and capital. Dividend growth investing can be lots of fun. But using the Dividend Cushion to avoid pitfalls helps to ensure that the fun continues.
Disclosure: I have no positions in any stocks mentioned, and no plans to initiate any positions within the next 72 hours. I wrote this article myself, and it expresses my own opinions. I am not receiving compensation for it (other than from Seeking Alpha). I have no business relationship with any company whose stock is mentioned in this article.
Additional disclosure: Some of the firms mentioned in this article are included in our Dividend Growth portfolio.