With the market crashing left and right, a good deal of it due to Apple's (NASDAQ:AAPL) weakness as well as the impeding fiscal cliff, all seems to be lost for the common shareholder. Even Bernanke's largesse seems to have much less effect than the previous 2 quantitative easing exercises.
Sentiment, as measured by the American Association of Individual Investors, has not yet reached the pessimistic levels which usually result in a bottom. But then again, these signals from AAII sentiment extremes are rather rare and cannot be expected at every bottom.
Seasonality
There is, however, a further factor which is now leaning towards the bull's side: seasonality. The tables below, which can be used dynamically by visiting here, tell us the story of how the S&P500 (NYSEARCA:SPY) behaved in the last 62 years (first column is the average change per market session, second column is the % of market sessions that produced a gain):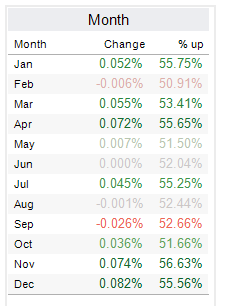 What we can gleam from these tables, is that the S&P has its best performance in the last two months of the year, November and December, with an average climb of 0.074% per market session during November and 0.082% in December. This was achieved, historically, through 56.63% of the market sessions producing a gain during November and 55.56% producing a gain during December.
Looking closer
If we restrict the analysis to November, we can see that the first few days of November tend to be more favorable, followed by another cluster around the end of the month.

As for December, again we notice a cluster at the start of the month, and then a powerful cluster around the end of the year, encompassing Christmas, in what is usually termed the "Santa Claus rally".

Conclusion
We are entering a seasonally favorable period for the stock market, which together with ongoing quantitative easing and a pessimistic - but not extreme - level of sentiment, might mean now is a good time to buy some stock.
Achieving a greater long exposure can sensibly be done by buying specific stocks with good prospects and reasonable valuations, such as Apple or Arena Pharmaceuticals (NASDAQ:ARNA), or through overall market exposure accomplished by buying entire indexes using ETFs such as the SPDR S&P 500 or the Nasdaq 100 Powershares QQQ (NASDAQ:QQQ).
Disclosure: I am long ARNA. I wrote this article myself, and it expresses my own opinions. I am not receiving compensation for it (other than from Seeking Alpha). I have no business relationship with any company whose stock is mentioned in this article.
Additional disclosure: I am also long Nasdaq 100 through futures.