Introduction
Amidst a storm of investor distaste for U.S.-listed Chinese equities, and with its shares trading at a fresh 5-year low earlier this year, AsiaInfo-Linkage, Inc. (NASDAQ:ASIA) followed the precedent of numerous other Chinese companies in announcing it had received a "Go-Private" proposal on January 20, 2012. From the very beginning, the announcement was vague and specified only that the offer was "at a premium" over the current stock price. ASIA's shares had closed at $8.60 two days prior, but leapt to a high of $12.50 following the announcement and settled at $11.78. Investors breathed a sigh of relief that Citic Capital China Partners was named as a potential partner in the transaction. Today, after more than 9 months, and no deal even remotely close to being announced, investors are ascribing an irrational hope and probability that their shares will be purchased for anything close to the current price of $10.50. Given the weak fundamental backdrop in the China telecom and IT services market, concerns about the company's VIE structure, close scrutiny by the SEC, and potential for its financials to be overstated, a fair value target for ASIA's stock price is $6.50 per share.
History Tells Us ASIA's Go-Private Deal Is Likely To Fail
The easiest and quickest way for Chinese companies to scare off short sellers is to create the perception that their stock is in demand, and an interested party, or parties, are willing to purchase all the shares at a substantial premium. This tactic was used earliest by companies such as Fushi Copperweld (FISN) in November 2010, and later by Harbin in 2011. The Harbin takeover saga was well chronicled here on Seeking Alpha, and was a painful drama lesson lasting one year that taught short-sellers that you can't stop easy money from doing non-economic deals in China.
The latest headline-grabbing deal for 2012 was that Focus Media (NASDAQ:FMCN) has drawn the attention of a consortium of buyers for $27.00/share, valuing the company at approximately $3.5 billion. According to the press release, the consortium received a "highly confident" letter from bankers, which provides a limited form of assurance that the buyers are serious and have access to capital. Interestingly enough, CITIC Capital China Partners was also named as a potential buyer of Focus Media.
It appears that CITIC has chosen to pursue Focus Media, and all but abandoned its interest in acquiring ASIA. This conclusion is supported by additional information provided by the company in its brief and limited updates on its strategic review process. Consider that in March, ASIA announced that it has:
"Determined to solicit interest from, and engage in discussions with, other potential qualified parties regarding a potential transaction."
The company's last two updates came on July 30th and Oct 31st when the company stated briefly in its second and third quarter earnings press releases that:
"The process remains ongoing. However, there can be no assurance that any definitive offer will ultimately be made, or that any transaction will be approved or consummated by the Company."
After more than nine months without a bona fide offer, it should be incredibly obvious that ASIA is unlikely to see a going private deal consummated. What also makes us suspicious is that no price for ASIA has ever been indicated, just like the purported unsolicited offer at a "substantial premium" that ChinaCast (OTCPK:CAST) received in November 2011. ChinaCast shareholders should have well sold that news when they got it -- its stock has since been delisted to the Pink Sheets and trades for pennies. Furthermore, ASIA also suffers from operating under a VIE structure, which is coming under increasing regulatory scrutiny. This structure may certainly narrow the universe of potential buyers interested in exploring a go-private transaction with ASIA.
Unfortunately, there is also little objective evidence from the options market to confirm that any transaction is imminent. For a company of ASIA's market cap, there is very little open interest of call options through the end of the year and no unusual activity that indicates a transaction with upside beyond the current share price.
What more can we learn from the history of Chinese go-private deals to support our conclusion that ASIA's deal has a high likelihood of failure? In the table below, we've outlined a list of publicly announced going private transactions involving U.S. listed Chinese companies. In total, we've identified 36 deals going back more than two years.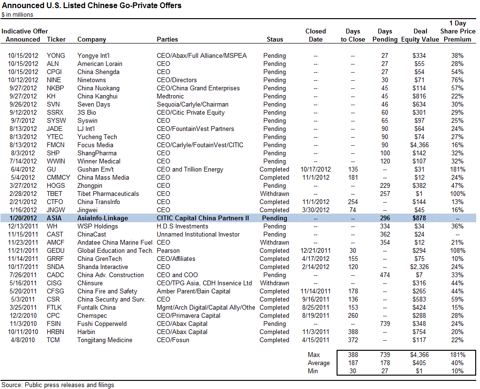 The results indicate that only 37% of the announced deals have closed and they did so typically within six months. Only two out of 36 deals (5%) dragged on longer than ASIA's and ended in a completed transaction. At its current market cap of $745m, ASIA's size dwarfs some of the other Chinese small caps that opportunistically announced going-private proposals. Even despite the supposed $260m of unrestricted cash and investments on ASIA's balance sheet, the financing requirement to take them private would be rather large and limiting for many potential buyers.
No Buyers Will Emerge While Fundamentals Are Weakening
ASIA's core business is in telecom software solutions and IT services in China. Its main customers are China Mobile (NYSE:CHL), China Unicom (NYSE:CHU), and China Telecom (NYSE:CHA). These three customers account for 99% of ASIA's revenues - clearly a loss or deferral of business from any one customer would have a detrimental effect on their business.
ASIA competes specifically with much larger competitors in the telecom space including ZTE (OTCPK:ZTCOF), Digital China (HK: 0861), Huawei and Neusoft (SHA:600718). Industry conditions are nothing short of dismal. ZTE's disastrous quarter and earnings warning last week should have been a rude awakening for ASIA's shareholders. ZTE's stock plummeted 15% after it warned of a future quarterly loss and commented that conditions could get even worse. Miraculously, a week later ASIA reported earnings and commented that:
"In the third quarter we continued to see healthy demand for our IT solutions from China's three telecommunications carriers," said AsiaInfo-Linkage President and Chief Executive Officer Steve Zhang. "Our growth remained steady and in line with our overall expectations over the first nine months of this year."
Non-GAAP EPS was forecasted to rise from $0.24/share in Q3 to $0.40-$0.43/share, or quarterly earnings growth of 73% at the midpoint. If ever there were a case of diverging fortunes in an industry, ASIA and ZTE would be prime examples.
Conditions are not any better in the broader Chinese IT sector, which includes companies such as VanceInfo (NYSE:VIT), HiSoft (HSFT), and iSoftStone (NYSE:ISS). Currently, the Chinese IT sector is under immense pressure to show growth and profitability. The recent stock-for-stock merger between VanceInfo and HiSoft illustrate the pressures facing the industry. Camelot Information Systems (NYSE:CIS), a company we warned investors about in an article more than a year ago, continues to suffer and is facing declining earnings. Overall, the market is discounting future losses for Chinese telecom and IT service. The chart below shows the year-to-date stock price performance of ASIA vs. its peers. Every company is trading at or near its low, except for ASIA, which is being sustained on hope and speculation that a higher bid will emerge.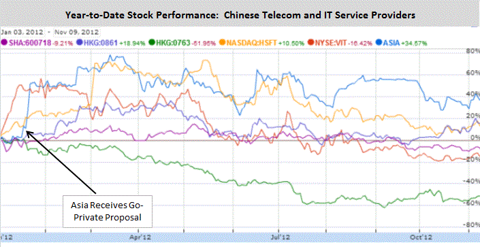 ASIA's Financials: Proceed with Caution
Perhaps another reason why no buyers are emerging for ASIA is skepticism around the quality of its financials. In the charts below, we see that ASIA is reporting a vastly superior gross and EBITDA margin, and is one of the few companies producing positive free cash flow in the last 12 months. What makes these results so remarkable is that ASIA has a relatively small workforce at 10,541 employees and operates in the highly competitive telecom niche. In this niche, it competes most closely with global giants ZTE and Huawei, each with workforces of 87,000 and 140,000 employees, respectively. However, their average revenue per employee figures dwarfs ASIA's. This would indicate they are operating a vastly more productive, efficient and higher value-added operation than ASIA's businesses. Oddly enough, the margins tell a vastly different story that would lead investors to the opposite conclusion - that ASIA is highly efficient and/or does higher value-added and more profitable work than peers. The disparity is striking and difficult to reconcile. At the very least, it's a red flag that investors should proceed with caution.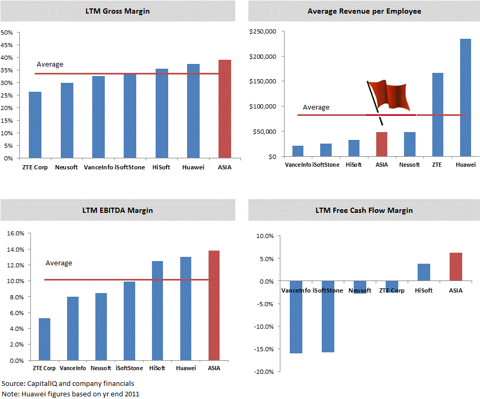 It appears that the SEC might be equally concerned with the financial picture being portrayed to investors, and asking the company for additional financial disclosures. A sequence of comment letters between ASIA and the SEC's Accounting Branch Chief ( here, here, here, here, and here) reveal that the SEC wanted clarification about ASIA's revenue recognition policies, internal control procedures, days sales outstanding (DSO) disclosure, and VIE considerations. While no immediate action appears to have been taken, the SEC warned that the door is still open for future regulatory action.
We have our own concerns, and further investigated the red flag warning seen by the outlier revenue per employee figures. Using LinkedIn as a valuable research tool provides additional circumstantial evidence that supports the argument that its financials and/or its business size/scale is not as large as advertised. Consider that ASIA has a mere 389 LinkedIn members, which on a workforce total of >10,000 employees would indicate a penetration rate of a paltry 3.7%. This figure puts them at the bottom of the heap. The result cannot easily be explained away by the immaturity of its business since it was founded in 1993 - almost 20 years ago. It is also worth noting that on its LinkedIn profile, ASIA describes itself as employing "over 8,000 people worldwide," whereas its website and SEC filings paint a picture of greater than 10,000 employees.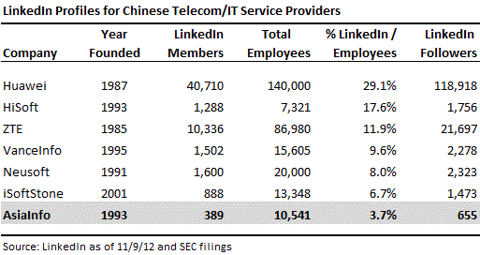 Further confusion and doubt surrounding ASIA's true employee count arises from the company's hiring strategy. In the recent 10-Q, ASIA disclosed that it hired approximately 970 engineers in the last twelve months. When asked on the Q3 conference call how many more employees would be hired for the year, the CFO responded that they "plan to recruit approximately another 400 people in Q4." We searched everywhere to find evidence that ASIA was rapidly hiring in a softening telecom spending market, and could find only a handful of job postings on the Chinese site 51job.com. Two additional observations on 51job.com support our viewpoint that ASIA's business is overstated. First, we note that ASIA lists its company size here as just 500 - 1000 employees -- this is the third instance of conflicting information from the company.
Secondly, and potentially much more concerning, we find multiple job solicitation ads (here, here, here, here) for a company called Beijing Wande Aoxin Technology Ltd, which appears to be a software outsourcing company specializing in Telecom, and entrusted by ASIA to hire software engineers. We are not entirely clear of the relationship between this firm and ASIA, but we could not find any mention of Wande in ASIA's list of subsidiaries or its SEC filings. We certainly hope ASIA is not merely outsourcing or subcontracting its work; there is absolutely no mention it engages in this practice whatsoever in its filings. We have seen instances of Chinese companies boosting margins by running employee costs through unrelated entities. Longtop Financial is a prime example, and was exposed by Citron Research in May 2011.
While there are many unknowns and uncertainties about ASIA's workforce, the one thing we know for sure is that the company appears to take great care of itself at the expense of shareholders. For instance, the company recently disclosed in its third quarter 10-Q (note 11) that it is now providing employees a home loan program at an interest-free rate. The total budget for the program is $7.8 million. While admittedly the program is of small size, this is the first time we've seen a U.S. listed Chinese company offer such a generous employee program.
Furthermore, the 10-Q also brings to light a potentially more insidious practice by management. In a subsequent event disclosure (Note 25), the company noted that a putative shareholder of the company filed a lawsuit in October 2012, which has been docketed as Halpert v. Zhang et al. alleging "breach of fiduciary corporate duty, corporate waste, and unjust enrichment in connection with stock option grants" The lawsuit claims that the CEO and EVP granted themselves excessive stock options relative to the 100,000 option limitation in the 2011 Stock Incentive Plan. The matter seems relatively cut and dried, leading us to believe the management will have a difficult time defending their actions.
Conclusion
Given the body of evidence presented, we conclude that it is unlikely ASIA will complete a going-private transaction. The company has all but indicated that there are no serious buyers in the process, and continues to bait investors with hope that a deal may emerge. The option market is indicating a minimal probability of an imminent deal at any significant premium to the current share price. Our empirical analysis of Chinese go-private deals also ascribes a greater than 90% chance that ASIA never completes a transaction.
Our suspicion is that no buyers will emerge due to the weak fundamentals in the China telecom/IT market, the risks inherent in the company's VIE structure, and the possibility that the company's financials cannot be relied upon. The SEC is taking a closer look at ASIA, and has recently requested additional information and greater transparency for investors. We thought we should take a closer look as well. Meanwhile, shareholders are also beginning to question ASIA's governance and business practices, and using legal grounds to make their claims.
Once investors come to the realization that no deal will occur, ASIA's share price will fall closer in line to its peers, which are trading at 52-week lows. That puts our price target on ASIA at $6.50/share (45% downside).
Disclaimer
Use of the research produced by Spruce Point Capital Management, LLC is at your own risk. This is a short-biased article and you should assume the author of this article holds a short position and derivatives tied to the security of AsiaInfo-Linkage Inc. that will benefit from a decline in the price of the common stock. Following publication of the report, the author (including members, partners, affiliates, employees, and/or consultants) may transact in the securities of the companies covered herein. The author of this report has obtained all information used to form opinions and draw conclusions contained herein from sources believed to be accurate and reliable and has included references where available and practical. However, such information is presented "as is," without warranty of any kind- whether express or implied. The author of this report makes no representation, express or implied, as to the accuracy, timeliness, or completeness of any such information or with regard to the results to be obtained from its use. Forward looking statement and projections are inherently susceptible to uncertainty and involve many risks (known and unknown) that could cause actual results to differ materially from expected results. All expressions of opinion are subject to change without notice, and the author does not undertake to update or supplement this report or any of the information contained herein. Spruce Point Capital Management, LLC is not a broker/dealer or financial advisor and nothing contained herein should be construed as an offer or solicitation to buy or sell any investment or security mentioned in this report. You should do your own research and due diligence before making any investment decision with respect to securities covered herein, including, but not limited to, the suitability of any transaction to your risk tolerance and investment objectives and consult your own tax, financial and legal experts as warranted.
Disclosure: I am short ASIA. I wrote this article myself, and it expresses my own opinions. I am not receiving compensation for it (other than from Seeking Alpha). I have no business relationship with any company whose stock is mentioned in this article.