In today's low interest rate environment and due to the high risks associated with purchasing the debt of a single firm, it is clear investors seeking fixed income have diverged away from traditional bonds. And as a result, investors have been forced to rely on other financial products that lie within the asset class of fixed income. There are numerous exchange traded bond funds that offer a wide range of diversification, yet can accomplish the same task as traditional bonds. However, for those investors that want to initiate a position in an instrument that provides an above average yield, I recommend BlackRock Senior High Income Fund (NYSE:ARK). ARK is a closed-end fund managed by BlackRock Investment Advisors. ARK invests in senior debt obligations of companies, including corporate loans made by banks and other financial institutions and both privately placed and publicly offered corporate bonds and notes.
ARK is currently trading at $4.25 per share and taking into account the average shares traded is roughly 160,000, this bond fund is highly liquid. An additional feature of ARK, that in my mind is highly attractive is ARK's fund specific beta value of only 0.7. Many investors are under the general assumption that high yield exchange traded bond funds are of high risk. However, a question for investors to consider is how high of risk can ARK pose when it reveals a lower beta value than the market, which has a beta of 1. In addition, by investing in ARK you will receive an additional 7.06% yield in dividends, which is actually distributed on a monthly basis. Also, one additional benefit ARK has over competing funds is there is no expense ratio.
In order to show investors how ARK has performed relative to competing investment products that are similar in nature, I have constructed figure 1 below. This graph displays the price performance yield in percentage terms for ARK as well as two other high yield bond funds including iShares iBoxx $ High Yield Corporate Bond Fund (NYSEARCA:HYG) and SPDR Barclays Capital High Yield Bond ETF (NYSEARCA:JNK).
Figure 1: ARK's Relative Performance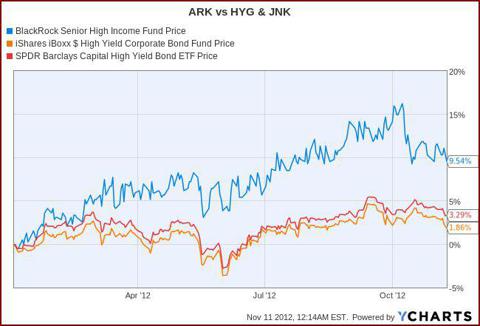 Click to enlarge
By looking at the graph above you will see ARK have outperformed both competing funds HYG and JNK. ARK has yielded a 9.54% YTD return (excluding dividends), while HYG and JNK over the same period only yielded 3.86% and 3.29% respectively.
In conclusion, there is a wide set of investment opportunities available to the bond investor, but because the interest rate environment has highly altered the features of traditional bonds it has ultimately enhanced the complexity of investments for those seeking fixed income. For simplicity, funds such as ARK have been created to specifically match the needs of those investors who have been long advocates of fixed income securities offering high yields. ARK is a great fund that will not only compensate investors with a fair dividend yield, but continue to outperform competing high yield bond funds.
Sources: Numerical figures were retrieved from TD Ameritrade and the graph presented above was retrieved from YCharts.
Disclosure: I have no positions in any stocks mentioned, but may initiate a long position in ARK over the next 72 hours. I wrote this article myself, and it expresses my own opinions. I am not receiving compensation for it (other than from Seeking Alpha). I have no business relationship with any company whose stock is mentioned in this article.