Buy Sprint (NYSE:S) today to have Christmas in November. How? Let's first dig into Sprint to better understand my investment idea. Institutions own 90% of the 3 Billion outstanding shares of Sprint. Which means there are about 300 million shares outstanding in the open market. I've owned S since a wise old trader told me to acquire some shares back when it was in the $2.90 range. There were analysts predicting S declaring bankruptcy. This old trader I know convinced me that S would not declare bankruptcy and I trusted his years of trading and investment banking experience and bought Sprint when I saw it moving up. Glad I did as you can see from the chart below.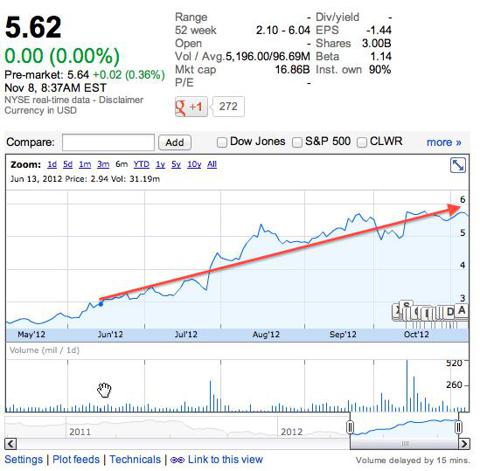 Image courtesy of Google finance.
In early October Softbank's (OTCPK:SFTBF) CEO Son made a big, bold move to acquire 70% of S for $20 Billion. I owned a lot of Sprint and Clearwire (CLWR) stock back in October. Son gave me Christmas in October on both Sprint and Clearwire during the Softbank acquisition of Sprint and the Sprint buyout rumors of Clearwire. Now I'm back in both Sprint and Clearwire for a November Christmas. Remember, investors are always entering and exiting a position first. In order to be first in and out on a trade you have to know the dynamics involved in every trade you do. I'm only going to focus on Sprint for the rest of the article.
The other day Sprint came back into my investment view after three news stories emerged.
First, came news that Crest Financial and Mount Kellet Capital Management (two large Clearwire shareholders) sent letters to Clearwire's board to sell some spectrum to raise capital and prevent Sprint from undermining Clearwire's investors. I see their point of view, but do not agree with their conclusion that Clearwire needs to sell some of its vast spectrum to keep Sprint at bay. Clearwire's spectrum is why Son gave Sprint $20 Billion for 48% of Clearwire and Clearwire should not sell any of its vast spectrum at this point. If you wish to read about my reasoning for Son acquiring Sprint for Clearwire's spectrum and not for Sprint's massive debts I wrote this Clearwire article a few weeks ago.
Second, came news that US Cellular was selling some of its Midwestern markets and Spectrum to Sprint in a $480 Million deal. Now why would Sprint need more spectrum when Clearwire is drowning in spectrum and Sprint recently announced delays in its 4G rollout?
Third, on Thursday Sprint announced that it is open to hosting Dish's spectrum on its network. Sprint only months ago sent a letter to the FCC asking for restrictions on Dish's use of the AWS 4 spectrum.
These three articles got me thinking that something was up at Sprint and I needed to re-enter Sprint fast. Why? Well, these are the kinds of subtle hints that we investors have to decipher to be successful in the markets.
I had to dig deeper into Sprint and fast to decipher the buy and sell signals before others investors got in first. I always start my financial news search on Google finance news. Google finance news gives me a comprehensive list of all the news articles on a particular stock I'm researching.
Then I head over to Yahoo Finance and look for Motley Fool articles on Sprint. Why? Motley Fool is irreverent and gives an investor an oddball way to look at a company. This article in Motley Fool under Sprint articles is typical of Motley's offbeat reporting of financial news and analysis.
Last place I go for news articles on a particular stock is Seeking Alpha. Why? Seeking Alpha is actually my favorite news source. As I've said before, you get the pros and cons of every market investment vehicle in one place. It can and does get ugly in the comments on an article, so make sure to read every comment at the bottom of every article.
From the chart above you can see Sprint has had a nice gradual upward climb since May. It has been hovering in the $5.50 to $6 range since the confirmation of the Softbank acquisition a few weeks ago. I thought Sprint's climb was complete until the acquisition by Softbank passed FCC and DOJ reviews. That is until I started digging deeper into Sprint after those three articles came to light. Sprint is set to have a banner year end. Why? Well, Sprint acquired 585,000 new customers in the Midwest from US Cellar, and it refinanced its 2014 and 2015 debts until 2022 and Sprint still has $2.5 billion of the $3 billion cash Softbank gave to start the acquisition. Hurricane Sandy will have minimal impact on its bottom line unlike its insurers.
As an investor and not a gambler these are the kinds of company information that separate an investment from a gamble on Wall Street. Now I will show you how to make your Sprint investment even safer. Let's go back to that very complicated Softbank acquisition to really see where an investment in Sprint becomes a real bargain. What few investors noticed is that Softbank will give every Sprint shareholder the opportunity to either take $7.30 in cash for each share of Sprint they presently own or one new share in the new combined Softbank/Sprint entity. Sprint is presently at $5.55 as I write this which means you will have the opportunity to sell your shares to Softbank at $7.30 when the acquisition is completed. That is about $1.75 more than its current price of 5.55.
Stocks advance or decline due to a catalyst that propels a stock. As you can see Sprint's year end quarter will be strong and for those wanting to go longer they will have Sprint stock price at a set price of no lower than the $7.30 Softbank has agreed to pay to buyout Sprint investors. Now you see why institutional investors already own 90% of Sprint's stock.
Disclosure: I am long S, CLWR. I wrote this article myself, and it expresses my own opinions. I am not receiving compensation for it (other than from Seeking Alpha). I have no business relationship with any company whose stock is mentioned in this article.