Aaron Katsman, President and CEO (aaron@lighthousecapital.co.il). Aaron develops investment portfolios for clients around the world. He is author of the book Retirement GPS: How to Navigate Your Way to A Secure Financial Future with Global Investing (McGraw-Hill).
A well-respected wealth manager, he writes a popular investment column for the Jerusalem Post. Previously, he was a founder and managed the private banking group for Citigroup in Israel. Prior to Citigroup, he was a senior analyst at a leading Israeli venture capital fund, where he gained an intimate working knowledge of the Israeli hi-tech scene, and was frequently invited to lecture on the Israeli economy.
Aaron has been a contributor for
...
More
AOL's Bloggingstocks and has been a guest on CNBC's Squawk Box.Aaron holds a B.A. in Political Science from Yeshiva University in New York. He is licensed by the Israel Securities Authority and holds the following registrations with FINRA and the SEC in the United States: General Securities Representative Examination (Series 7); Uniform Securities Agent State Law Examination (Series 63); Uniform Investment Adviser Law Examination (Series 65).Securities offered through Portfolio Resources Group, Inc. The opinion's are of the author and not necessarily that of Portfolio Resources Group, Inc. or its affiliates.
Description: Licensed Securities Broker.
Interests: Bonds, Dividend stock ideas & income, ETFs, Mutual funds, Options, Retirement savings, Stocks - long
Ph. Number:

+972-2-624-0095
Location:

Israel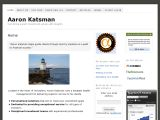 AaronKatsman.com
Located in the heart of Jerusalem, Aaron Katsman runs a boutique wealth management firm delivering superior service to his clients. * Personalized solutions that aim to meet your investment goals * Dedicated to providing exceptional service for all types of investors * Disciplined investment
...
More
Latest comments on Aaron Katsman's Articles