Adam Stauffer, MBA - Chief Investment Officer
Adam Stauffer joined Offshore Investment Advisor in July 2010. Prior to OIA, Adam was a market-maker at Lehman Brothers and Barclays Capital in Manhattan where he was responsible for trading all US-listed ETFs, including US and foreign equity, fixed income, commodity and FX. His extensive expertise in ETFs makes him uniquely qualified to design client portfolios and avoid the pitfalls sometimes associated with investing in ETFs.
Adam earned a MBA from The Wharton School of Business, University of Pennsylvania and BA from Trinity College. Earlier in his career, Adam was a Marketing Manager at Advent Software, a leading investment management software company,
...
More
where he specialized in hedge fund, prime broker and fund administrator technology solutions.

Before moving to the British Virgin Islands, Adam enjoyed a yearlong sabbatical from Wall Street sailing the Windward and Leeward Islands of the Caribbean.
Description: Registered Investment Advisor (RIA). Trading frequency: Monthly
Interests: Bonds, Dividend stock ideas & income, ETFs, Retirement savings

Ph. Number:

+1 284-495-4179
Location:

Tortola; British Virgin Islands
Offshore Investment Advisor
Founded in 2005, Offshore Investment Advisor has established itself as a leading investment manager in the Caribbean by leveraging the strengths of TD Ameritrade Institutional, as well as by working closely with our clients to understand their entire financial picture and then delivering on their specific
...
More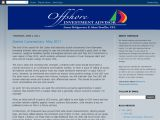 Market Commentary
We believe ongoing communication and transparency are important building blocks for establishing the trust and confidence of our clients. It is with this objective that we created this blog. It is our venue for expressing our thoughts and opinions on the markets, economy and random news events, as well as on
...
More
Currently, you have no book details. Click edit to add book details.
Latest comments on Adam Stauffer's Articles