Qualifications/Background Information:
1- Authored three books on the subject of covered call writing.
2- Produced a 4-part DVD and CD Series based on the seminars presented
on the same subject.
3- Presented over 50 seminars during the past two years on the subject of stock
options.
4- Filmed Speaker at the LIREIA Deal Panel Forum in 2006.
5- Featured Speaker (along with Than Merrill of A&E's Flip This House) at the
LIREIA December meeting.
6- Author over 200 journal articles published on my website (blog link) weekly on
the subject of the economy and stock investing in particular
7- 20 years of
...
More
successful investing in the Stock Market (33% return in 2007).

8- Recently named Investor of the Month by David Lindahl, a world renowned

RE Investor.

9- Speaker for The Learning Annex

10- Series 65- successful completion

11- Guest speaker on Danielle Hampson's Mind Your Bizness radio program

12- Guest speaker on Jordan Kimmel's VoiceAmerica Business Radio Program

F- Education:

1- Professional Level; General Dentist

2- Licensed Real Estate Salesperson

3- Licensed Certified Personal Trainer

4- A myriad of real estate and stock market classes and seminars

5- Series 65- Investment Advisor Rep

Youtube video:

http://www.youtube.com/watch?v=oKpP-9CrCUs

Mind Your Bizness Radio Show interview:

http://www.wnbnetworkwest.com/WnbMybShowAEllman.html

516-935-0777

516-429-4672

agewen@aol.com
Description: Independent financial planner/advisor. Trading frequency: Weekly
Interests: ETFs, Options, Stocks - long

Ph. Number:

866-892-2187
Location:

NY; USA
The Blue Collar Investor Corp - Investing with Stock Options
The Blue Collar Investor was NOT a brilliant idea of mine….it just happened! I was a frustrated blue collar investor just like you. I attended a top tier High School, College and Dental School. All those years of education and I knew NOTHING about the Stock Market or investing in general. Our education system
...
More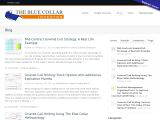 Covered Call Writing & Trading Options Blog
You will find the following categories in our weekly updated blog: Covered Call Exit Strategies, Exchange-Traded Funds, Fundamental Analysis, Investment Basics, Option Trading Basics, Options Calculations, Options Trade Execution, Stock Investing, Stock Option Strategies, Stock Trading & Taxes, Technical
...
More

Alan Ellman's Encyclopedia for Covered Call Writing
It took me four years to complete but here is the book you have been asking for. My goal when I started this project was to create the most comprehensive book ever written on the subject of covered call writing and gear it to the average retail investor, The Blue Collar Investor. I hope you feel that I have
...
More
Latest comments on Alan Ellman's Articles
LATEST ARTICLES & INSTAPOSTS
more »