Check out my YouTube channel where I give investing tips and have converations with my viewers about where I see the investment landscape going in the future. The channel name is Alex Pitti. The link is down below.
Follow me on Twitter @stockmanalexp where you will be updated when I do Periscopes. Periscope is a live video platform on Twitter which allows readers to ask me questions about the market.
I write a few articles per week which highlight my best ideas. I answer all comments on my articles in the first 2 days after they are published.
It seems that my readers enjoy my articles on social media companies such as Twitter and Facebook as well as my articles on frac sand firms such as U.S.
...
More
Silica and Hi-Crush Partners.

Besides writing on those specific industries, I like to take the contrarian position on stocks such as my current positive opinion on SeaWorld.

Follow me if you enjoy reading about any of these stocks or like to hear an original opinion backed by facts which cuts through the BS that sometimes exists in the mainstream financial press.

I just started using Instavest. This will allow my readers to view all my trades and piggyback onto the ones they agree with. Go the the website goinstavest.com for more information.
Description: Full-time Investor. Trading frequency: Infrequent
Interests: Dividend stock ideas & income, Energy stocks, Stocks - long, Stocks - short, Tech stocks
Currently, you have no company profile. Click edit to add a company profile.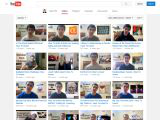 My YouTube Channel
My YouTube channel where I share the basic investing tips I've learned in my 8 years of investing.
Latest comments on Alex Pitti's Articles