Steve Cook received his education in investments from Harvard, where he earned an MBA, New York University, where he did post graduate work in economics and financial analysis and the CFA Institute, where he earned the Chartered Financial Analysts designation in 1973. His 46 years of investment experience includes institutional portfolio management at Scudder. Stevens and Clark and Bear Stearns, managing a risk arbitrage hedge fund and an investment banking boutique specializing in funding second stage private companies. Through his involvement with Investing for Survival and Seeking Alpha, Steve hopes that his experience can help other investors build their wealth while avoiding tough lessons that he learned the hard
...
More
way.
Description: Investment Consultant.
Interests: Bonds, Dividend stock ideas & income, ETFs, Gold, Stocks - long, Stocks - short
Strategic Stock Investments
SSI provides an investment management site. Management runs three Portfolios (Dividend Growth, High Yield and Aggressive Growth) all designed to provide a growing income stream to the investor. The site contains the Portfolio holdings, the analytical back up for those holdings, a daily newsletter and
...
More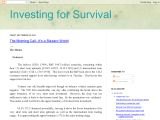 Investing for Survival
Analysis of technical, fundamental, economic and political events impacting Your Money. Strategies for protecting your investments and your life style when the global ruling classes are making a mess of fiscal and monetary policies.
Currently, you have no book details. Click edit to add book details.
Latest comments on All American Investor's Articles