Ilian Yotov is a longtime FX Strategist, known among industry peers as the creator of The Quarters Theory, a revolutionary methodology applied to the price behavior of currency exchange rates. His FX market analysis, outlook and forecasts are sought by popular financial publications worldwide and he is a regular guest speaker at industry events.
For over 12 years, Ilian has also been committed to the education of retail FX traders, and has been recognized as one of the leading Forex educators in the world, helping thousands of currency traders worldwide. Ilian Yotov is the Chief FX Strategist at Allthingsforex.com where he brings a combination of in-depth knowledge and expertise with innovative strategies and
...
More
trading techniques. He is responsible for driving the company's research initiatives and for turning them into actionable trade ideas and trading strategies.

Ilian Yotov is author of the book "The Quarters Theory: The Revolutionary New Foreign Currencies Trading Method", published by John Wiley and Sons, Inc.
Description: Independent / boutique research firm analyst. Trading frequency: Daily
Interests: Forex, Options, Stocks - long, Stocks - short

ALL THINGS FOREX
Allthingsforex.com is a Forex market website dedicated to providing currency exchange traders with up to date Forex news, education, information, and research. Forex traders, join the All Things Forex broadcast- a live one hour program covering the Forex market, major economic events, the latest developments
...
More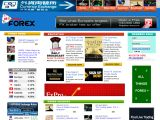 ALL THINGS FOREX Broadcast
In the broadcast today: Is the Gold Rally a Sign of Things to Come for the USD? With gold prices "on fire" in this morning's trading session, we ponder upon whether further rally in gold could once again serve as a sign of things to come for the USD and take a close look at the AUD as a potential candidate
...
More

The Quarters Theory
Ilian Yotov's forthcoming book The Quarters Theory will be published by John Wiley and Sons, Inc. in December, 2009. The Quarters Theory improves and simplifies the decision-making process in foreign exchange trading through the use of a revolutionary new methodology applied to the price behavior of currency
...
More
Latest comments on All Things Forex's Articles