Wesley R. Gray, Ph.D. has studied and been an active participant in financial markets throughout his career. After serving as a Captain in the United States Marine Corps, Dr. Gray received a PhD, and was a finance professor at Drexel University. Dr. Gray's interest in entrepreneurship and behavioral finance led him to found Alpha Architect, LLC, an SEC-Registered Investment Advisor, where he is the Executive Managing Member. Dr. Gray has published two books: EMBEDDED: A Marine Corps Adviser Inside the Iraqi Army and QUANTITATIVE VALUE: A Practitioner's Guide to Automating Intelligent Investment and Eliminating Behavioral Errors. His work has been highlighted on CBNC, CNN, NPR, Motley Fool, WSJ Market Watch, CFA
...
More
Institute, Institutional Investor, and CBS News. Dr. Gray earned an MBA and a PhD in finance from the University of Chicago and graduated magna cum laude with a BS from The Wharton School of the University of Pennsylvania.
Description: Registered Investment Advisor (RIA).
Interests: ETFs
Alpha Architect
ALPHA ARCHITECT is leading a revolution to deliver robust high-conviction strategies at affordable costs. Three words describe our unique approach: Affordable. Active. Alpha. We currently offer our services via Exchange-Traded Funds (ETFs) and Separately Managed Accounts (SMAs).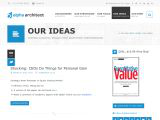 Alpha Architect Ideas
Our mission is to empower investors through education. Our experience in academia and working with ultra-high-net-worth individuals, in the dual role of consultant and investment manager, has culminated in the development of three core beliefs that permeate everything we do:We believe in Systematic
...
More

Latest comments on Alpha Architect's Articles