Alpha Prophets is a financial research & consulting firm and portfolio advisory service. We specialize in an "outside the box" approach by combining fundamental and technical analysis, quantitative methods, and macroeconomic research to enhance traditional portfolio management models and supply consistent opportunities for alpha extraction over the short-, intermediate-, and long-term.
Alpha Prophets (AP) is now gearing up to become an active member of the Seeking Alpha community. By late-summer of 2015, we will initiate our original research and provide regularly scheduled articles to our Seeking Alpha audience, all with the goal of presenting information capable of enhancing portfolio returns and
...
More
reducing risk.

Stay tuned.
Description: Investment Consultant. Trading frequency: Weekly
Interests: Alternative Investments, Bonds, Commodities, Developed International Markets, ETFs, Emerging Markets, Energy stocks, Forex, Futures, Gold, Mutual funds, Options, REITs, Retirement savings, Stocks - long, Stocks - short, Tech stocks
Currently, you have no company profile. Click edit to add a company profile.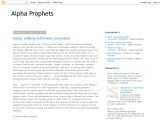 Alpha Prophets
We are an investment research and analytics business specializing in financial market analysis. We use a proprietary system of technical and fundamental analysis to aid our investment decision making process. Alpha generation is our business and we intend to deliver consistently.
Currently, you have no book details. Click edit to add book details.
$
IWM
moving above important resistance from 2011 topping pattern... but today's candlestick is pretty bearish. Spinning top I think?
Jan 19, 2012
Latest comments on Alpha Prophets's Articles