AlphaBetaWorks
x
Author Following Options:
See their articles on your Seeking Alpha homepage and in your feed.
Real-time alerts on this author
Get their new articles emailed to you as they are published.
Daily digest on all my authors
Get all your favorite authors' new articles emailed to you in one daily digest.
Send Message
AlphaBetaWorks provides risk management, skill evaluation, and predictive performance analytics. Developed by finance and technology veterans, our proprietary platform combines the latest advances in financial risk modeling, data processing, and statistical analysis. Our Risk Analytics are more robust than alternatives and our Skill Analytics are predictive.
For portfolio managers, we identify overlooked exposures, hidden risk clusters, and crowded bets. Managers can focus on risks in areas where they have proven ability to generate excess returns and avoid undesired risks in areas where they do not.
For fund investors, we identify the skills, crowding, and hidden portfolio bets of individual funds and
...
More
portfolios of funds. Investors can identify differentiated and skilled managers that are deploying capital in areas of proven expertise – and more importantly, those that are not.
Description: Investment Consultant. Trading frequency: Infrequent
Interests: Bonds, Developed International Markets, Dividend stock ideas & income, ETFs, Energy stocks, Mutual funds, Options, Stocks - long, Stocks - short, Tech stocks
AlphaBetaWorks
Over the years of using existing portfolio analysis and risk management solutions we grew dissatisfied with their shortcomings. After meeting our internal needs by developing new tools that were easy to use and improved on the analytical shortcomings of alternatives, we saw the opportunity to share our
...
More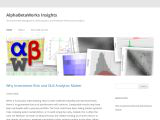 AlphaBetaWorks Insights
AlphaBetaWorks Insights contain cutting-edge perspectives on investment risk management, skill evaluation, and predictive performance analytics.
Currently, you have no book details. Click edit to add book details.
Latest comments on AlphaBetaWorks's Articles
Latest Articles on Fund Holdings